Meet the Texas CEO building sports locker rooms of the future
In the search for a competitive advantage, top college and pro sports teams are spending more money than ever on futuristic locker rooms outfitted with the latest storage, training and medical technology.
Travis Hollman, CEO of Irving, Texas-based Hollman Inc., is often the person teams hire. His company has helped to design and construct locker rooms for 24 sports teams across the four major U.S. sports leagues, including the NFL's New Orleans Saints, the NBA's Dallas Mavericks and Major League Baseball's Chicago Cubs.
As revenue has risen for professional and college franchises, spending on locker rooms has followed. Hollman said teams spend anywhere from $5,000 to $12,000 on individual locker units, and several million dollars for an entire facility. Texas A&M spent roughly $18 million to overhaul its men's football locker room in 2014 – Hollman's largest project to date.
The lockers themselves have evolved from traditional metal boxes of decades past to state-of-the-art hubs with facial recognition technology, LED screens that outline daily training regimens, bacteria-resistant surfaces, ventilated storage boxes for drying sweaty gear, refrigerated drink holders and personal safes for players, among many other amenities. Hollman said the units are tailored to a team's needs and allow coaching and training staffs to guide players.
"If you're paying a basketball player $5 million, $10 million a year, you want to be able to utilize their time when they're there and have them eating and drinking and doing the right workouts, meeting with the right doctors, coaches, whatever it takes," Hollman told FOX Business.
The tech-based approach to locker room design has fueled Hollman's growth in recent years. Hollman told the Dallas Business Journal that the company earned about $50 million in revenue in 2017 and plans to reach $100 million in revenue by 2020.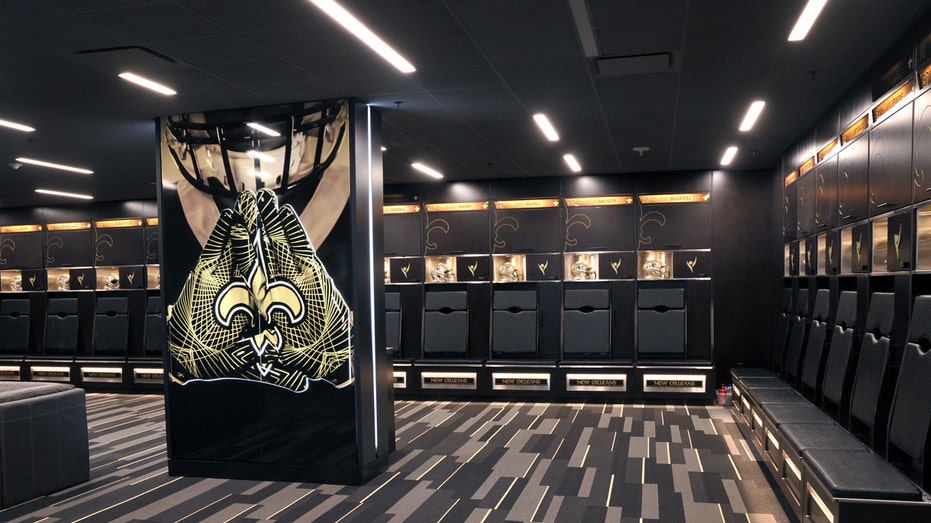 Hollman said professional sports teams are focused as much on player health and safety as they are on LED screens or other visually appealing additions. His locker rooms use materials designed to be help prevent potentially deadly staph infections, zero VOC (volatile organic compound) finishes and lighting synchronized with a player's circadian rhythm.
The Mavericks' locker room renovation was one of Hollman's most high-profile projects to date. Completed in late 2017 in a collaboration with design firm Gensler, the facility boasts a ventilation system inspired by Las Vegas casinos, a ventilated shoe drawer for each player and facial recognition technology.
"When you walk in, it alerts your trainer that you're here and then it tells you what you're supposed to do for the day – you're supposed to get your ankle taped, or you're losing too much weight so here's your 5,000-calorie shake," Hollman said. "Once you get to the workout facility, everybody knows that you're there. You've got your list of workouts, any medical stuff, your nutrition and its all located on your board that's in your locker."
Mavericks owner Mark Cuban told the Dallas Business Journal that it was an "easy choice" to work with Hollman.
"They are the best in the business at what they do," Cuban said.
Sports locker rooms are just one segment of Hollman's business. The company has also collaborated on locker and storage projects for AT&T, Apple, Facebook, The New York Times and several other industry-leading companies.
Hollman said his company's workspace storage segment has seen explosive revenue growth, from $2 million in 2016 to $21 million in 2017.
"Anybody can build a box," Hollman said. "Any of my competitors can build a box. But can anybody put a system together that's going to work and solve the problem?"