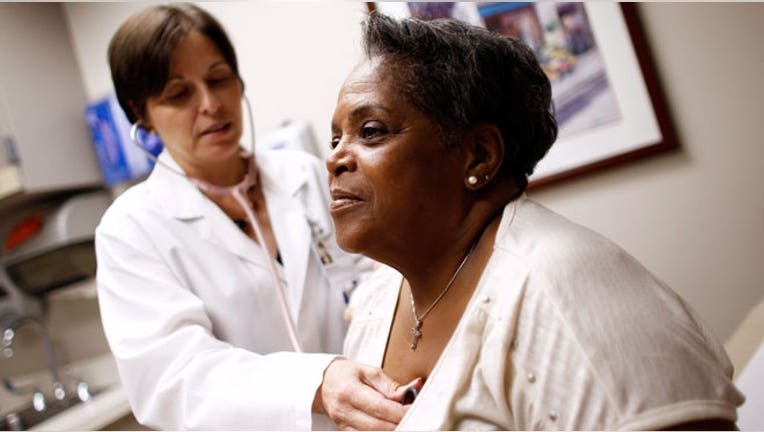 "The Boomer" is a column written for adults nearing retirement age and those already in their "golden years." It will also promote reader interaction by posting e-mail responses and answering reader questions. E-mail your questions or topic ideas to thefoxboomer@gmail.com.
Medicare is one of the most popular federal programs in the country and its future is playing a starring role on the campaign trail.
More than 1.5 million baby boomers become part of Medicare a year to help cover the rising costs of health care, but the fate of the program is uncertain as the budget deficit continues to widen and partisan fighting continues in Washington. In fact, a recent survey published by eHealthInsurance revealed that 90% of baby boomers say the election makes them feel less secure about the future of Medicare.
Ross Blair, CEO of PlanPrescriber a part of eHealthInsurance.com, discussed the reality of the fate of this program, what boomers need to know about Medicare benefits and changes. Here's what he had to say:
Boomer: Does Medicare work like regular health insurance?
Blair: No. Medicare is different from major medical health insurance in a couple of ways. It includes four different parts:
Parts A and B are often referred to as "Original Medicare." Part A covers hospital-related care and Part B covers your medical/outpatient care. Depending on your current coverage, Original Medicare may have more gaps than standard health insurance plans. For example, prescription drugs are not covered under Original Medicare, and Parts A and B can have significant out-of-pocket costs, including deductibles and coinsurance for most Part B services. Also, Original Medicare does not have a hard cap on annual out-of-pocket costs.
Part C (Medicare Advantage) is private insurance that people can elect to buy, which replaces Parts A, B and D. Most Medicare Advantage plans include the Medicare Part D prescription drug benefit and will limit a person's out-of-pocket costs (excluding premiums and drug costs) at $6,700 or less. Additional benefits: Some plans include additional benefits like dental and vision coverage.•
Part D (prescription drug coverage) is provided by the government, but it must be purchased from private insurance companies. There are three things to remember about Medicare Part D
You can get it two ways: You can have it packaged into a Medicare Advantage plan or you can buy a "stand-alone" prescription drug plan from a private insurance company.
It does not work like traditional insurance: The Part D benefit, unlike private insurance, has a coverage gap and a catastrophic limit.
Not all drugs are covered: Plans must cover a minimum of two drugs for each Medicare- approved treatment. Some plans cover more, some only cover the minimum. The prices plans charge for covered drugs changes as well.
Boomer: Is Medicare free?
Blair: No. The various Medicare Parts have different costs. Part A is free for people who paid payroll taxes for at least 10 years or have filed jointly with a spouse who paid payroll taxes for at least 10 years. Otherwise, the beneficiary pays a monthly premium of up to $451 based on the payroll taxes paid.
In 2012, the base premium for Part B is $99.90 per month for most Medicare beneficiaries. In some cases, the monthly premium may be higher.
In 2013, the average price of a Part C plan will be $60.09, on top of the standard Part B premium. About 32% of all Medicare Advantage plans are available with a $0 premium, which means the beneficiary gets Medicare Advantage for the same price they pay for Part B.
Next year boomers can expect the average price for a Part D plan to be $30.
Boomer: Can one enroll in Medicare any time after 65 without getting penalized?
Blair: No. Most people have seven months. You can enroll in the three months before your 65th birthday, the month of your 65th birthday and the three months after. If you miss the deadline you can be charged a late enrollment penalty.
Right now we're in Medicare's open enrollment period which runs from Oct. 15th to Dec. 7, and now is the time when an enrollee can review and, if necessary, change their coverage. When we researched prescription drug coverage benefits last year, we found that only 5% of Medicare beneficiaries were in the prescription drug plan with the lowest total out-of-pocket costs. When people reviewed their coverage during last year's open enrollment season they on average more than $600 a year.
Boomer: Does Medicare cover everything?
Blair: No. Original Medicare does not cover prescription drugs--you have to buy a subsidized private plan (Part C or D) for that coverage. Also, original Medicare does not limit or cap your out-of-pocket cost.
However, all Medicare Advantage plans cap your out-of-pocket expenses as do most Medicare Supplement plans. Original Medicare may pay for certain vision and dental services in an emergency, but routine care and check-ups are not covered. Historically, Medicare Supplement plans haven't offered this coverage either, but a few supplement plans in select states have begun to include benefits like dental insurance.
Many Medicare Advantage plans include coverage for dental and vision care, but not all of them. If these benefits are important to you, make sure your Medicare Advantage plan provides the coverage. And, if the plan does not, research "stand-alone" dental and vision insurance plans on the individual insurance market.   
Boomer: Do you believe baby boomers understand what the affordable care act is to them?
Blair: Health insurance and Medicare can be confusing and if you throw in the changes that come along with the health reform--it can make anyone's head spin. We spend a lot of time talking to baby boomers, including those who run businesses and it is clear many people have questions about the changes that have been implemented, as well as those that are coming down the pike.
In a recent survey we conducted, only 10% of baby boomers said they were "very familiar" with the Affordable Care Act (health care reform). When we delved deeper, research showed that there were a lot of misconceptions about Medicare, what it covers and how it works. The same holds true for small business owners. According to our research, less than one-third understand how the taxes and mandates to buy health insurance work for small employers with 50 employees or less. Nearly 80% sof small employers did not know how a health insurance exchange is supposed to work, or what it can do for them. As you can see, baby boomers are unclear about how their benefits are affected now and in the future, by reform. However, we highly recommend that they take the time to research and read about the ACA's impact on Medicare. They can start by visiting Medicare.gov and Planprescriber.com.