McKee Foods Says Drake's to Return in Coming Months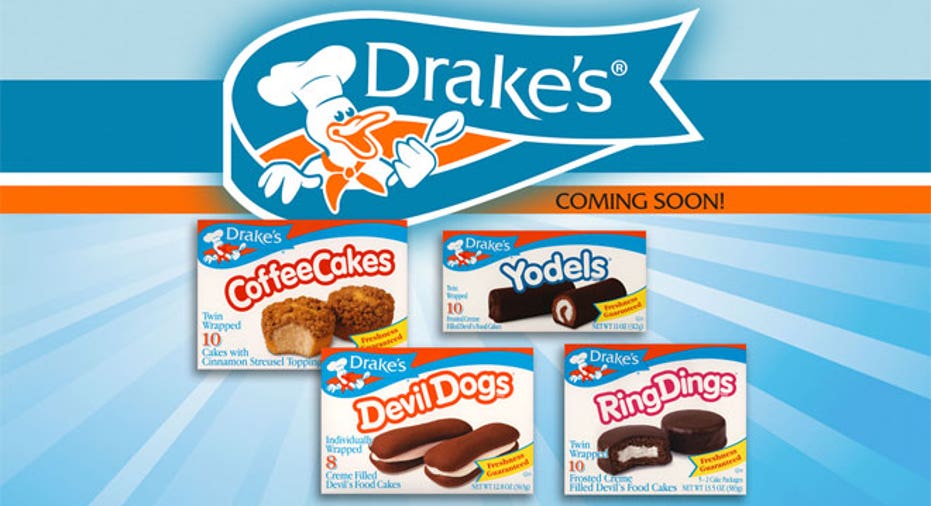 The battle for snack-cake dominance will soon return to full force, with former Hostess brand Drake's set to hit store shelves in the coming months.
On Monday, a revamped Hostess Brands said it plans to resume the sale of its iconic Twinkies and other snacks nationwide on July 15, calling it "the sweetest comeback in the history of ever."
Drake's, which was purchased by McKee Foods for $27.5 million, is preparing for a comeback of its own. According to McKee Foods spokesman Mike Gloekler, Drake's cakes are expected to go back on sale by late summer or early fall.
The rollout will start with a selection of Drake's products, and more could be added over time. Drake's cakes include Yodels, Devil Dogs, Coffee Cakes and Ring Dings.
McKee Foods has not announced which cakes will be the first to hit store shelves or whether all or just some of the cakes will eventually return.
Gloekler said the company is not disclosing pricing details since they concern strategic information, but added that pricing will be competitive.
McKee Foods already makes Little Debbie cakes, which were traditionally less expensive than the former Hostess.
Private equity firms Apollo Global Management (NYSE:APO) and C. Dean Metropoulos & Co. partnered to buy Hostess-brand snack cakes, including Twinkies, Ho Hos and CupCakes, for $410 million.
Prices for those cakes will remain the same, Hostess spokeswoman Hannah Arnold said. A box of 10 Twinkies had been priced at $3.99.
Another well-known brand, Wonder bread, is waiting in the wings. It was sold along with Nature's Pride to Georgia-based Flowers Foods (NYSE:FLO) for $360 million. Flowers Foods also competes in the snack-cake market with its Tastykake and Mrs. Freshley's brands.