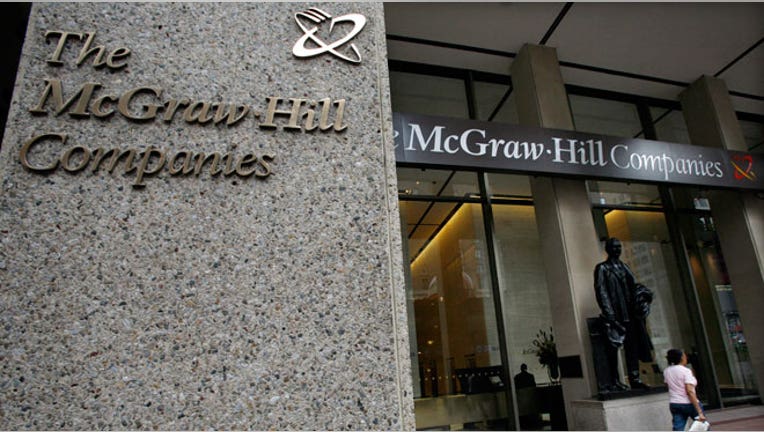 McGraw-Hill (NYSE:MHP) posted a fourth-quarter loss amid struggles in its education segment, while its Standard & Poor's credit rating business continued to show revenue growth.
McGraw-Hill originally considering a spin-off its education business as a separate publicly-traded company, but agreed in November to sell the unit to private equity firm Apollo Global Management (NYSE:APO) for $2.5 billion. The company reclassified the unit in its latest earnings report as discontinued operations, which recorded a net loss of $406 million.
The company's financial unit that includes S&P, which is under fire from the U.S. Department of Justice, reported revenue of $1.23 billion, a 22% jump over the prior year. Revenue from the ratings firm was up 34% to $584 million.
Overall, McGraw-Hill recorded a loss of $216 million, or 76 cents a share, compared to a profit of $214 million, or 73 cents a share, a year earlier. The period included $77 million in charges and a gain of $52 million related to a vacation policy change.
Adjusted per-share earnings, which exclude restructuring charges and other items, were down to 72 cents from 90 cents.
Company-wide revenue was up 22% to $1.23 billion, excluding discontinued operations. Analysts anticipated per-share earnings of 72 cents.
McGraw-Hill also said it expects earnings for the year to fall between $3.10 and $3.20 a share. Revenue growth is expected to be in the high single digits.
Last week, state attorneys general and the Justice Department filed lawsuits against S&P rating agency, alleging the firm inflated its ratings. It was the first time the federal government brought a lawsuit related to the financial crisis against a credit rating agency.
In its earnings report Tuesday, McGraw-Hill reiterated that the Justice Department's lawsuit "is entirely without factual or legal merit and that the company has very strong defenses against this and all pending litigation."
The legal moves weighed on McGraw-Hill's stock, which rebounded 3.77% on Monday. Shares were down fractionally early Tuesday.