McGraw-Hill Education CEO: Expect Learning to Become More Digital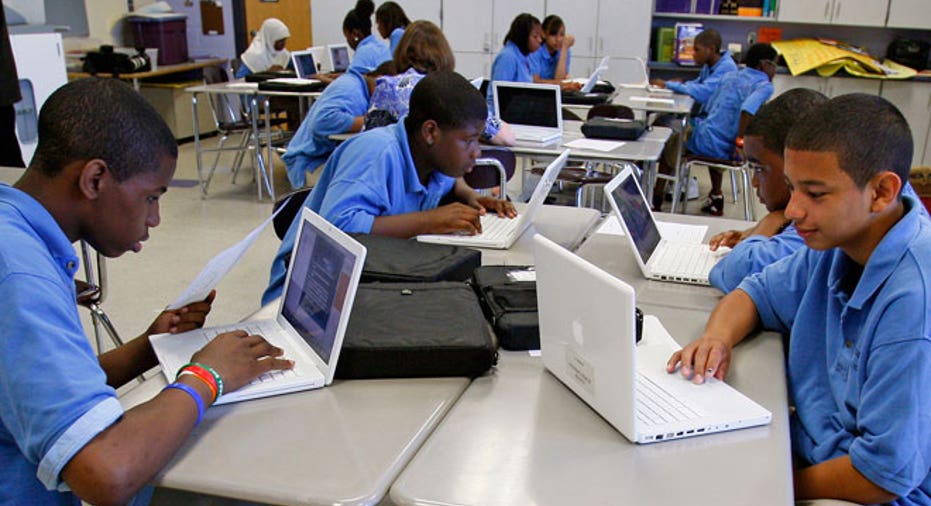 It's back-to-school season once again. And for many students and parents across the country, that means stocking up on the latest school supplies. Of course, that now includes the latest and greatest gadgets and technology updates for devices used in the classroom.
The learning environment of today is much different than it was two or three decades ago, McGraw-Hill Education CEO David Levin said, but it's one that really helps foster education in a way that allows it to adapt on a child-by-child basis.
"Technology can make a massive difference [in the learning process]," Levin said. "It's exciting and has huge potential. We think about learning as a science and about how we can help people learn quickly and effectively through software."
According to data from December of last year from CompTIA, a non-profit information technology trade association, 75% of educators see positive or very positive outcomes from technology when it's used in the education process. The research notes interaction with technology includes that available not only in a classroom setting, but also ones that allow communication and interaction between students and other teachers, and students and parents.
Further, according to 171 teachers surveyed, six out of 10 believe technology will be "very important" to the education and learning process two years from now.
One of the biggest trends Levin said he sees coming to classrooms across the country is adaptive technology. That is, platforms that can "learn" from a student's answers to interactive questions, and provide feedback about subject areas where the student should spend more time studying, or topics in which the student excels.
"It's really easy to put up a PDF [for a student to read], but what's exciting is making that text come alive to interact with the learner, that's called adaptive," Levin said. "The text becomes some kind of artificial intelligence so that as the student works with it, it's saying, 'You don't know that well enough, so go back and look at it again.' It tries to keep stretching you all the time."
This year, McGraw-Hill announced it took a minority stake in Busuu, a  language-learning social network. McGraw-Hill's goal, Levin said, is to roll it out to schools and institutions in the years ahead, to connect students enrolled in language courses – across all grade levels – interact with a native speaker, effectively letting the "distance die" between the two individuals for a seamless interaction.
"Busuu…worked out a neat way of using a social network to match two people who want to lean one another's language," he said. "Learning has a social aspect, and we learn the best when there's social engagement."
He used the example of learning French and being able to converse with a native-French speaker about everyday experiences like ordering food in a restaurant, or asking for directions.
While technology plays an increasing role in the education process, Levin said it's important to note he doesn't see software taking the place of teachers in the classroom.
"We're a big believer that these systems work best when they support the teacher or instructor, not act as a replacement," he said.
All that said, while students in this day in age grow alongside the technology they use – everything from cell phones, to iPads, to learning devices – is the era of the textbook over?
"I think it's fair to say, from our perspective, the era of the textbook is drawing to a close. It's not finished, but drawing to a close. It will take a long time to complete."
To that point, McGraw-Hill last year sold more software-based text in higher education than physical textbooks. During that time, digital sales accounted for 31% of all textbook sales, up from 27% in 2013. This new era comes as students and parents try to spend less on their learning materials since the cost of textbooks has risen 1,041% since 1977, according to the Bureau of Labor Statistics.