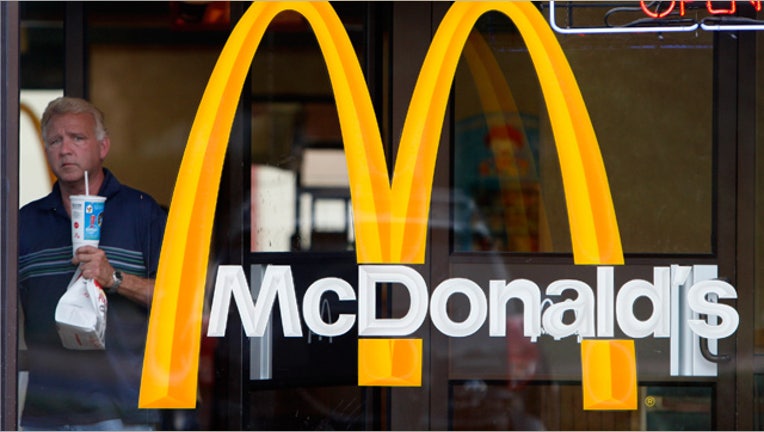 McDonald's Corp. (NYSE:MCD) plans to raise pay by more than 10% and add benefits like paid vacation for workers at U.S. restaurants it operates, an effort to rejuvenate the struggling fast-food giant that offers fresh evidence of rising wage pressure in the American labor market.
Starting July 1, McDonald's will pay at least $1 per hour more than the local legal minimum wage for employees at the roughly 1,500 restaurants it owns in the U.S. The increase, which McDonald's said will apply to some 90,000 workers at all levels of experience and rank, will lift the average hourly rate for its U.S. restaurant employees to $9.90 on July 1 and more than $10 by the end of 2016, from $9.01 currently. McDonald's also will enable workers after a year of employment to accrue up to five days of paid time-off annually.
The changes come amid mounting criticism from labor groups over wages and conditions at McDonald's and other fast-food chains. The move doesn't apply to employees of the franchisees who operate nearly 90% of the 14,350 U.S. McDonald's--a fact critics may seize on. McDonald's says franchisees are free to set their own pay policies. The company said it does plan to make subsidies for some education costs available to all U.S. workers as part of its plan.
McDonald's Chief Executive Steve Easterbrook, who took over on March 1, said the policy is a response to employee surveys and is central to his plans to revive sales after more than two years of declines. "What we need to underpin that is highly motivated teams in our restaurants," he said in an interview. "Motivated teams deliver better customer service and delivering better customer service in our restaurants is clearly going to be a vital part of our turnaround."
The move follows similar efforts by other major U.S. employers including Wal-Mart Stores Inc., which is raising hourly pay for 500,000 workers to at least $10 next year, and reflects wider public pressures over income inequality as well as intensifying competition for low-skilled workers.
From a year earlier, average hourly earnings for non-manager employees at limited-service restaurants like McDonald's rose 3.5% in January to $9.54 an hour, according to Labor Department data, well above 2.2% pace for all private-sector workers.
Historically, stronger pay increases are somewhat unusual at this stage in the business cycle for lower-skilled workers, who typically are the last to see better wage gains. The increases could reflect some payback after several years of wages barely keeping pace with inflation, or could indicate that skilled-workers who resorted to restaurant jobs in the economic downturn are now seeking better paying work.
Better pay among lower-skilled workers has the potential to "bubble up" through the economy, said Patrick O'Keefe, an economist at CohnReznick LLP. Raising starting wage will likely boost wages of others within a given company. Also, more money in workers' pockets should provide a boost to consumer spending and aid overall economic expansion.
"The underlying motivation is a response to market conditions," said Mr. O'Keefe, a former Labor Department official. "The firms that have announced very publicly that they're raising their entry wage are signaling that to attract the quality of labor they're looking for, they have to be more competitive."
The federal minimum wage of $7.25 an hour hasn't increased since 2009, although 29 states have set minimums above the federal level, as have cities such as San Francisco, which requires pay of at least $11.05 an hour. Efforts in Congress to increase the pay floor stalled last year. But more large employers raising wages could set a "de facto" minimum wage that is higher than the federal floor, said University of Michigan economist Donald Grimes.
McDonald's announcement is unlikely to satisfy its strongest critics, who have been calling for much larger increases and demanding the company take responsibility for pay and other policies at its franchisees. Fast Food Forward, a group backed by the Service Employees International Union, has helped organize nationwide protests at McDonald's and other chains demanding a $15 hourly minimum and the right to form a union without employer backlash. The next round of protests is scheduled for April 15, according to organizers. McDonald's said the protests weren't a factor in its decision.
The move could put pressure for similar increases on McDonald's franchisees, powerful stakeholders that the company carefully manages its relationships with. McDonald's sets many requirements in agreements with its franchisees but doesn't govern their wages and benefits, and it is currently fighting complaints by the National Labor Relations Board's general counsel last year that claim McDonald's has sufficient control over its franchisees' operations to make it a joint employer responsible for the rights of franchisees' workers.
Mr. Easterbrook said the franchisees are "experts...at setting the right pay levels in their local markets." Asked if McDonald's would consider requiring them to enhance pay or benefits in future contracts, he said "absolutely not."
Write to Annie Gasparro at annie.gasparro@wsj.com and Eric Morath at eric.morath@wsj.com
Access Investor Kit for McDonald's Corp.
Visit http://www.companyspotlight.com/partner?cp_code=P479&isin=US5801351017
Access Investor Kit for Wal-Mart Stores, Inc.
Visit http://www.companyspotlight.com/partner?cp_code=P479&isin=US9311421039
Subscribe to WSJ: http://online.wsj.com?mod=djnwires
Copyright © 2015 Dow Jones Newswires