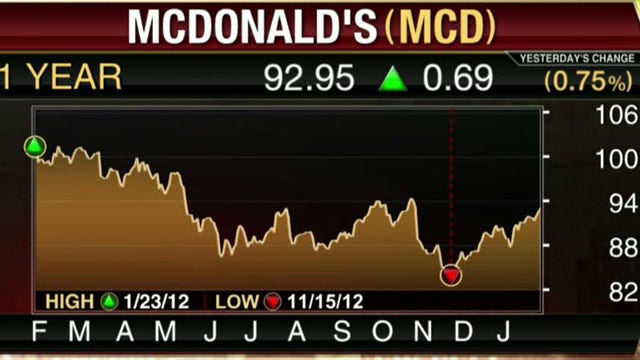 Fast food giant McDonald's (NYSE:MCD) logged a stronger-than-expected 1.4% rise in fourth-quarter profits on Wednesday as slight growth in domestic sales helped offset slumps elsewhere in the world.
Shares of the blue-chip company ticked slightly higher on the earnings beat as enthusiasm for the results was hampered by warnings that growth will remain "pressured" in the near-term.
McDonald's said it earned $1.4 billion, or $1.38 a share, last quarter, compared with a profit of $1.38 billion, or $1.33 a share, a year earlier. Analysts had been calling for EPS of $1.33.
Revenue rose 1.9% to $6.95 billion, narrowly topping the Street's view of $6.89 billion. Operating margins gained 31.6% from 31.1%.
McDonald's said global same-store sales inched up just 0.1% in the fourth quarter, staying positive thanks to a 0.3% increase in the U.S. That means the company narrowly avoided its first quarterly contraction in same-store sales since the first quarter of 2003.
In Europe, same-store sales dropped 0.6% due to slower guest traffic and tough year-ago comparisons, though McDonald's said its operating income increased 5% on the continent.
Meanwhile, same-store sales at the company's Asia-Pacific, Middle East and Africa segment tumbled 1.7% as strength in Australia was countered by "ongoing weakness" in Japan and "other markets."
"McDonald's continued to grow by remaining focused on what matters most to our customers, although our results reflect the impact of the challenging global operating, economic and competitive environment," CEO Don Thompson said in a statement.
That tough economic atmosphere was also evident in December, when McDonald's global same-store sales were unchanged amid a 3.1% drop in the Asia-Pacific, Middle East and Africa division. U.S. same-store sales rose 0.9%, countering a 0.8% drop in Europe.
Looking ahead, McDonald's sounded a cautious tone, warning that its global same-store sales are projected to contract in January.
"For the near-term we expect top and bottom-line growth to remain pressured," Thompson said.
McDonald's said it plans to invest about $3.2 billion in 2013 to open 1,500 to 1,600 new locations and reinvest in existing restaurants.
Shares of Oak Brook, Ill.-based McDonald's gained 0.86% to $93.75 in premarket trading, putting them on pace to build on their 5.4% gain so far in 2013. The stock has lost almost 9% over the past 12 months, compared with a 13.5% rally for the S&P 500 over that span.