McDonald's Goes Back to Basics, Has Stellar Quarter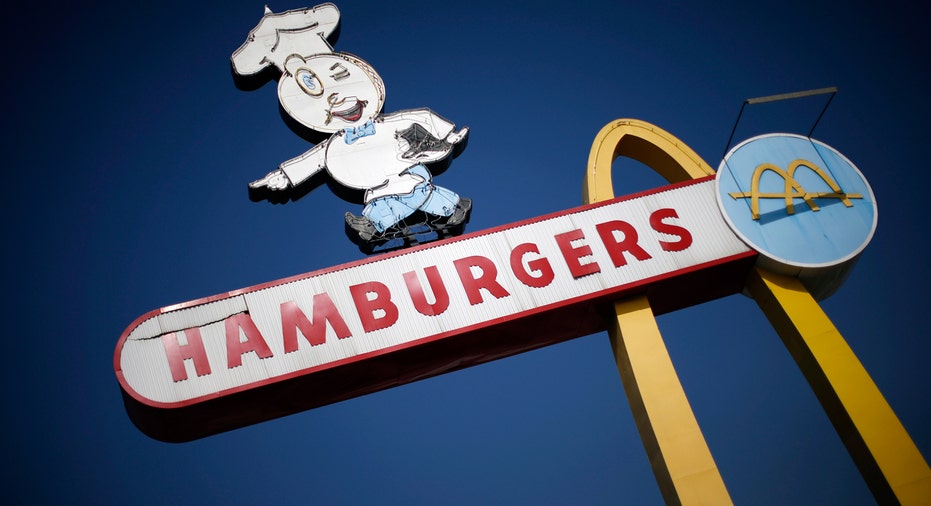 The McDonald's (NYSE:MCD) turnaround strategy is working.
President and CEO Steve Easterbrook took over at the company's helm eight months ago, and with just a couple quarters under his belt, he's already seen success.
The company revealed its third-quarter earnings results Thursday morning, surprising to the upside. Investors rewarded the stock, sending it as much as 8% higher during the trading session. The headline numbers for the world's biggest burger chain easily beat expectations. The company reported profits per share of $1.40 on revenue of $6.62 billion. That was compared to expectations for profits of $1.27 per share on sales of $6.41 billion.
Further, the chain's comparable store sales saw the first increase in two years during the reporting period. In the U.S., sales at McDonald's restaurants open 12 months or longer saw a 0.9% increase. The company said that was thanks in part to its introduction of the Premium Buttermilk Crispy Chicken Deluxe sandwich, and breakfast offerings, including a "return to the classic recipe ingredients" for its popular Egg McMuffins.
Internationally, comp sales jumped 4.6% in the third quarter due to outperformance in Australia, the United Kingdom, Canada, and Germany.
Easterbrook, in a statement, said the third quarter proved to be an important part of the company's overall turnaround strategy.
"As we begin the fourth quarter, comparable sales are expected to be positive in all segments. While still in the early stages, we believe our turnaround plan is starting to generate the change needed to reposition McDonald's as a modern, progressive burger company," he said.
So, What Happened?
The company said on the earnings call, what drove traffic into its stores was its continued effort to "recommit" to hot and fresh food offerings and better customer service.
To that point, RJ Hottovy, consumer equity strategist at Morningstar, said the key takeaway was there wasn't one big product or initiative driving the stellar results.
"They're doing simple things: Improving the quality of the ingredients, better training – which relates to better accuracy and service. They really tackled the specific issue to improve the customer experience," he said.
"What I read into more than anything is the company has figured out how to be nimble."
Easterbrook said the solution to the problem that plagued the fast-food chain for the last two years was simple: It needed to run better restaurants.
"As we innovate around the menu and have promotional activity and have fun with that, that will increment the sales. But running better restaurants day in, day out, and customers are telling us…they're noticing the changes in the areas that matter most to them, which is speed, friendliness, and accuracy," he explained.
A fairly candid Easterbrook continued by cautioning investors that while this quarter proved to be strong and a step in the right direction toward future growth, there's still a long way to go.
"Turnarounds are about momentum. And we want to establish momentum over the short, medium, and long term. We put one marker out there. And as we start to build quarter upon quarter…you'll be able to read the underlying momentum in the business. But running better restaurants is a great start," he said.
As reflected in the comparable-stores figures, part of what drove more traffic into more stores was the new buttermilk chicken offering. But a question facing the company is whether it's the higher end of the menu that will continue to drive traffic, or if strength in the value menu could also contribute in the future.
Hottovy said it is.
"The all-day breakfast is a positive. But what I read into more than anything is the company has figured out how to be nimble. They got the (all-day breakfast) from test market in May to a nationwide rollout in October. That's the fastest rollout that I've seen over the last five or ten years. And that's been a key criticism that we've had of the company," he said.
Hottovy continued by saying that it's a good blueprint for the company going forward that initiatives it might test in other regions, if successful, could see a quick rollout worldwide.
"We do want to provide the best value at each level," Easterbrook said on the call. "Great value core products, great value premium. Probably one of the areas where we're still a little weaker is at that more entry-level value level. And that's what you have been hearing about, and that's what we're working with the operators on."
The addition of the fast-food giant's all-day breakfast offering wasn't calculated into the latest quarterly results since it was rolled out at the very beginning of the fourth quarter on October 6. However, David Palmer, RBC Capital Markets restaurant analyst, said in a note that the addition of all-day breakfast is likely to continue drive results in the fourth-quarter, helping to accelerate the faster-than-expected turnaround at the fast-food chain.
"We continue to believe all-day breakfast will prove to be a meaningful driver of comp growth in 4Q – with an initial sales lift upwards of four percentage points and a sustained lift of two percentage points," the note said. "We suspect U.S. restaurant margins trends will improve significantly in 4Q due to full-margin breakfast sales."
Easterbook said so far, the rollout has been well-received by customers and McDonald's employees alike – still, he refrained from giving too much guidance since the initiative has just begun.
"If you're in a student town, you're seeing a lot, a lot of activity into the evenings and the overnights around breakfast items that is just cultish amongst the students. But you can go to Russia midafternoon to see a more mature group sitting there who can now enjoy the fact that they can have their egg McMuffin midafternoon and without having to clock watch and try to make the 10:30 a.m. deadline. So it's just makes life easier for customers," he said.
True to its Roots
McDonald's has faced increased competition from fast-casual players like Chipotle (NYSE:CMG) and Panera Bread (NYSE:PNRA), companies that offer consumers healthier alternatives to deep-fried offerings of traditional fast food. Some have criticized McDonald's on both sides: For not offering more healthy options and for offering too many, straying too far from its roots.
Hottovy said this quarter's results are proof that McDonald's can have its fries and eat them too.
"They can later it in gradually. They'll gradually widen their supply chain. That was going on before Steve took the head position," he said. "The idea is to go back to basics not only on the menu but also with operations. At the same time, there's still simultaneous demand for better-quality ingredients and consumers are willing to pay up."
To that point, Easterbrook explained on the call that the chain is looking to move to all cage-free eggs within a ten-year time period, and to organic beef in its hamburger patties in its German stores.
When it comes to technology in its stores, McDonald's had been working to move a more tech-oriented experience into its restaurants under former CEO Don Thompson. Under a new CEO it may look like that initiative has fallen by the wayside, but Hottovy said it could still work with the "back to basics" model.
"Tech is still part of the longer-term customer experience. Steve talked about the experience of the future initiative in Australia. Part of that is create your taste and kiosk. They can reduce the pain points at the counter, but the simple execution within the restaurants was where McDonald's had underinvested in the past, but now that's improving" he explained.