McDonald's 2Q Profit Soars on Global Sales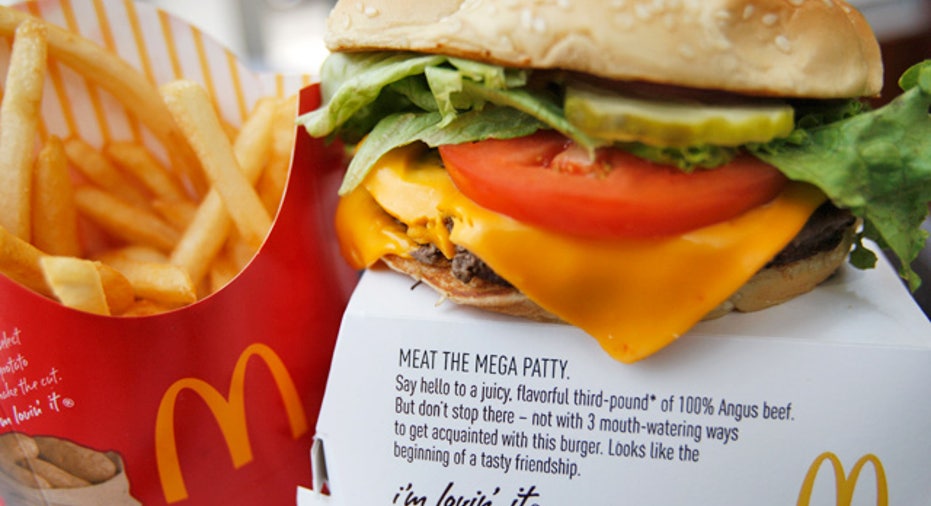 McDonalds (NYSE:MCD) grilled up a stronger-than-expected 15% improvement in second-quarter profit on Friday, led by continued popularity in the U.S. of its growing line of breakfast offerings and expansion in China.
The Oak Brook, Ill.-based fast-food chain booked net income of $1.41 billion, or $1.35 a share, compared with $1.23 billion, or $1.13 a share, in the same quarter last year. The results trumped the Streets view of $1.28 a share.
Revenue for the three months ended June 30 was $6.91 billion, up 16% from $5.95 billion a year ago, ahead of average analyst estimates polled by Thomson Reuters of $6.65 billion.
McDonald's ongoing momentum reflects our commitment to the customer, the companys chief executive Jim Skinner said in a statement, adding that its global results demonstrate the resilience of our Plan to Win and our ability to execute successfully.
Global sales for the world's biggest hamburger chain climbed 5.6%, with the U.S. and Europe up 4.5% and 5.9%, respectively, with revenue in emerging markets such as the Middle East and Asia up 5.2%.
The U.S. results were fueled by the McCafe line-up, including its new Frozen Strawberry Lemonade, and traditional offerings such as Chicken McNuggets and the Big Mac. The restaurants fruit and maple oatmeal breakfast offerings also continued to perform well.
France, the U.K., Russia and China performed particularly well during the quarter.
A day before reporting its earnings, the McDonalds board declared a quarterly cash dividend of 61 cents a share, payable on Sept. 16 to shareholders of record on Sept. 1.