March Madness Ready to Distract Workers Nationwide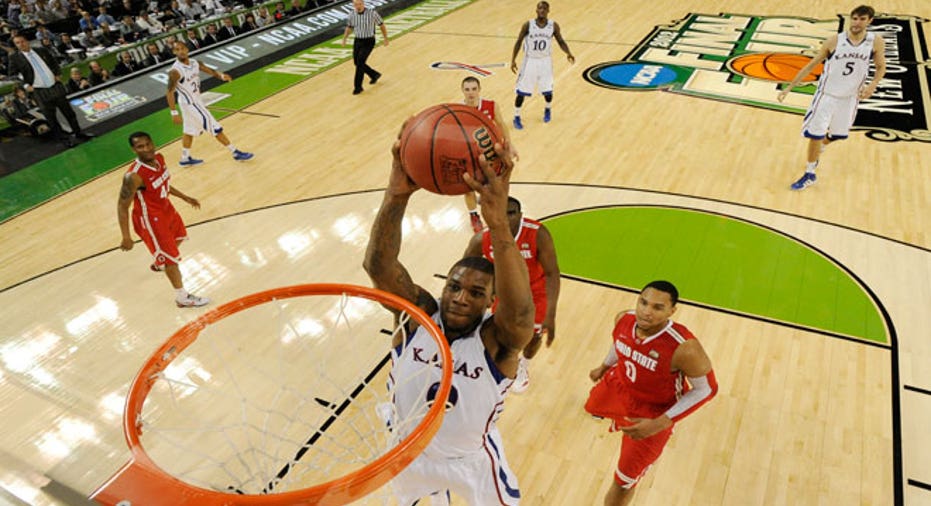 As a rough winter of snow and frigid temperatures winds down, employers all across America are bracing for their next big challenge: March Madness.
The NCAA men's basketball tournament is known for grabbing the attention of workers each year, causing an inevitable dip in productivity. An average of 10.7 million people watched March Madness games in 2013, the most since 1994.
In recent years, it's been easier than ever to follow the action with live streaming on PCs and mobile devices. The online video service even includes a "boss button" that launches a fake spreadsheet or email to hide the video feed.
Global outplacement firm Challenger, Gray & Christmas said an estimated 50 million Americans participate in March Madness office pools, and companies stand to lose $1.2 billion for every unproductive work hour during the tournament's first week.
The firm calculated its projections using a 2009 Microsoft survey on the popularity of office pools and average hourly wages of $24.31, based on the latest jobs report.
More recent surveys on the number of office workers who devote time to their tournament brackets suggest the $1.2 billion estimate could be low.
An MSN poll in 2012 found that 56% of respondents, equivalent to 77.1 million employees, planned to devote at least one hour to March Madness. Using those figures, the damages rise to $1.9 billion for every unproductive hour.
The tournament, which tips off on March 18, features games square in the middle of the work day for people in the eastern half of the country, Challenger, Gray & Christmas CEO John A. Challenger noted. On the west coast, March Madness coverage starts around 9 a.m.
"There are distractions every day at the office, but the first week of the annual men's college basketball tournament is particularly hazardous to workplace productivity," he said. "While March Madness distractions may not alter the nation's quarterly GDP numbers, you can be assured that department managers and network administrators notice the effect on work output and company-wide internet speeds."
Live streaming alone may account for $660 million in lost wages. Turner Sports, which operates the NCAA's website, said 6.8 million unique visitors watched games online during the first week of last year's tournament. Visitors spent an average of 1 hour and 51 minutes online each time they opened a stream.
Even though productivity may slow, Challenger advised employers to avoid clamping down on March Madness activities. Blocking web access to boost productivity in the short term could do more damage to employee morale and loyalty in the long term.
"At the end of the day, it is unlikely that a few days of March Madness distraction will impact the company's bottom line," Challenger added. "Taking a hardline on office pools and online streaming, on the other hand, could have a dramatic impact on the bottom line, if it leads to increased turnover or causes employees to become disengaged."
Instead, Challenger suggested employers can boost employee engagement through company-wide office pools. Televisions around the office would also prevent workers from streaming games on their work computers, he said.