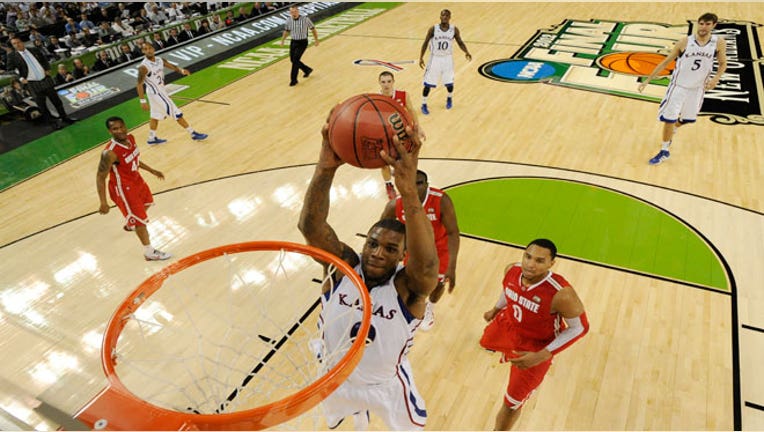 The magic of marketing during the NCAA Division I Men's Basketball Tournament is all in the numbers. March Madness has generated more than $5.9 billion in national TV ad spending from 266 different firms over the past 10 years, making it one of the most valuable assets in all of sports.
Sponsors and advertisers are striking deals to profit from the upcoming games; forking over millions of dollars to showcase their brands.
A new study by the research firm Kantar Media shows TV advertising revenue surpassed the $1 billion mark for the first time last year, making the tournament the most lucrative post-season sports franchise. The 2012 NCAA Men's Championship game beat all professional playoffs, bumping the National Football League's post-season games, including the Super Bowl, to the number two spot.
And the new billion-dollar record far exceeds post-season totals from the National Hockey League, National Basketball League and Major League Baseball. Indeed, NCAA Men's basketball generates more revenue than the NHL, NBA and MLB combined.
The report also shows companies are willing to pay nearly $1.5 million for a 30-second spot during the Championship game. To put it in perspective, a 30-second spot during the NBA Championship Series or the MLB World Series "only" costs $460,000 and $450,000 respectively.
The top ten advertisers invested $362.3 million to promote their brands to potential customers during  2012's championship game. General Motors topped the chart, spending more than $80 million, followed by AT&T (NYSE:T), Anheuser-Busch InBev (NYSE:BUD), Coca-Cola (NYSE:KO) and Capital One Financial Corp (NYSE:COF).
Selection Sunday and the unveiling of the brackets will take place on March 17th. The NCAA Division I Men's Championship will be played at the Georgia Dome in Atlanta on April 8th, and 2013's championship will likely set another advertising revenue record.