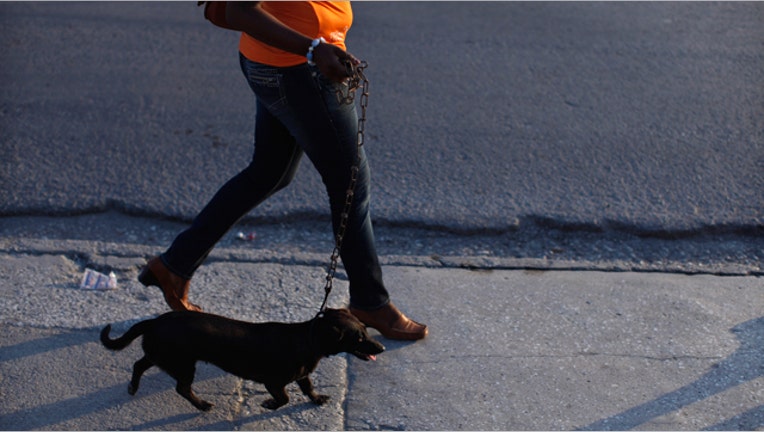 You may love your pit bull, but if the dog breaks free of the leash and bites someone or gnaws on a neighbor's brand-new siding, expect to pay for damages. Will your home insurance policy come to the rescue?
It depends, says John Foster, vice president of personal lines for Harrisburg, Pa.-based Penn National Insurance.
"In general, homeowners insurance will provide liability coverage for damage your pet does to other people's property or an injury to someone caused by your pet," he says.
On the other hand, your home insurance "will generally not cover damage to your property or an injury to someone living in your home."
Another curve ball: Some insurance companies may exclude certain dog breeds or animals from coverage, says Amy Tomaszewski, manager of claims organizational effectiveness at Columbus, Ohio-based Grange Insurance.
"Your insurance company may have a list of pets that they do not cover, such as exotic pets like monkeys and snakes, and dogs that are known to be vicious and have a higher propensity to bite," says Tomaszewski.
So, your toy poodle is likely to make the grade. Your pet anaconda? Maybe not so much.
State regulations dictate how insurance companies handle coverage for exotic pets and dogs. Some companies choose to exclude all non-domestic animals to avoid insuring exotic pets, while others make a decision on a case by case basis.
"If you have a snake but it is always kept caged and it is (a) type that doesn't bite, then the insurance company would decide if they were willing to offer liability coverage or not," says Tomaszewski.
Dogs and Your Home Insurance
Relatively few people keep a boa constrictor hanging in their closet or a tiger roaming around the backyard. But owning a dog is as American as apple pie.
The list of dogs excluded from insurance coverage varies from company to company, but breeds often mentioned include:
*Akitas
*Alaskan malamutes
*Chows
*Doberman pinschers
*German shepherds
*Pit bulls
*Presa Canarios
*Rottweilers
Foster says that in some states, regulations do not allow insurance companies to exclude coverage for certain breeds of dogs.
"For example, some insurance companies won't write insurance coverage for pit bulls, but in a few states they are required to provide that coverage," says Foster.
Laws differ from state to state. In Maryland, insurance companies are prohibited from denying coverage for particular dog breeds. In Pennsylvania, once an insurance policy has been issued and has been in force for 60 days or more, the insurance company cannot terminate the policy based solely on the breed of the dog. (Pennsylvania insurers are permitted to non-renew a policy due to "'increase of hazard' because of a dog bite, Foster says.)
How Important is Insurance Coverage?
It is crucial to have insurance that covers damage or injury caused by your pet. For example, the Insurance Information Institute (III) says that dog owners are legally liable for deaths or injuries caused by their dogs in about one-third of all states and the District of Columbia.
In other states, owners are held responsible only if they "knew or should have known their dogs had a propensity to bite," according to III.
Homeowners insurance that covers your animal can give you peace of mind. If Fido escapes his leash and causes a car accident, bites someone or scratches your neighbor's back door, your homeowners insurance will cover that liability.
Liability coverage for pets will be for the same amount as anything else covered under your home insurance policy, Foster says. That typically means anywhere from $100,000 to $1 million in coverage.
If you have a lot of assets to protect and want more coverage, consider purchasing an umbrella insurance policy that will give you $1 million or $2 million in extra liability coverage, Foster says.
Tomaszewski says you must list your pets on the initial home insurance application. It's also wise to alert the insurance company if you purchase a new pet.
"If your dog bites someone, your insurance company will go back to your application and if you said you didn't have a pet that counts as 'material misrepresentation'," says Tomaszewski. "Your claim will be denied and your insurance policy could be canceled because of the misrepresentation."
Misrepresentation is one of the few reasons an insurance policy can be canceled before the policy expires.
Other Home Insurance Options
Remember, even if your pet is covered, there's no guarantee the coverage will last forever. If your dog has bitten someone, Foster says you run the risk of a nonrenewal of your home insurance policy at the end of its term.
"Depending on the state regulations, after a dog bite incident an insurance company can issue a non-renewal notice, require the owners to get rid of the dog as a condition of renewal or exclude the dog as a condition of non-renewal," Foster says.
Some insurance companies may offer to continue your home insurance policy if you sign a liability waiver excluding your insurer for any responsibility to cover dog bites and attacks by exotic pets. However, that means you will be responsible for any expenses associated with a dog bite, according to III.
If you are looking for home insurance quotes but can't find an insurance company that will insure your pet, consult with an independent insurance agent. Such agents can find an insurer that writes policies for exotic pets or dogs typically excluded from coverage, Foster says.  His company, Penn National, does not write policies for exotic pets, but other companies do.
Some independent companies offer standalone liability insurance for exotic pets and dogs that are known to bite. Insurance companies may charge higher premiums to cover certain dog breeds and exotic pets.