Manning Tops Brady As NFL's Endorsement King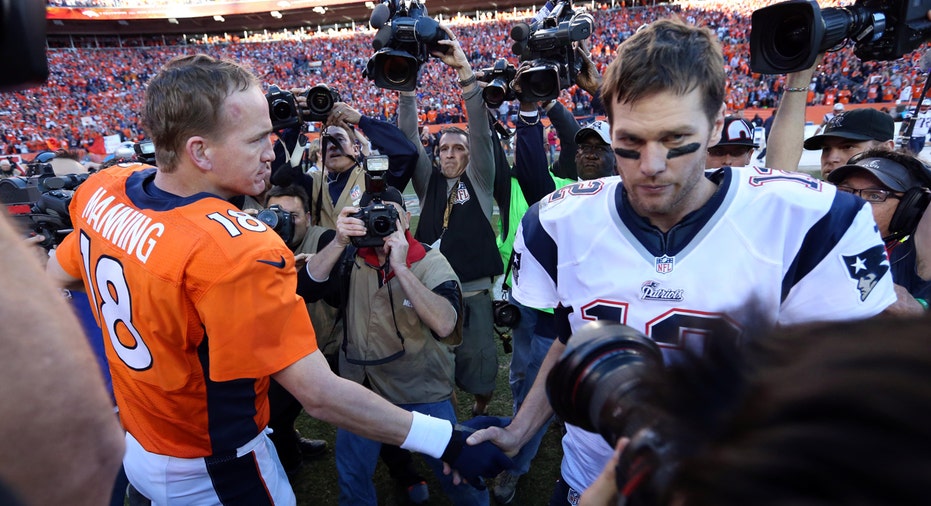 Football fans are forever divided on whether Peyton Manning or Tom Brady has the edge in the modern day NFL's most storied individual rivalry, but Manning has an undeniable advantage when it comes to earnings away from the gridiron. Bragging rights will once again be on the line Sunday when Brady's New England Patriots face Manning's Denver Broncos in the AFC Championship game.
Both Brady and Manning have compiled astounding on-field resumes during their time in the league. Manning has virtually rewritten the NFL's record book, with more touchdown passes and passing yards than any player in history. Brady is the more prolific winner, with four Super Bowl rings and six total championship appearances. Brady is 11-5 in games against Manning, though the record in their playoff meetings is tied at 2-2.
Yet for all of Brady's on-field accomplishments, Manning has emerged as the NFL's most marketable, consumer-friendly player. Manning earns $12 million annually in endorsement deals with mainstream brands that pander to the average American, establishing a reputation as one of the sports world's funniest, most likable pitchmen in the process. Brady has taken a different path, opting for deals with a select few luxury brands that net him about $6 million annually, according to Forbes.
Brady has all the makings of a sponsorship superstar – the championship rings, the movie-star good looks and the high-profile marriage to supermodel Giselle Bundchen, the world's most successful model. But Manning's "everyman" charm and penchant for hilarious one-liners seems to resonate more strongly with companies and consumers.
"It's like Will Ferrell vs. George Clooney," said Bob Dorfman, an expert on sports endorsement deals and executive creative director at Baker Street Advertising in San Francisco. "Manning's the guy next door, the one you want to have a drink with, not afraid at all to make fun of himself in commercials."
Of course, Manning's advantage in terms of marketability is relative. Brady is still one of the most sought-after athletes in the world, generating instant buzz for his brands. The 38-year-old has sponsorship deals with Ugg boots and Tag Heuer watches and holds an equity stake in Under Armour (NYSE:UA), the burgeoning sports apparel company.
Unlike Manning, Brady's advertisements more often resemble those of a model than of a football player. He's as likely to pose for a magazine cover as he is to star in a commercial.
"Brady, clearly, is much more selective in what he chooses to endorse," said Gary Myers, a New York Daily News columnist and author of the 2015 book "Brady Vs. Manning: The Untold Story of the Rivalry That Transformed the NFL. "You see Peyton all the time. You don't really see Tom. Tom, you see in print ads. You don't see him much on TV," he added.
Manning has involved himself with companies that appeal to a broader base of Americans and has shown a willingness to frequently collaborate on new ads. Through deals with Nationwide Insurance, Papa John's Pizza (NASDAQ:PZZA), DirecTV, Gatorade and Nike (NYSE:NKE), Manning is as constant a presence during commercial breaks as he is on the football field.
His good-natured demeanor, which first gained mainstream attention when he hosted NBC's "Saturday Night Live," has since become a staple in his advertising appearances. Manning's series of "Nationwide" commercials, in which he speaks every sentence in tune with the company's jingle, are something of a cultural phenomenon.
"He's proven to be the ultimate NFL pitchman over the last number of years," said Matt Fleming, director of celebrity acquisition at the Marketing Arm, a sports marketing firm. "I think people definitely gravitate to him more."
Brady and Manning cultivate different personas off the field, but both men have a workmanlike obsession with football and a laser-like focus on winning. It's what attracted fans and sponsors to them in the first place and it's also why their on-field matchups are considered appointment television for millions of Americans around the country.
"Every time the schedule comes out in spring, fans always look to see what date they're playing. If anything is bigger than the game – and it's hard to be bigger than the game when it's a $10 billion industry – I think these two guys are," Myers said. "It's an all-time rivalry that has never happened before in the NFL."