Manchester United to Score Higher Revenue in 2013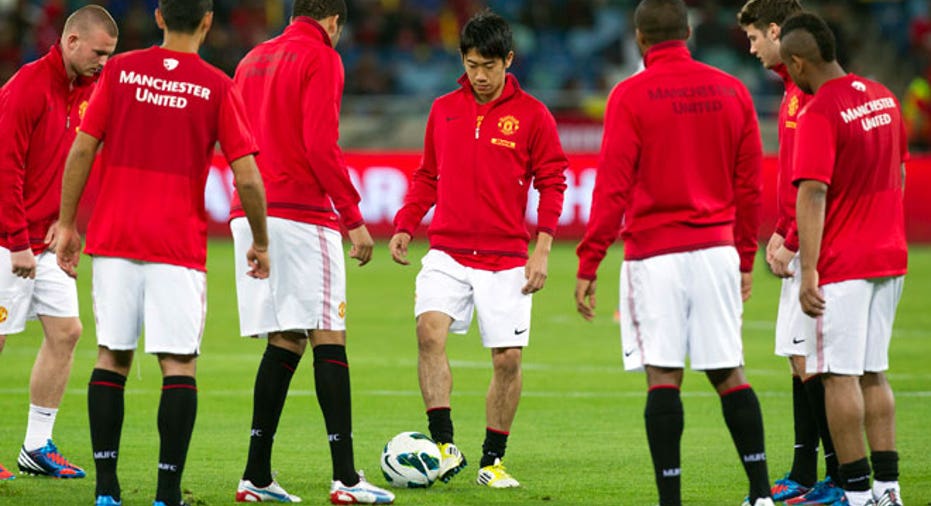 The world's most valuable soccer team, Manchester United (NASDAQ:MANU), expects to return to revenue growth in fiscal 2013 after a slowdown in sales this year.
The British soccer club, which went public in a $2.3 billion IPO on Aug. 10, sees full-year earnings for the 12-month period ending June 2013 of 350 million pounds to 360 million pounds and EBITDA of 107 million pounds to 110 million pounds.
That's assuming it has a more successful 2012-13 season, with the club reaching at least the quarter-finals of the Champions League and domestic cup competitions.
This year, the company reported revenue of 320.3 million pounds, down 3.3% from 331.4 million pounds in the year-earlier period.
Manchester United is hoping improved performance by the team will help lift sales in the upcoming season. The team, owned by the Glazer family of the U.S., failed to win a trophy last season for the first time since 2005 and was booted early from the European Champions League, which narrowed both match-day ticket sales and broadcast revenue.
Those setbacks pushed adjusted 2012 EBITDA down 16.5% to 91.6 million pounds from 109.7 million pounds in 2011. Earnings per share improved by 87%, however cash and cash equivalents fell by 53% to 70.6 million pounds.
The only segment to grow during the year was commercial revenue, which increased 13.7% due to new global and regional sponsorships.
"We are delighted to announce our first results as a NYSE listed company; fiscal 2012 was the best year ever for Manchester United's commercial business," Manchester United Executive Vice Chairman Ed said in a statement.
The club opened a new commercial sales office in Hong Kong this summer, its first outside of the U.K., to better position itself for growth in a region that represents 325 million of its 659 million followers.