Makers of fuel-guzzling big rigs try to go green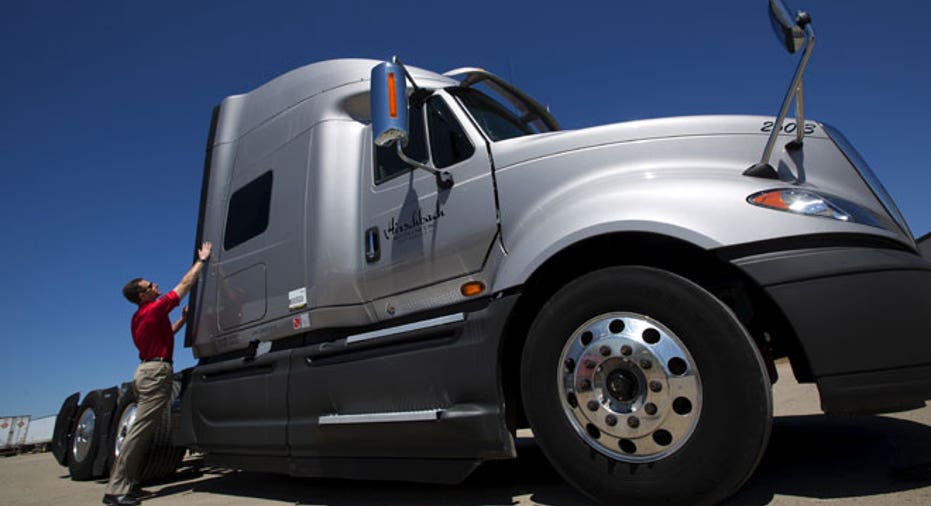 The average big rig travels less than 7 miles on a gallon of diesel fuel, making it one of the least-efficient vehicles on the road. Truck manufacturers want to change that.
Spurred by new pollution regulations and sluggish demand, truck makers including Navistar International Corp. (NYSE:NAV), Daimler AG, Paccar Inc. (NASDAQ:PCAR) and Volvo AB, along with engine manufacturer Cummins Inc. (NYSE:CMI), are rethinking everything from engine design to the shape of the trailer to bump up fuel efficiency.
Even small gains can have a big environmental impact. Each year in the U.S., roughly 1.7 million tractor-trailer trucks consume about 26 billion gallons of diesel. Getting an extra mile a gallon would equal removing more than 200,000 trucks from the road. It also could save trucking companies billions of dollars.
Some truck makers want to ditch the combustion engine entirely. Cummins introduced the industry's first fully-electric heavy-duty demonstration truck in August while Tesla Inc. (NASDAQ:TSLA) plans to announce its own prototype next month. But it may be years before they hit the road in big numbers. Meanwhile, the industry is betting on squeezing fuel savings from diesel trucks.
"The race is on," said Steve Gilligan, vice president of marketing for Navistar's North America business. "Every truck manufacturer is looking for a technology advantage versus their competition."
The average heavy-duty truck, including short-haul and work vehicles like dump trucks, gets only about 5.9 miles a gallon, a figure that has barely budged in 10 years, according to the North American Council for Freight Efficiency, an industry group. Federal regulators last October finalized rules requiring makers of heavy-duty trucks to boost fuel efficiency 14% by 2021, 20% by 2024 and 25% by 2027, based on a 2010 baseline.
The Trump administration seeks to roll back some aspects of the rules. Still, many truck and engine makers say they plan to press ahead with their new designs, citing fleet owners' demands for fuel savings.
Truck manufactures have seen first hand that regulations that result in better fuel economy can aid sales, even at higher prices. When truck and engine makers included a new exhaust-treatment system to comply with a tougher federal pollution standard in 2010, the side benefit of improved mileage propelled years of elevated demand. Truckers accelerated trade-ins of their older tractors to gain better fuel economy.
Such fuel-efficient technologies can add thousands of dollars to a rig's price, which can run $120,000 to $150,000 for the truck itself, or "tractor," and $25,000 to $30,000 more for the trailer.
"The new targets represent a real challenge for our industry," said John Mies, a Volvo spokesman. "Maximizing fuel economy has to be balanced with other factors."
Still, fuel efficiency could pay for itself. Long-haul trucks drive about 110,000 miles a year. So with diesel fuel at $2.50 a gallon, a 0.5 mile a gallon improvement in fuel efficiency could save some $3,100 per truck each year.
Even with today's technology, fleet operators are finding ways to save on fuel. Several leading fleets are already averaging over 7 mpg.
Many have added devices that improve aerodynamics, such as "skirts" around the base of the tractor and trailer, and winglike "tails" on the trailer back, manufacturers say. Some have opted for smaller engines, automatic transmissions or technologies that switch to electric power for the lights, climate system and other functions when the engine is idling.
Trucking company U.S. Xpress Enterprises Inc. orders about 1,500 tractors a year, and requests aerodynamic design elements like tails and skirts as well as automatic transmissions on its trucks. Today, its fleet averages over 7 mpg, from under 6 mpg five years ago.
"Fuel is such a large cost for us that we have every incentive to try to get to the best miles per gallon we possibly can," said Chief Executive Eric Fuller. "Any kind of technology that helps us get there usually pays for itself."
Truck makers are counting on fuel savings to revive sales. Orders for new trucks this year pulled out of a nearly two-year slump. Daimler, Volvo and other manufacturers last year reduced production and some laid off workers.
Cummins is joining with transmission manufacturer Eaton Corp. to design a lighter-weight engine and transmission that uses less fuel to shift gears, accelerate and slow down. Many of the company's engine technologies are in use overseas, where higher fuel prices and stricter pollution rules push faster adoption.
But these trucks cost more, making them a harder sell in the U.S. And some older, more seasoned truck drivers don't like the system's automatic transmission because it takes away control, though it can help in recruiting younger drivers since less training is required.
Volvo says its 2018 model is its most extensive redesign in over 20 years, promising a 7.5% boost in fuel efficiency due to aerodynamic improvements and other changes. Daimler says its new Freightliner Cascadia line achieves an 8% fuel-efficiency improvement through such things as hubcap covers and door seals that cut down on wind resistance. Paccar's newest Peterbilt models include lighter engines and automatic transmissions.
But pushing the limits of engine technology can be risky. Navistar lost customers after it rushed a new 13-liter engine into the market whose exhaust treatment system failed to reach the Environmental Protection Agency's 2010 standard and contributed to engine performance problems.
Last year, after years of losing money due to engine-warranty costs and saddled with a shrunken share of the heavy-duty truck market, the company sold a 17% stake to Volkswagen AG.
The 2018-model Navistar trucks boost fuel efficiency 9%, partly by adding more efficient engines and a "predictive" cruise-control system that anticipates changes in terrain and automatically adjusts speed. In years ahead, Navistar expects to incorporate VW's powertrain technology into its trucks.
Vehicle makers have designed prototype trucks that, on paper, could get 13 miles a gallon or more by incorporating the full range of existing fuel-saving technologies and aerodynamic designs. Their cabs have rounded edges like high-speed trains and are made of lightweight material, and would come with advanced engines and low-resistance tires.
Those prototypes, designed in part with federal funding under an Energy Department program known as SuperTruck, don't yet have a price tag.
"The technologies on that vehicle are not free," said Navistar's Mr. Gilligan. "We're demonstrating capability, not sale-ability."