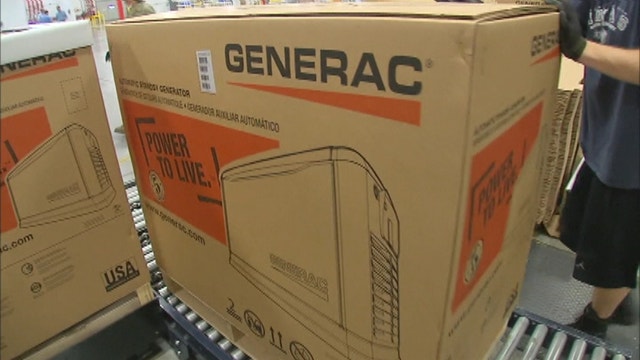 While storms like Sandy and Irene wreaked havoc on businesses and homeowners across the country, they actually benefited at least one company. In the past two years, generator manufacturer Generac has doubled in size.
Speaking with FBN's Jeff Flock in the latest Conference Room, Generac CEO Aaron Jagdfeld says the company's growth stems in part from serious storms but has also benefited from efforts to grow the industrial and commercial sides of the business.
"We've done some acquisitions, so the growth has all kind of combined to double the size of the company," says Jagdfeld.
Closing the Skills Gap
In order to fuel its rapid growth, finding great employees has been a major priority at Generac. The company's six facilities are based in small towns in Wisconsin – an area of the country with a strong history of manufacturing.
That said, Jagdfeld and Generac Human Resources vice president Rhonda Matschke say there's a skills gap in the region right now stemming from outdated perceptions of the manufacturing industry.
"It's unfortunate, because I think manufacturing has changed a lot … people had a perception of manufacturing as dumb, dirty and dangerous," says Jagdfeld.
In order to combat this attitude, Matschke says the company is working with middle schools and high schools in the area to change this way of thinking at an early age.
"Generac is working on really branding manufacturing with the high school and middle schools and getting people to think about this as a career and describing the success you can have when you choose manufacturing," says Matschke.