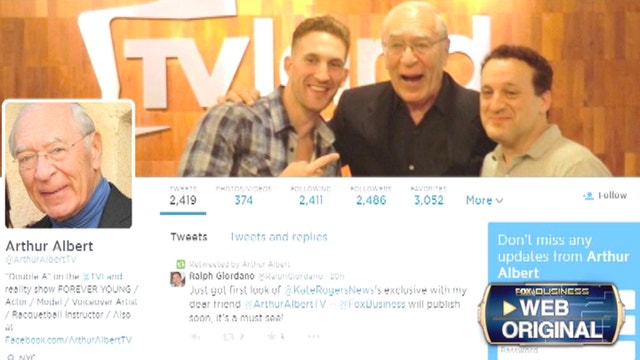 How many 82-year-olds do you know that are active on Twitter? Likely not many.
But Arthur Albert, or "Double A," is not your typical octogenerian.
He's the Madonna of career reinvention—and with his latest gig as social media spokesman for toy company Castakite, Double A proves it's never too late to try your hand at something new.
He started working at eight years old, during the Great Depression, delivering pharmacy orders for his parents.
"I would get a nickel or dime to earn that do-re-mi," Albert says. "Then I worked outside of Yankee Stadium, selling scorecards, peanuts, Cracker Jacks, then working my way up to cold beer."
During his twenties, he moved on to jobs with the New York State Unemployment Insurance Office, then in his thirties he began selling textiles for United Merchants and Manufacturers. But after nearly 20 years with the company, something was amiss.
"There was a void in my life," he says. "Even though I was busy in textiles, I needed to reinvent myself."
So he enrolled at the Stella Adler Acting School in New York City, and studied with Adler in her later years.
"I started acting and doing voiceovers—and rebranded myself at 50 years young," Albert says.
He's made appearances on "Saturday Night Live," "The David Letterman Show," "30 Rock" and most recently appeared on TV Land's "Forever Young," in which he lived in a house of "juniors" and "seniors" in an attempt to bridge the generation gap and better understand one another.
"The highlights [in changing careers] were in getting chosen for roles," he says. "When they chose me for SNL, it felt like a miracle. It's finding your passion in what you really want to do."
While he is enjoying his acting and voiceover work, it's not like Double A to sit back and rest on his laurels. So he went in search of another new gig—this time at the New York City Toy Fair.
While walking up and down the thousands of booths at the show, Albert says he ran into the Castakite Company, a Made-in-America kite upstart.
"With my energy, I went up and down the aisles, and they were the last booth near the rear exit," he says. "I told them a personal story about a boy Leon my wife nannied for, and how he wanted to fly a kite. I came home two days later to find a kite on my doorstep, for Leon, from them."
The 82-year-old struck up a relationship with Castakite, which is in talks to sell in Toys 'R' Us. He is now representing them with different memes and videos on his Twitter account, @ArthurAlbertTV, and couldn't be happier, admitting he does get a bit of help from a younger social media point man.
"He is the Oscar Hammerstein and I am Richard Rogers," he says. "I listened to the little voice in my heart that said to follow my passions."