Macy's Still Fighting for Comeback, CEO Presses Need to Evolve, Execute Faster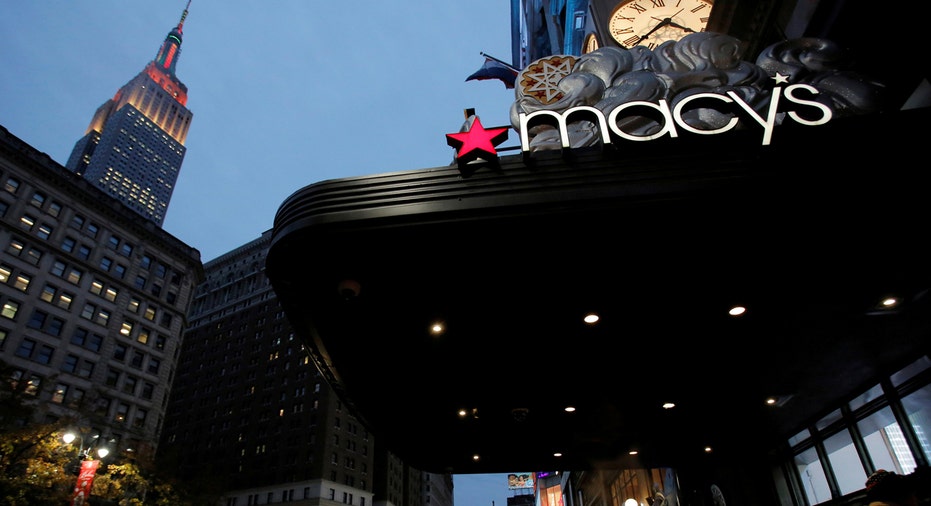 In the midst of a two-year sales slump, Macy's executives vowed Tuesday to continue efforts to reverse the trend as they double down on strategies aimed at growing the company's e-commerce platforms and converting in-store browsing to in-store sales.
As more and more shoppers today opt to buy online, fewer make the voyage to bricks-and-mortar shops. It's a trend that has battered much of the retail sector, hitting apparel retailers particularly hard. Macy's on Tuesday proved it is still not immune to the pain, despite efforts to drive customers to its e-commerce platforms and better engage its in-store shoppers. America's biggest department-store chain revealed sales last year slumped 4.8% from 2015, coming in at $25.78 billion, while transactions at stores open for at least a year fell 2.9%.
"The big story is traffic. It's an industry story, and the question is: How is Macy's going to solve the traffic problem or mitigate the declines as the industry shifts online," said CFRA equity research analyst Efraim Levy. "They're trying to do it, but it's not an easy nut to crack."
Indeed, the Cincinnati-based retailer expects another bumpy ride in 2017. The company forecasted same-store sales to edge down as much as 3% -- with total sales seen falling as much as 4.3% -- as it sees continued impacts from store closures which will total 100 over the next few years.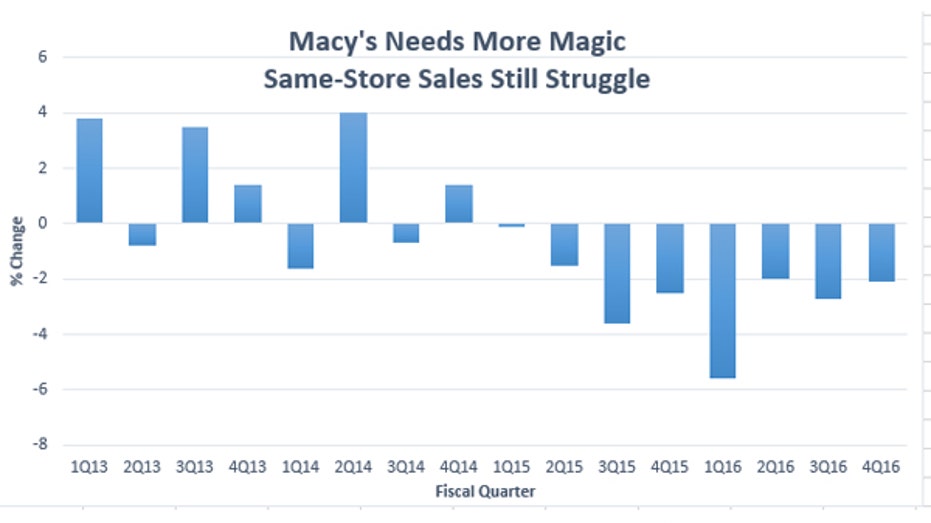 Macy's chairman and CEO Terry Lundgren, who will step down from his post at the end of next month, acknowledged the challenging landscape and said 2016 was "not the year we expected."
"Looking at the continued challenges in the retail environment and changing consumer shopping behaviors, we know we must evolve our strategy and execute faster," he said in a statement.
To that end, Macy's shuttered 66 stores in 2016 as part of an effort to reduce its store footprint and drive its key same-store sales metric higher while also boosting overall sales. To lure more customers online and in store, the former U.S. retail star continues to invest in e-commerce improvements both for its website and mobile app, while updating its marketing strategy and simplifying pricing structures to appeal to value-oriented customers who frequent the clearance racks.
Though e-commerce platforms are a bigger focus at Macy's than ever before, and are experiencing double-digit growth, according to Lundgren, physical retail stores still be play an "extremely critical role" for the company as 90% of Macy's sales are made up of in-store transactions. Because of that, the chain sees success stemming from enhanced in-store customer experiences, new-merchandise and entertainment concepts -- and integrated technology aimed at making shopping more simple.
"There is a certain logic to making sure people who come into the store will actually buy the products and not go online looking for a deal. That conversion rate makes sense to focus on … while they have to keep their eye on online sales, they can't ignore what is still their core," Levy said.
In an effort to at the same time appeal to its core audience and online shoppers, Macy's will continue to test new initiatives, including its lower priced Macy's Backstage stores, shop-in-shop kiosks like Bluemercury, and efforts to beef up its exclusive product categories like Tommy Hilfiger and Rachel Roy brands.
Since mid 2016, U.S. consumers have felt more optimistic about the economy and have been more willing to deploy cash on hand, but have used it on purchases of events, experiences, durable goods like cars and online sales. Lundgren hopes by offering more exclusive content at Macy's, customers will look to his company first when they need new clothing, accessories and home goods.
"At some point, you've got to believe that everybody's going to have a brand new car … at some point in time, these dollars are going to be freed up for other categories of spending. And when they get to these categories, we have to be a major consideration," he said.
Macy's fourth-quarter profits beat lowered expectations, coming in at $2.02 a share compared to the $1.96 Wall Street analysts anticipated, helped by efforts to shrink its store footprint and employee base.
When it comes to continued growth, Macy's said it looks to further reduce costs and execute its real-estate strategies, which include selling some properties and redeveloping others. For now, that strategy does not include growth under acquisition. Company executives declined to comment on a recent report that Canadian department store chain Hudson's Bay, which operates Saks Fifth Avenue and Lord & Taylor, approached the brand about a buyout, saying Macy's does not comment on rumors or speculation.
Shares of Macy's traded in a wide range as investors digested the company's continued turnaround efforts. The stock bounced along the flat line in recent action after having risen as much as 3% earlier in the session.