Luxottica's merger helps Del Vecchio manage family risks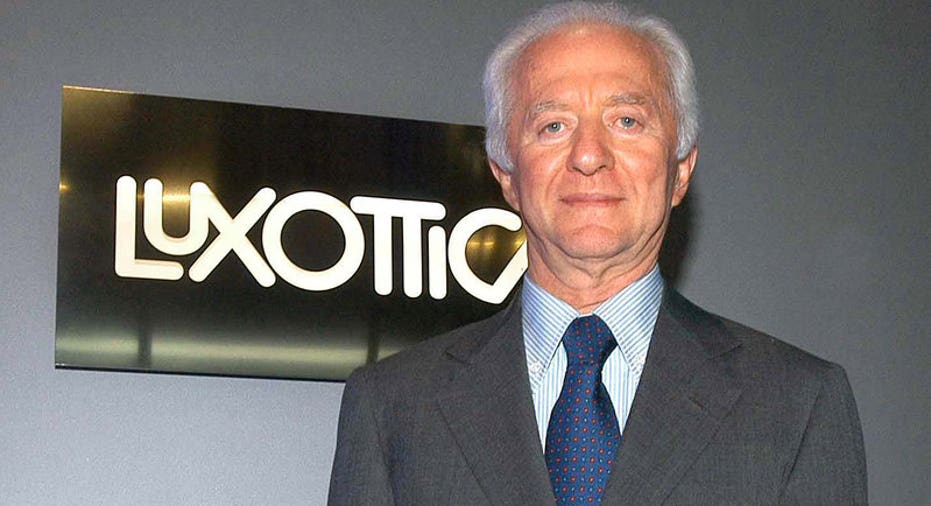 By sealing one of the biggest European merger deals of recent years, 81-year old spectacles tycoon Leonardo Del Vecchio has added another chapter to one of Italy's most legendary rags-to-riches stories.
The 46 billion euro tie-up between Del Vecchio's Luxottica and France's Essilor creates a global powerhouse in the fast-growing 95 billion euro industry, in which the Italian entrepreneur will be the biggest shareholder.
That is some feat for a man who grew up in a Milanese orphanage and learnt metalwork in a tool shop, before creating the world's biggest eyewear maker and becoming Italy's second richest person with a fortune of nearly 19 billion euros.
Insiders say that while the move to combine Luxottica with the world's biggest lens manufacturer makes perfect sense from a strategic point of view, concerns over his own succession are also likely to have guided Del Vecchio's choice.
Del Vecchio has long insisted that none of his six children should carry the burden of a big firm like Luxottica, which he founded in 1961 in Agordo, a tiny village in the Dolomite foothills in north-east Italy.
People familiar with the matter say he is also keen to protect the business from any family feuds after he is gone. With the family set to have a smaller influence in the merged company, the deal with Essilor could help him achieve this.
HANDS ON
Widely respected in Italy, Del Vecchio is credited with turning Luxottica into a global player with 7,800 shops in 150 countries by striking licensing deals with the likes of Giorgio Armani and Chanel and turning spectacles into a fashion accessory. At the same time, he bought coveted brands such as Ray-Ban, which he revamped, and Oakley.
But like many aging Italian entrepreneurs, critics say Del Vecchio has struggled to detach himself from his creature, failing to cede control and designate an heir.
For a decade he took a back seat, handing over the reins to Andrea Guerra, while remaining Luxottica's chairman.
But disagreements with Guerra led to his sudden exit in the summer of 2014, and Del Vecchio returned to be the driving force at Luxottica's Milan headquarters. He again became increasingly involved with even trivial matters, such as telling staff how to pack boxes for an office move, former employees say.
Guerra's successor, Enrico Cavatorta, left after only six weeks and Adil Mehboob-Khan, a hastily recruited former Procter & Gamble manager, was sacked in January 2016 when Del Vecchio formally took on executive powers.
By then, Del Vecchio had already taken some key decisions, such as cutting prices in Asia to align them to those of other regions, and he has continued to cross swords with managers.
Sources say more than a dozen first and second line managers have left in the past 2-1/2 years, including in September the head of wholesale and retail in Greater China - a growth region where Del Vecchio has centralized distribution.
ARMS LENGTH
"In the last two years I have worked hard together with my managers, sometime taking daring choices, to prepare the company to seize opportunities," Del Vecchio said on Monday.
The management upheaval and uncertainty over who could take over at Luxottica, together with a slowing U.S. market, have weighed on its shares, which before the merger was announced on Monday were trading 27 percent off their 2015 peak.
Under the deal with Essilor, Del Vecchio will have between 31 and 38 percent of the merged group and will serve as CEO and executive chairman. But he will be effectively sharing the driving seat with the chief of Essilor, 61-year old Hubert Sagnieres, who will serve as executive vice-chairman and deputy CEO, but have the same powers as Del Vecchio.
No arrangements have been made for when Del Vecchio will retire and there is no clause in the deal that says Luxottica should appoint his successor, two people close to the transaction said.
Two other people familiar with the company said Del Vecchio wanted to shield Luxottica from possible squabbles among his heirs.
In a letter to employees in October 2014, shortly after Guerra's departure, Del Vecchio said he would keep his family at arms length from the company.
"I would like to reassure you that through these changes there hasn't been and there never will be any influence from my family, numerous and complex, which for this reason I love intensely and equally in its entirety," the letter read.
The following month, Del Vecchio cut the stakes held by his six children in holding company Delfin, that is now set to exchange its 62 percent of Luxottica for new Essilor shares.
The children each own 12.5 percent of Delfin so he could leave 25 percent to his second wife, whom he remarried in 2010. This means the combined stakes of the three children from his first marriage are equal to that of his wife and their only son, with two other children owning the rest.
"Even if they start arguing after he's gone they won't be able to paralyze Luxottica," one person said.
(Additional reporting by Paola Arosio and Cristina Cristoferi in Milan; Writing by Silvia Aloisi; Editing by Mark Potter)