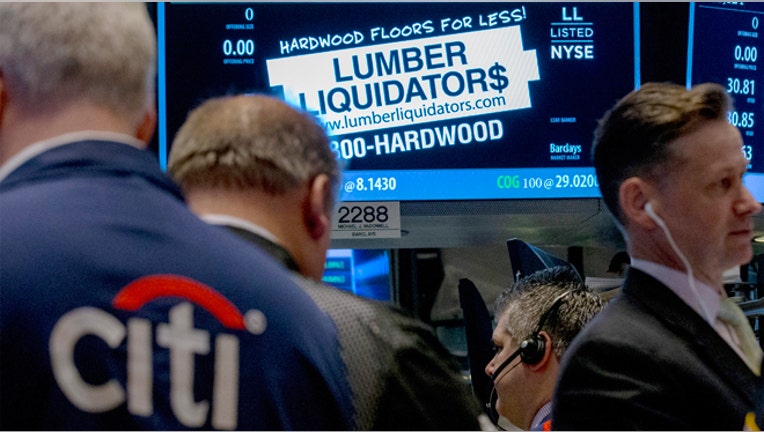 Lumber Liquidators Holdings (NYSE:LL), facing U.S. government probes over claims of dangerous levels of a cancer-causing substance in its flooring products, defended the safety of its products and gave a blow-by-blow account of its testing process in efforts to assuage investors' concerns.
The hardwood flooring retailer said it would offer free home tests for its customers and promised additional tests if results were above accepted levels. It, however, did not say anything about a possible recall.
The company's shares rose as much as 9 percent to $35.60 in early morning trading after the retailer also said it had sufficient liquidity to fund its operations "for the foreseeable future".
"Lumber Liquidators highlighted compliance with California Air Resources Board, and leaves no doubt that the company is compliant to the most stringent formaldehyde standards in the country," Janney Montgomery Scott analyst David Strasser said.
The company has come under fire following CBS's "60 Minutes" show alleging the company's flooring sourced from China had higher-than-permitted levels of formaldehyde, a known carcinogen.
That led to U.S. agencies such as the Consumer Product Safety Commission and the Federal Trade Commission taking notice.
The retailer detailed its defense on Thursday in slides slated to be used later on a conference call, scheduled for 10:00 a.m. ET, to address the allegation.
Lumber Liquidators said total net sales fell 7.5 percent in the nine days after the show, compared with a 18.7 percent rise in sales in January and February.
Comparable store sales fell 12.7 percent in the nine days, compared with a 9.6 percent rise in first two months of the year.
The company said it plans to boost marketing spend and adjust retail prices to show "that Lumber Liquidators has the best value proposition in the industry".
However, the company said it was unable to forecast sales or profitability for the full year. It had earlier forecast a profit of $2.50-$3.00 per share on sales of $1.14-$1.21 billion.
Lumber Liquidators expects first quarter sales of $253.6-$265.6 million, below analysts average estimate of $276 million, according to Thomson Reuters I/B/E/S.
Shares of the Toano, Virginia-based company were up 4 percent at $34.10 in early trading. The stock has halved since Feb. 25 when the company said the CBS show would portray it in an "unfavorable light".
(Writing by Sweta Singh in Bengaluru; Editing by Savio D'Souza)