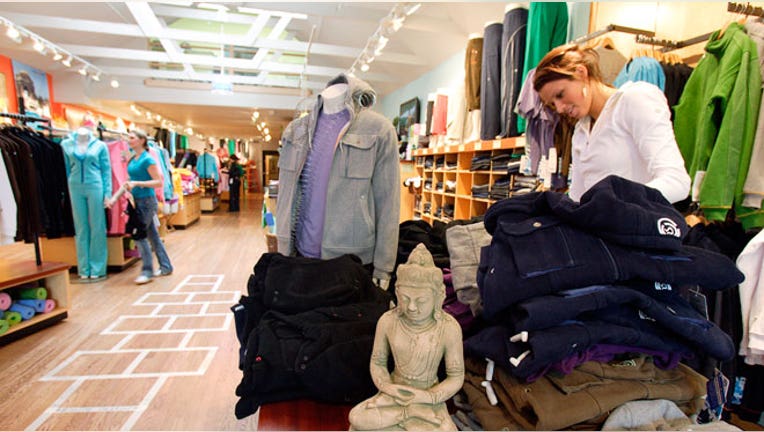 Lululemon Athletica Inc shares jumped on Tuesday after the Canadian yogawear retailer raised its full-year outlook, further evidence it is regaining its footing following a high-profile 2013 recall of overly sheer yoga pants.
The company also reported a better-than-expected first-quarter profit despite poor weather, West Coast port delays, and the impact of weaker Canadian and Australian dollars.
Shares surged as much as 8.4 percent to $66.67 in morning trading, their best performance in about a month and a half.
Lululemon is in the midst of a turnaround to improve quality, expand its product line and solve supply-chain problems while laying the groundwork for faster international growth.
"Just a year ago, people were concerned that this brand was done," said Paul Alexander, an analyst at BB&T Capital Markets. "The rejuvenation in comps here suggests that they've moved past the self-inflicted problems of 2013, 2014."
The retailer, which had 316 stores at the end of the first quarter, just opened its second Singapore shop and is set to open its first in Hong Kong. By the third quarter it plans to open a second Hong Kong outlet and its first in Dubai.
Executives told analysts in a conference call that Europe and Asia were performing well above expectations.
The company raised its full-year earnings forecast to $1.86 to $1.91 per share from $1.85 to $1.90 and revenue forecast to $2.0 billion to $2.05 billion from $1.97 billion to $2.02 billion.
The profit forecast, however, was short of analysts' average estimate of $1.93 per share, while the revenue forecast compared with analysts' average estimate of $2.02 billion, according to Thomson Reuters I/B/E/S.
"They are giving relatively conservative guidance, likely so they can beat it again," said Dorothy Lakner of Topeka Capital Markets.
Lululemon's total comparable store sales rose 6 percent on a constant dollar basis in the quarter ended May 3 compared with a 1 percent increase last year.
Its more mature Canadian stores, where growth has cooled, were seeing positive comparable sales in the current quarter, alongside its U.S. stores, Lululemon said.
Profit jumped to $47.8 million, or 34 cents per share, from $18.98 million, or 13 cents per share. Revenue rose about 10 percent to $423.5 million.
Analysts on average were expecting a profit of 33 cents per share on revenue of $418.9 million.
Foreign exchange impact hurt revenue by $15.2 million or 3.6 percent in the first quarter. (Reporting by Solarina Ho in Toronto and Amrutha Gayathri in Bengaluru; Editing by Savio D'Souza and James Dalgleish)