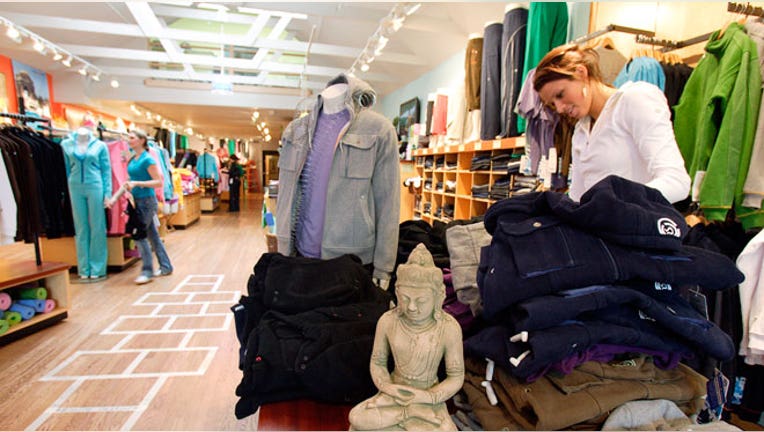 Lululemon (NASDAQ:LULU) revealed stronger-than-expected second-quarter earnings and sales on Thursday but its shares shed 7% in early trade as the yoga clothes maker dampened its outlook.
The British Columbia-based athletic retail chain reported net income of $56.5 million, or 39 cents a share, down slightly from $57.2 million, or 40 cents, in the year earlier.
Earnings per share topped average analyst estimates in a Thomson Reuters poll by four pennies.
Revenue for the three months ended Aug. 4 increased by 22% to $344.5 million from $282.6 million a year ago, beating the Street's view of $343 million, while same-store sales, a key growth metric for retailers, was up 8% as the company continued to rebound from an embarrassing manufacturing issue earlier this year that left batches of its pants virtually see-through, triggering a massive recall.
"We are well on our way to finishing 2013 as a much stronger company than when the year began," Lululemon CEO Christine Day said in a statement. "We have not only worked our way back from the black luon setback," but the company has also hired new talent, expanded its international and men's business and improved logistics, she said.
However, Lululemon isn't as optimistic on the latter half of the year.
It sees current-quarter earnings in the range of 39 cents to 41 cents on sales of $370 million to $375 million, both below the consensus view of 44 cents a share on sales of $389.4 million.
For the full year, the retailer anticipates EPS between $1.94 and $1.98 on sales of $1.62 billion to $1.63 billion, below the Street's view of $1.99 a share on sales of $1.67 billion.
While it is making strides in the lengthy luon pants recovery, Lululemon continues to field customer complaints while trying to retool its logistical operations and revamp its image.
Shares of Lululemon were down more than 7.5% to $63.76 in early trade.