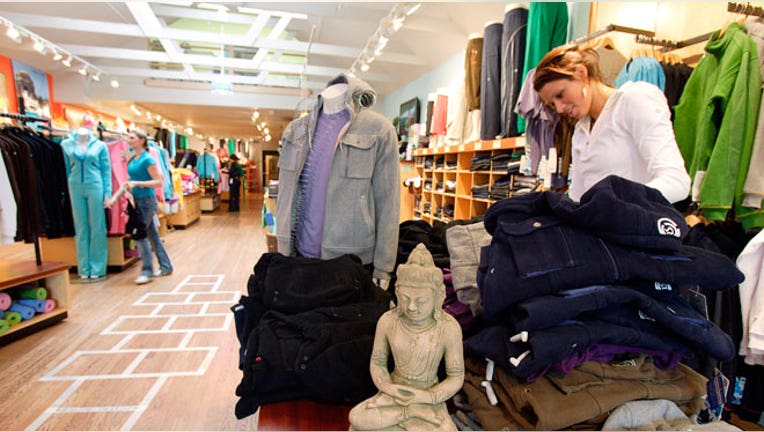 From Apple's (NASDAQ:AAPL) FoxConn headaches to this week's Lululemon (NASDAQ:LULU) sheer pants debacle, brands are once again reminded of the downsides of outsourcing production across the world to low-cost places like Asia.
While manufacturing abroad has the obvious benefits of cheap labor and rapidity, the recent Luon yoga pants recall underscores just how badly a kink in the supply chain can set a company back in terms of reputational damage and hit its bottom line.
It's especially true of an emerging retailer like Lululemon that is looking to keep pace with skyrocketing demand. The company saw revenues soar 31% year-over-year in its most recent quarter and is undertaking an aggressive global expansion plan in key markets like London and Hong Kong.
Yet, when quantity begins to take precedence, it's often at the cost of high quality. When companies are tens of thousands of miles away from their foreign manufacturing centers, their ability to keep a watchful eye over production is hindered, sometimes at the risk of their product.
"The Far East apparel manufacturing market was essentially built on the idea of quantity over quality," International Strategy & Investment Group senior analyst Omar Saad said in a note this week to clients.
There simply aren't that many apparel manufacturing companies with the capability to produce "meaningful quantities of product that meet the company's stringent standards," he said.
As demand grows in markets where consumers are price driven, manufacturers are compelled to be equally as cost driven to alleviate the pressure on their margins. However, speedy manufacturing far from home can lead to unavoidable errors without careful inspection.
"If customers are saying 'we want more, we want more,' no one is going to say 'no we can't do it,'" said Marshall Meyer, a professor and China expert at the University of Pennsylvania's Wharton School. "If   we're all governed by price, and if performance standards are of overwhelming significance, these problems occur whether its toys or workout pants."
Lululemon's problem is hardly as lethal as, say, Mattel's (NYSE:MAT), which in 2007 had to do some serious damage control after a number of its products made in China contained dangerous levels of lead paint. But the Luon pants are a "very technical and sensitive product to manufacture" given their complex multi-step production process and specific set of proprietary ingredients, said Lululemon CEO Christine Day. That means they require a much closer watch than toys or electronics where discrepancies are usually easier to spot.
"The only way that you can actually test for the issue is to put the pants on and bend over," she said Thursday on a call with analysts. "Just putting the pants on themselves doesn't solve the problem."
Keeping closer tabs, though, often means footing a pricey bill, a luxury that well-developed retailers like Nike (NYSE:NKE) have over newcomers like Lululemon.
For the athletic apparel maker known for its popular yoga pants, the oversight is expected to have a "substantial impact" on profits later this year. It is writing off summer-delivery yoga pants and hasn't been able to give a timeline on when the Luon pants will be restocked.
The pants shortage, which Lululemon predicts will shave some 25 to 27 cents a share off its full-year earnings, comes a year after the Vancouver-based retailer received complaints regarding dye-bleeding among its bright-colored tank tops.
"When you take a supply chain and extend it several thousands of miles around the world, you're laying layers of complexity and exposure that you wouldn't normally have if you were sourcing from Kansas," said Greg Kefer, VP of corporate marketing for GT Nexus, a cloud supply-chain platform developer. "When you push supply overseas you lose a degree of control."
Day says the company is working closely with manufacturers to get to the root cause of the most recent dilemma. The retailer has a team on site in Asia and has added new quality control leadership in recent days to liaison and development teams. It is "looking to make some more significant hires," particularly in raw materials, going forward, she said.
Lululemon has pointed to its foreign manufacturers for the see-through pants, though it has yet to specifically name which may have been at fault. A manufacturer may be to blame, particularly if it subcontracted unbeknownst to the brand, however it may be unfair to blame it all on the source.
A Lululemon manufacturer, Eclat Textile Co. of Taiwan, emerged strong against Lululemon's claims this week. Eclat, which has facilities in Taiwan, Vietnam, Cambodia and China's Xishan District, one of the country's busiest manufacturing hubs, told the Wall Street Journal that its shipments went through a certification process which Lululemon had approved.
"All the pants were manufactured according to the requirements set out in the contract with Lululemon," Eclat said.
It's a blow to the strict standards Lululemon as vehemently touted since Monday.
Lululemon wouldn't respond specifically to Fox Business for this story, but on its web site the company alleges that it audits and inspects factories, conducting an initial audit to ensure that its manufacturing facilities meet the terms of its code of conduct while working with third-party international auditing companies to monitor and manage its supplier compliance. It says it conducts these audits through third parties twice a year and has its factories visited "multiple times" throughout the year. Having a small manufacturing base, Lulu says, gives it "greater visibility" of factory environments.
However, labor costs in China have risen sharply in recent years. That means that some manufacturers may be subcontracting to save costs, and there's a chance those subcontractors are subcontracting to someone else. It creates a multi-layer supply chain that's very difficult to track without careful mechanisms in place.
"If the costs seem too good to be true they probably are," Mayer said. "It's expensive, but if you get as big as Nike, you can afford it."
Outsourcing is "a huge commitment," said Mark Power, Senior Vice President of sourcing solutions for Xchanging Procurement Services.
There must be solid business alignment between both the retailer and the foreign manufacturer and the two must be realistic about what they want and can accomplish while maintaining high-quality standards, Power said.
"A lot of people try to rush through it. They look only at the labor cost component and are not thinking about quality, cycle time and other important service levels," he said. "There are a lot of other related components that really give you a total value of the contract relationship."
At the same time, he said, both must be flexible enough to manage "regular business change," which includes a faster-than-expected ramp up in demand, and they must have contingencies in place so that high quality standards can be met despite those changes.
Lululemon says it has not determined the specific cause of the sheerness, though Day says it is pursuing "several hypotheses in parallel" with its manufacturing partners.
Small changes to the production process can create "meaningful changes in the fabric," she said. The company began putting in place more stringent specifications this week and will be "re-doubling" its efforts in this area. It will also diversify its supplier base and Day said Lululemon should have two additional sources ready for manufacturing its key fabrics by the fall.
"We have to do a better job of controlling or creating standards for that process as we're shipping to more locations to manufacture," she said.