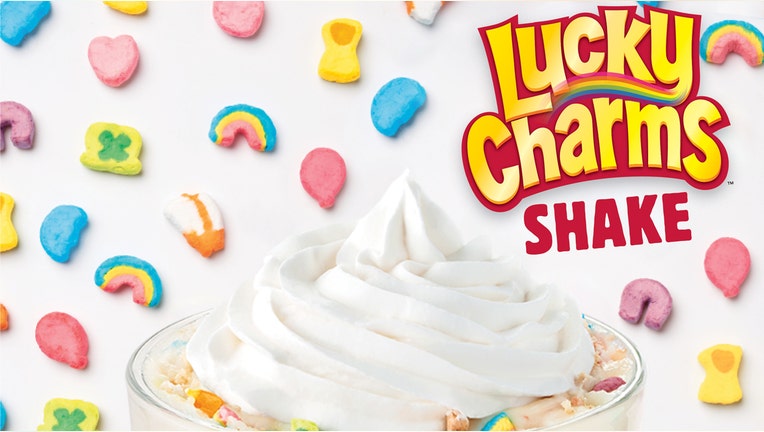 "Lucky Charms" fans can now enjoy their favorite cereal in milkshake form, thanks to a collaboration between General Mills and fast food chain Burger King.
Select Burger King Restaurants around the country will serve the "Lucky Charms" milkshakes, which consist of a standard vanilla milkshake, syrup and pieces of the cereal – including marshmallows. The offer is available "for the next few months," according to a blog post on General Mills' website.
"For over 60 years we have been serving delicious hand spun milkshakes. And now for the first time, we've partnered with Lucky Charms," says Alex Macedo, president of Burger King North America. "The mashup of our velvety vanilla-flavored soft serve and one of America's classic breakfast cereals is something we think our guests are going to love."
Nutrition facts for the shake were not immediately available, but with the restaurant's plain vanilla shake clocking in at 85 grams of sugar, it is fair to say Lucky Charm shakes will be full of sugar. Burger King says the concoction's recommended price is $2.99, though prices at individual restaurants could vary.
While General Mills says this is the first time one of its cereals has been featured in a shake, Lucky Charms isn't the only cereal to end up in a frozen treat. Burger King introduced a "Fruit Loops" shake last April.
Burger King's latest milkshake experiment comes at a time when many brands are experimenting with stunt products. Starbucks raised eyebrows in April when it began selling a pink "Unicorn Frappuccino." The promotion quickly went viral, though the beverage itself drew mixed reviews in terms of taste.