Louisville Says Ware Will Have No Medical Bills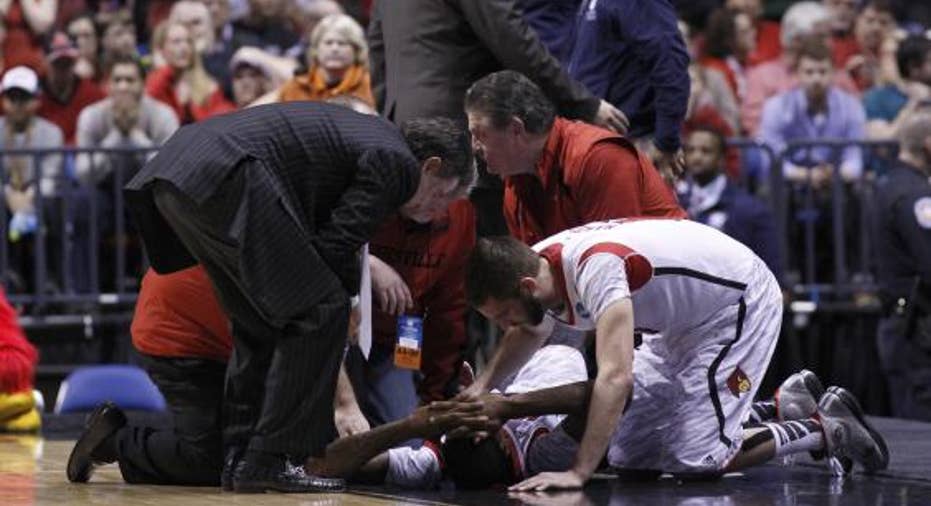 As we await the Final Four action this weekend, I'm sure most of us have seen or heard of that gruesome injury suffered last weekend.
Louisville's Kevin Ware fractured his leg so badly, a bone protruded six inches and CBS refused to replay it. There is some good news, earlier today, Ware was released from the hospital and is headed back to campus. The other silver lining to this tear-inducing tragedy?
According to reports, Kevin's family will not have to pay a dime out of pocket for his medical bills.
Every student athlete must have health insurance because the NCAA requires it. If their parents don't have coverage, most universities will buy insurance. Even if the athlete's parents are covered, some schools will serve as co-providers.
In Ware's case: Louisville will pay for the whole thing. If the bills were too astronomical, the NCAA also has supplemental insurance for up to $90,000 dollars. If the player is totally disabled, the benefits could reach $20 million.
This story makes me think the government offers great health insurance. Heck even the NCAA steps up for its players.
What about the rest of us? Why are we being forced to settle for Obamacare?
This is an example of how to handle health care, and I'm glad the Ware family doesn't have to deal with any more pain than they've already endured.