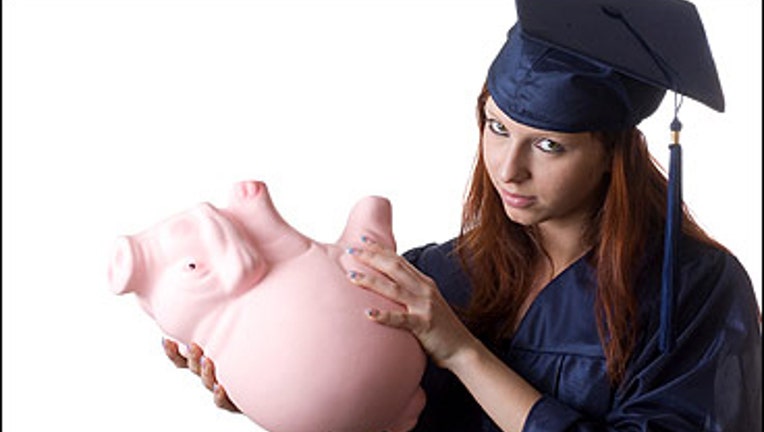 Parents' No. 1 fear when it comes to their kids heading off to college isn't that the student will flunk out or attend one-too-many frat parties. It's that their kid will get accepted into their top school choice and they won't be able to afford tuition costs, according to The Princeton Review's College Hopes and Worries Survey for 2012.
And in today's economy, with student loan debt topping $1 trillion for the first-time ever and tuition costs steadily climbing while wages remain stagnate, the concern is valid. But experts warn students and their families to look past the "sticker shock" of their most desired schools and look for funding options to help cover costs.
On Tuesday, The Princeton Review released its Best Value Colleges for 2013 list, naming the University of Virginia the nation's best value public college and Swarthmore in Pennsylvania as the best private college for value. California had the most colleges represented on the list with 19, followed by New York with 18 and Massachusetts with 14 schools.
The 150 schools on the list, 75 public and 75 private, are ranked from a total of 650 schools based on admissions, costs and financial aid data from the 2011-2012 year. The schools on the list admitted less than half of their applicants, and what's more, student debt at the country's most selective schools is lower than the national average, The Princeton Review reports.
According to Robert Franek, senior vice president and publisher at The Princeton Review, nearly two-thirds of college students are receiving financial aid, but the biggest mistake parents make in the selection process is failing to look past the sticker price.
"Parents don't do the homework. They will cross a school off the list, and make the mistake of not asking about grant money that students don't have to pay back, and about financial aid."
The survey shows that overall, parents and students applying to college are becoming savvier about both academics and cost. Despite this trend, college costs are still starkly increasing, with private school net costs up 4% from last year alone, Franek says. He adds that if they aren't talking cost, it's out of fear.
"Not talking about costs is one of the most avoidable mistakes families and students can make. They are nervous, but the truth is that some schools make it more affordable, so there is a silver lining here."
Among the Review's top 10 public colleges, the cost on average for in-state students was about $8,300 a year, after deducting average grants awarded to students with need. Among the top 10 private schools, the average cost of attendance is about $17,600 a year after grant deductions.
Less than half of the students attending the colleges that made the list  took out loans as undergrads and median debt rates were lower than national averages. Private Best Value schools grads had lower median debt of $20,556, compared to public universities, with $21,373.
Schools don't publish their average post-graduation debt rates, and that needs to be taken into account as well, Franek says. Most of the schools The Princeton Review includes in the round up focus on a full four-year graduation rate, while many others take into account a five or six-year graduation rate.
CSPN chair and Iowa State Treasurer Michael Fitzgerald says parents and students also need to consider the value of the degree in today's tight job market. Putting off "the talk" isn't an option, despite the fact that bills and a world post-graduation may seem far off to students.
"This is a post-recession mentality," he says. "Because the world has changed. Forty years ago with a college degree, you were a valuable commodity. Today you may get a good degree in Art Appreciation, but if you are $80,000 in debt, you have a real problem on your hands."
Start at school guidance counseling offices to discuss potential school options and aid packages. Also ask any and all schools your child is applying to if there are grants available, which do not need to be repaid. Work-study programs are another great way for families to curb costs. Failing to do so is leaving money on the table, plain and simple.
"The future may feel like a ways away, but parents realize it's not," he said. "The costs are overrunning what's available. There are strategies to keep debt down, and families are becoming more concerned."
The "Top 10 Best Value Public Colleges for 2013" are: 
1. University of Virginia (Charlottesville)
2. University of North Carolina at Chapel Hill
3. New College of Florida (Sarasota)
4. College of William & Mary (Williamsburg VA)
5. Univ. of California – Los Angeles
6. North Carolina State University (Raleigh)
7. University of Wisconsin (Madison)
8. State University of New York at Binghamton
9. University of Michigan – Ann Arbor
10. University of Georgia (Athens)
SOURCE: The Princeton Review
The "Top 10 Best Value Private Colleges for 2013" are:
1. Swarthmore College (Swarthmore PA)
2. Harvard College (Cambridge MA)
3. Williams College (Williamstown MA)
4. Princeton University (Princeton NJ)
5. Pomona College (Claremont CA)
6. Yale University (New Haven CT)
7. Rice University (Houston TX)
8. Hamilton College (Clinton NY)
9. Claremont McKenna College (Claremont CA)
10. Grinnell College (Grinnell IA)
SOURCE: The Princeton Review