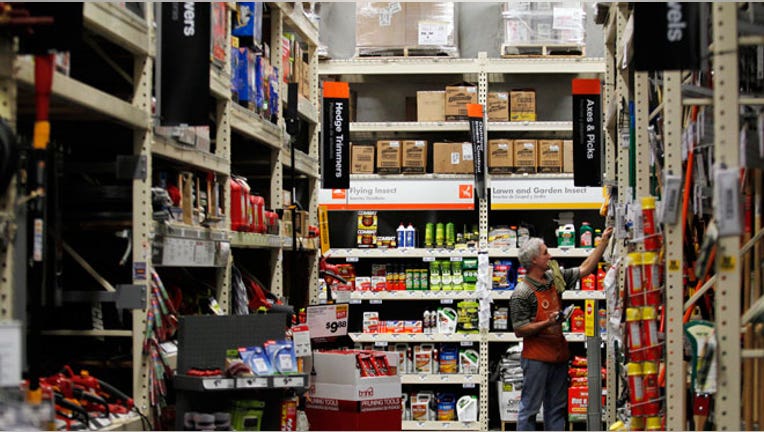 Home Depot (NYSE:HD) saw its first-quarter earnings rise 12.5%, but the results missed expectations after a long winter cut into the home-improvement retailer's spring selling season.
Home Depot said Tuesday its profit was $1.38 billion, compared to $1.23 billion in the year-ago period. On a per-share basis, earnings climbed to $1 from 83 cents.
The latest quarter included a benefit of four cents a share related to the sale of a portion of the company's stake in HD Supply Holdings. Excluding the share sale, Home Depot reported adjusted earnings of 96 cents a share.
Revenue improved 2.9% to $19.69 billion.
Analysts were looking for an adjusted profit of 99 cents a share and revenue of $19.95 billion.
Despite an uptick in the housing market, expectations for Home Depot's first quarter remained tepid over concerns that do-it-yourself homeowners would put off projects until after the winter. Much of the U.S. saw record snowfall, and Home Depot said lingering cold temperatures hampered sales.
Rival Lowe's (NYSE:LOW) is scheduled to report earnings on Wednesday.
"The first quarter was impacted by a slow start to the spring selling season. But we had solid results in non-weather impacted markets and expect our sales for the year to grow in line with the guidance we previously provided," Frank Blake, Home Depot's chairman and CEO, said in a statement.
Same-store sales were up 2.6% during the period, which ended May 4. U.S. stores logged comparable sales growth of 3.3% year-over-year.
The average customer ticket increased less than 1%, and the number of transactions jumped 2.2%. Gross margin widened to 35% from 34.9%.
Home Depot raised its earnings guidance for the full year to $4.42 a share, up from $4.38 to reflect the HD Supply share sale and other impacts. The Atlanta-based company also said it will buy back another $3.75 billion in stock by the end of the year.
Shares fell 0.8% to $75.86 in pre-market trading. Home Depot is down 7.1% so far this year.