Long-Term Unemployment is Still Searing and Congress is Still Struggling for Solutions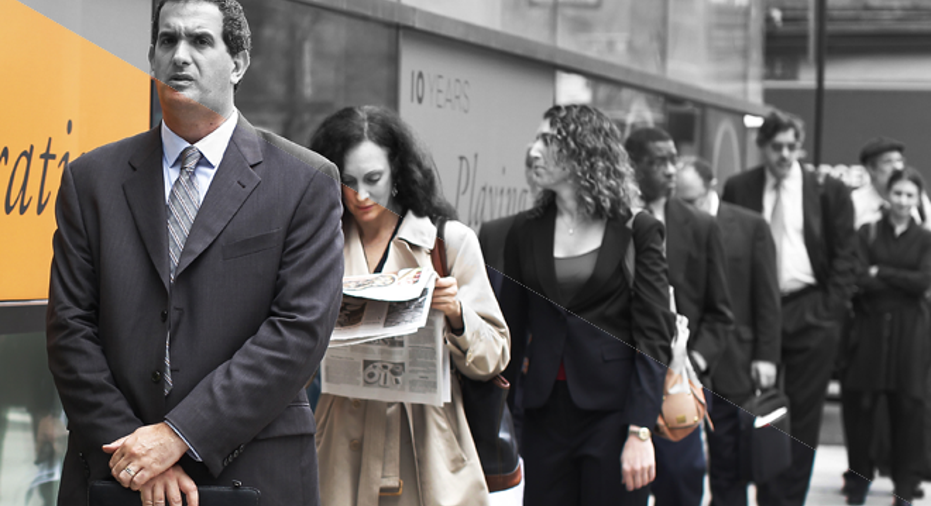 Jami Klubek, jobless for 44 months, is one of the 3.6 million people in the U.S. who are long-term unemployed, a group that makes up about 36% of the total number of out-of-work Americans, according to the Labor Department. Research shows that these job-seekers face a much harder time finding employment than those who have been unemployed for less than six months, and many say that Congress' inability to decide on policies to address their plight is only exacerbating the suffering.
Klubek, who has no income and is living off the kindness of loved ones, is not focused on an ineffective Congress, though. She can't be. She is only focused on getting a job.
"The effect has been devastating throughout middle-class families," said Senator Richard Blumenthal (Conn-D), who has been an advocate for the long-term unemployed. "There is a sense of hopelessness, desperation, and a devastation of dignity."
The epidemic is searing. This group, which one former long-term unemployed person calls the "sacrificial lambs of the recovery," seems to need a rescue plan. But how to construct that fiscal lifeline is a subject of debate among think tanks and policymakers.
Heidi Shierhotz, an economist at the Economic Policy Institute, said the Federal Reserve has done a lot to help restore the jobs markets, and now it's up to Congress to step up to the plate.
"Right now, there needs to be a reversal of the massive fiscal austerity that's been in place, which is contradictory to what we need," said Shierhotz. "We actually cut public-sector jobs. If we had the same amount of government spending that we had in prior recoveries, the jobs market would be doing a lot better."
James Sherk, senior policy analyst at the Heritage Foundation, strongly disagrees with fiscal stimulus as a pathway to a more robust labor market.
Instead, he said, getting rid of burdensome occupational licensing laws for jobs like barbers, massage therapists and pre-school teachers would be a step in the right direction.
"About 35% of all jobs need government licenses, which cost money and take, in some cases, years to get," he explained. "Barriers like these are freezing workers out of entering occupations."
Klubek, who worked for more than 10 years as a manager at a call center outsourced to the Philippines, was part of a summer session at Platform to Employment (P2E), a program that helps long-term-unemployed people find work.
The former call manager, who is over 40, was part of a P2E five-week program in Hartford, Conn., and while she was initially hired for a temporary job after the program ended, the position did not work out and she is back to looking.
"My benefits have run out, and I don't have any kind of income, so I am basically surviving off the kindness of others," said Klubek. "I haven't been able to pay my mortgage so my house is going through foreclosure proceedings, but I am still sending out resumes every day."
Sixty-two-year-old Bob Sullivan is also laser-focused on finding work, hoping soon to get full-time employment.
Last April, Sullivan was desperate for employment after the travel company he worked for closed its branch in 2009 and began going through a training program.
He was part of the Boston-based program Operation ABLE, which is focused on helping those 45 and older out of work for 99 weeks or longer to find jobs. (Long-term unemployment and ageism, research shows is linked: More than 50% of the long-term unemployed are 55 and older.)
Sullivan did not give up hope and after more than four years out of work, he was hired part-time last November at a Barnes & Noble store in Boston.
"Just like all the other resumes, I submitted it online and I actually got a call back," recalled Sullivan. "I was hired a few days later. They needed extra people during the holidays…. I was a little worried come January. But I have been able to stay, and I'm so grateful. I have two alarm clocks to make sure I am in a little early."
Sullivan, who works only about 20 hours a week, is making $8.50 an hour, which he said is what his pay was in 1980. Still, he stresses, he is extremely thankful for the work and hopeful for the future.
Klubek said her overall experience at P2E was very positive.
"It was a really good experience. The program made me feel like I was not alone," said Klubek. "Since then, I have felt alone again though at some points. It would maybe be nice for them to follow-up more, to see how everyone is doing but I know they are busy."
"Just like all the other resumes, I submitted it online and I actually got a call back.... I'm so grateful [for the work]. I have two alarm clocks to make sure I am in a little early,"
The Workplace, a non-profit organization that administers P2E, certainly is busy. The program has recently expanded to 10 more cities, including Dallas, Chicago, Detroit, and this Friday, San Francisco.
An interesting part of the P2E program is its wage-subsidy component, which offers to pay the first two months of a graduate's salary as an incentive to hire. Of the six P2E grads FOX Business caught up with over the summer, none used the subsidy program, but five of them now have jobs.
Dennis Ahearn, 50, is one of those people. A former software developer, Ahearn is working as a coach for Career Resources Inc., which P2E put him in contact with after his training session ended. He initially was only a temporary hire, but the person he was covering for did not return.
Ahearn, too, is grateful to be back at work, even though he is not in his field of interest.
"Being out of work so long, it takes a toll on your health -- and your whole life," he explained.
The damage and isolation long-term unemployment causes, said Joe Carbone, the president of the Workplace and founder of P2E, is almost indescribable. On top of everything else going against that long-term-unemployed person, he pointed out, the loss of your sense of self exacerbates the situation and makes it less likely to land a job.
"You get a lot of confidence back once the five-week [P2E] program is done, and I know sometimes it gets hard if you haven't found a job a few months after it ends," said Carbone. "But it's important to know that once a person is part of the program; they are part of a family and are never alone again."
It's not like government officials aren't trying.
At the end of January, Senator Blumenthal introduced the Fair Employment Opportunity Act, which would make it illegal for employers to discriminate against the long-term unemployed. According to the legislative tracker GovTracker, the chance of the Blumenthal bill passing is about 0%. (The site says only 3% of all bills in Congress get passed.)
Last month, President Obama met with about 20 CEOs of Fortune 500 companies to discuss discrimination against the long-term unemployed and urge companies to revamp hiring practices. Over 300 companies have signed a pledge not to discriminate, but it's a promise that is hard to monitor.
Still, Senator Blumenthal is not giving up.
"This is a story of all different age groups and geographical divisions," said Blumenthal. "Voluntary efforts are terrific, but they don't solve the whole problem. The federal government needs to be a partner."