Living the Retirement Dream...Your Way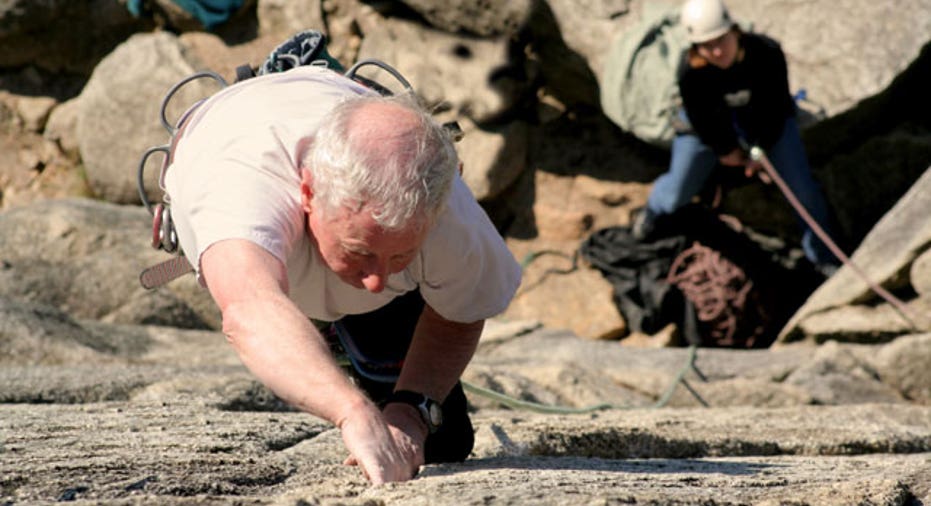 A young couple I watched on House Hunters International recently was looking for a home near the beach in Nicaragua because they love to surf and enjoy living a laid-back life. Instead of retiring in the conventional way, theyre living the way they want to now, running a little breakfast cafe and then closing in time to hit the surf each day.
If it means working harder when theyre older, they say theyre good with that.
As they narrowed their three home choices to one on the show, I thought about how lucky they are to have found each other. Not everyone is up for flouting convention or even questioning the status quo. Two vibrant, like-minded people formulated a plan and they are living--really living-- as they see it.
Right before that episode of House Hunters was another in which an elderly couple was seeking a house in Asheville, N.C. They found one and were delighted with their choice. The man motioned to all the land and the garden he would grow, envisioning rows of brussel sprouts and asparagus. He had his work cut out for him and he was exuberant about the project.
This brings me to the later stages in life and how we choose to live them. I come from a large and loving extended family, but frankly there are few examples of vibrant seniors among them. Over the years they have inspired me in a myriad of ways -- work ethic, loyalty -- but not much on how to live well in retirement.
By contrast, when I walked into my Dantes Inferno summer class at NYU a few weeks ago, I was stopped in my tracks when I saw it was mostly senior citizens. When the teacher went around the class and asked us to tell a little about ourselves, I found out I was among a chief of surgery, a composer and a retired cosmetics executive, just to name a few. Most of my classmates are adding to their knowledge of must-read literature, just like me.
I dont know what is more exhilarating, being in class with that kind of energy or learning about Dante Alighieri and all that contributed to the creation of his epic work.
Regular readers of Game Plan know I thrive on creatives and what makes them tick, but also on people who recognize life is better when they are feeding body, mind and soul.
Not just obsessing on their bank account or putting off living until theyve reached some material milestone, but getting full from designating which part of the garden will be set aside for tomatoes or how to make surfing a priority.
By living this way, those that come after us are learning how to take it up a notch. Its worth checking in once in a while, to ask: What are you passing on to the next generation? I dont mean whats in your will and testament. I mean whats in your attitude, your outlook, your way of being in the world? What of your demeanor, your approach to aging, your willingness to push beyond being one of those seniors primarily watching TV and going to doctor appointments? Must your muscles and will turn to mush or can you do something about it?
I attended the recent Independent Handbag Designer Awards and the winner in two categories most socially responsible and audience favorite was 69-year-old Neide Ambrosio Martins de Souza of Rio de Janeiro. Overwhelmed with joy, she spoke through a translator when she accepted her awards. Heres what she said on her application when asked what made her bags socially responsible.
We were able to have housewives unable to find a full time job, especially single mothers, and also young girls who used to spent most of their free time on the streets, get interested in learning a new craft, receive encouragement, love and feel part of a big family, she wrote. For example, we have one artisan who used to suffer of depression; another one was grieving the loss of her son, both of whom had gotten involved in the traffic. Every [sic] since they started to work with us, one quit taking pills and both are doing much better. They are dedicated artisans who appreciate this new life opportunity and how this new skill has changed their life.
We intend to develop partnerships with daycare centers so that mothers can leave their children and have more time to devote to their work. Moreover, we also plan on creating rehabilitation, reintegration programs as well as extend the work to other communities throughout the country, develop workshops to teach, promote this eco-friendly, sustainable and socially-responsible craft.
Not only is this ambitious and admirable, its probably more stimulating than counting the minutes until the early bird special, yes? Isnt this a big part of why were all so enthralled with the feisty Betty White these days? Shes working and gleeful about it.
One of the primary tenets of my life coaching practice is this: prepare for the outcome you want. Art, engagement, activity, relationship all ways to keep life rich and to tell our bodies and minds that we are going to eke every ounce of joy, expression and meaning we can from the time weve been given.
There was such a sense of this in the latest Woody Allen film, Midnight in Paris. Set in 2010, Owen Wilson plays a writer who escapes the present and goes back to the 1920s. There he meets Pablo Picasso, Ernest Hemingway, Cole Porter, Gertrude Stein, and Zelda and F. Scott Fitzgerald, among others. Allen gives us full-bodied artists albeit in snapshot so we see them as gifted, devoted to craft, hedonistic, emotionally frail and prolific. Regardless of how deeply flawed they were, they lived on their own terms and left respective legacies that speak for themselves.
Some of us are engineered to live structured, dutiful lives doing whats expected and feeling the rewards of that, I suppose, but isnt there always room for fresh air?
Every day the surfs up somewhere. Take a ride.
Nancy Colasurdo is a practicing life coach and freelance writer. Her Web site is www.nancola.com and you can follow her on Twitter @nancola. Please direct all questions/comments to FOXGamePlan@gmail.com.