List of costliest US hurricanes
As North and South Carolinians are preparing for a potentially devastating hit by Hurricane Florence this week, the powerful storm is reminder that September has historically been the most active – and costliest — month for these kind of storms in the U.S.
According to data from the National Oceanic and Atmospheric Administration, last year's megastorms, including Hurricanes Harvey, Irma and Maria, have already landed in the Top 5 most expensive U.S. hurricanes on record, costing more than $265 billion combined.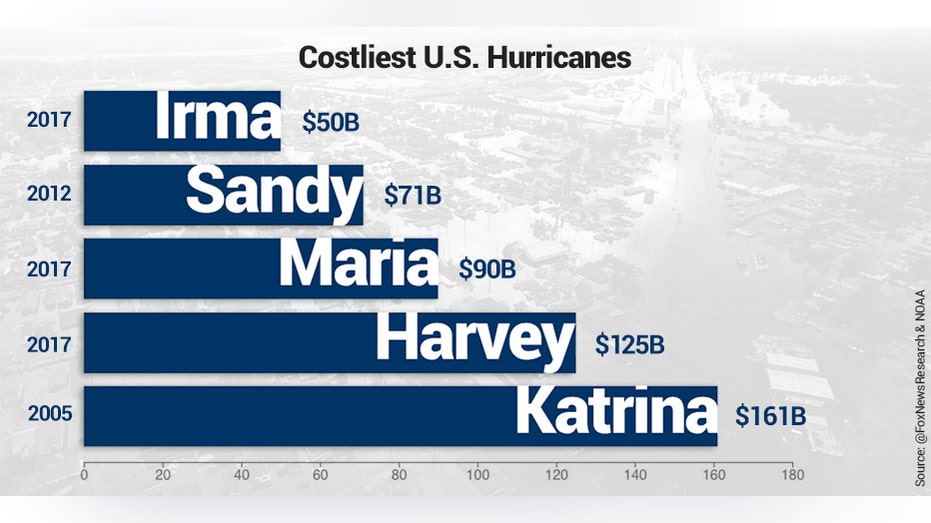 However, 2005's Hurricane Katrina still reigns in the top spot as being not only the most costly hurricane in American history but also the most expensive natural disaster in U.S. history, costing more than $160 billion.
Here are the top 10 costliest U.S. hurricanes to date.
1.            Hurricane Katrina (2005): $160 Billion
2.            Hurricane Harvey (2017): $125 Billion
3.            Hurricane Maria (2017): $90 Billion
4.            Hurricane/Superstorm Sandy (2012): $70.2 Billion
5.            Hurricane Irma (2017): $50 Billion
6.            Hurricane Andrew (1992):$47.8 Billion
7.            Hurricane Ike (2008): $34.8 Billion
8.            Hurricane Ivan (2004): $27.1 Billion
9.            Hurricane Wilma (2005): $24.3 Billion
10.          Hurricane Rita (2005) $23.7 Billion