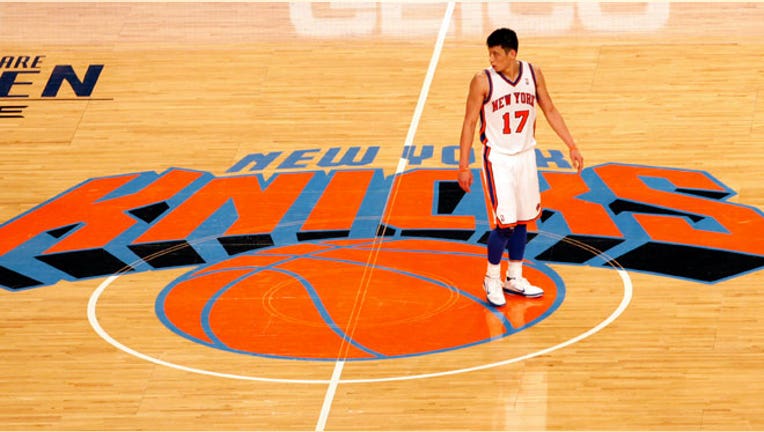 All the talk about "Linsanity's" positive impact on MSG's (NYSE:MSG) stock overlooks one key point: There didn't used to be such a thing as MSG stock until two years ago.
That's because the parent of the New York Knicks was only recently spunoff into an independent company from cable provider Cablevision (NYSE:CVC).
Wall Street's positive response to the debut of phenom point guard Jeremy Lin seems to validate one of the core strategies behind this breakup: the ability to shed a spotlight on a glamorous division that might get lost in the complexities of an otherwise dull cable company.
Since Lin debuted against the Nets on February 4, MSG's stock has surged as much as 13% to an all-time high of $33.18 this week, compared with a rise of about 1% on the broad S&P 500.
It seems unlikely the rise in MSG's TV ratings, influx of merchandise sales and general buzz created overnight by Lin's improbable success would have translated to such a dramatic response in the markets if MSG was still housed inside Cablevision.
Sheldon Stone, a partner at boutique investment bank Amherst Partners, agrees about the payoff being tied to the spinoff decision.
"People are more apt to say, 'I want to buy the stock,'" said Stone. "It's a much shorter distance for someone to draw the line between the New York Knicks and MSG than the line between the New York Knicks and Cablevision because they're co-brands."
The gains can be chalked up, at least in part, to the halo effect surrounding Lin, who has single-handedly energized MSG's biggest franchise: the New York Knicks, which Forbes estimates is worth $780 million, up 19% from the year before and good for No. 2 in the entire league. The team, which has no debt, generated an estimated $244 million in revenue last year.
Given the difficulty of growing organically in the tepid economic recovery, companies often have to consider inorganic options, such as spinoffs.
"One of the ways the C-suite is looking at creating shareholder value, particularly in larger organizations that have multiple business lines," is these types of breakup transactions, said Richard Jeanneret, vice chair of transaction advisory services at Ernst & Young.
A number of big-name companies have announced or executed breakups in recent years, including ITT (NYSE:ITT), Sara Lee (NYSE:SLE), Kraft (NYSE:KFT) and Motorola, which broke up into Motorola Solutions (NYSE:MSI) and Motorola Mobility (NYSE:MMI).
One of the main reasons why companies turn to spinoffs is because they allow for greater attention on standout business lines that previously would have been muddled by a larger conglomerate.
"Often the spins are intended to make sure the market recognizes the separate value of each company," said Jeanneret, who said analysts and shareholders may be confused by the varying businesses.
That goal was spelled out by MSG when the company completed its breakup.
The spinoff "enables MSG to freely pursue its business plan while providing shareholders with the benefit of being able to more clearly evaluate the company's assets and future potential," MSG Chairman James Dolan said in a statement at the time.
Right now, the markets seem to be banking on Lin increasing the value of the Knicks, boosting revenue in terms of ticket sales and merchandise and continuing to lift TV ratings.
According to MSG, the average household TV rating on MSG Network has surged 109% in the six games Lin has started. Ratings in the pre- and post-game shows have soared 96% versus the season average over that span.
Some investors may have been correctly betting that Linsanity gave MSG greater leverage in its battle with Time Warner Cable (NYSE:TWC) over the amount of subscription fees the cable operator pays the network. The impasse left much of New York City in a blackout of their favorite sports teams.
Ending a 48-day standoff, the two sides ended their disagreement on Friday, just two weeks after the Lin debut, according to published reports.
The frenzy surrounding Lin has also sparked an outburst of social-media buzz. According to Nielsen McKinsey's NM Incite, online mentions of Lin went from zero before his debut to 0.32% of all online conversations on February 15 -- more than the Knicks, LeBron James or Kobe Bryant combined.