LinkedIn IPO Likely a Success, But Risks Real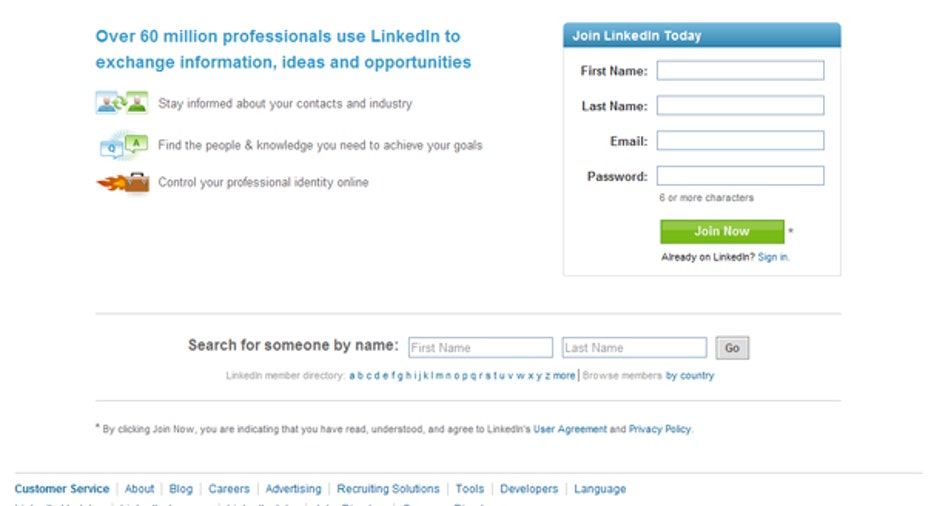 An initial public offering by social networking firm LinkedIn Corp to raise about $341 million seems poised to be a stunning success, but it carries a number of risks that may shake up investors in the future.
The IPO is expected to price after the close of U.S. markets on Wednesday and start trading on Thursday.
In the fervour surrounding the rush to the first major U.S. social networking company to become public, investors may overlook some risks that could sour LinkedIn in the future, analysts say.
One of the biggest risks may be LinkedIn's gutsy bet on its future growth -- combined with an admission that it does not expect to be profitable in 2011 on a U.S. generally accepted accounting principles(GAAP) basis.
"Frankly, they're a little bit arrogant saying, 'We're going to have a great IPO, but we're also going to lose money this year,'" said Francis Gaskins, IPOdesktop.com president.
LinkedIn raised the expected price range of its IPO by 30 percent on Tuesday. At the midpoint of the new range, the IPO would raise $341 million and give LinkedIn a market value of $4.1 billion.
No final decision has been made but the IPO is currently expected to price toward the upper end of the revised range, said a source who spoke on condition of anonymity.
LinkedIn's net revenue grew more than 100 percent from 2009 to 2010, while the company ramped up its sales and marketing spending by 120 percent in the same period, according to a filing with U.S. financial regulators.
After two years of losses, LinkedIn finally made money for its common stockholders in 2010 -- but then it was back to only breaking even in the first quarter of 2011.
In the risk factors section of its prospectus, LinkedIn said the rest of the year could be the same, or worse:
"Our philosophy is to continue to invest for future growth, and as a result we do not expect to be profitable on a GAAP basis in 2011," the company said.
LinkedIn added that it expects its revenue growth rate to decline over time and its costs to increase.
The risk factors section of any prospectus is designed to encapsulate worst-case scenarios. Furthermore, it is not uncommon for an unprofitable company to seek a public listing.
But a profitable company flatlining or swinging to a loss in its first year as a publicly traded stock could prove an unwelcome surprise for investors betting on the booming growth of social media companies.
Earlier this week, the chief executive of LinkedIn's French rival Viadeo told Reuters his venture would delay its IPO, in part because of concerns of having to answer to shareholders about profitability. [ID:nLDE74F0D9]
Although investments toward future growth would give LinkedIn a springboard with which to compensate investors, the delay -- in a hot sector abuzz with new startups and bursting with copycats -- could prove riskier than it seems on paper.
"There's a risk for people to become complacent about the technology company to own the space forever. There's always somebody new coming up with a better form of something, at a better advantage for the user," said IPOfinancial.com's David Menlow, reflecting on the hype around MySpace, shortly before the emergence of Facebook, which quickly shoved it aside.
Another risk LinkedIn faces is its website being blocked, which would limit its user base and could curtail some of the potential growth so attractive to investors. The risk is especially real in China, where LinkedIn has more than one million users and its website has already faced a temporary disruption.[ID:nTOE71N01F][ID:nN14150155]
INTERNET STOCK?
Another peculiar fact about LinkedIn is that on some level it's not quite the Internet company most consider it to be.
The Big Four web companies basking in the glory of skyrocketing valuations and the expectation of blockbuster IPOs -- Facebook, Twitter, Groupon and Zynga -- make most of their money through online advertising or Internet services.
LinkedIn is an online platform but actually makes more money through so-called "field sales," or a salesforce directly soliciting customers, agencies and resellers.
In 2010, 56 percent of LinkedIn's net revenue came from field sales. By way of comparison, only 44 percent of LinkedIn's net revenue came from online sales.
"(Feet on the street) is an expensive sales force," Gaskins said. He added that almost half of LinkedIn's business comes from selling "hiring solutions," which help match companies and job-seekers, a space where LinkedIn could face tough competition from niche job-seeking sites and traditional recruiting firms.
"It's a high wire act," Gaskins said of LinkedIn's longer-term prospects. "They might make it, but it's risky." (Reporting by Alina Selyukh and Clare Baldwin; Editing by Dhara Ranasinghe)