Lingerie E-tailer Helps Women Find the Right Bra, Without the Harsh Lights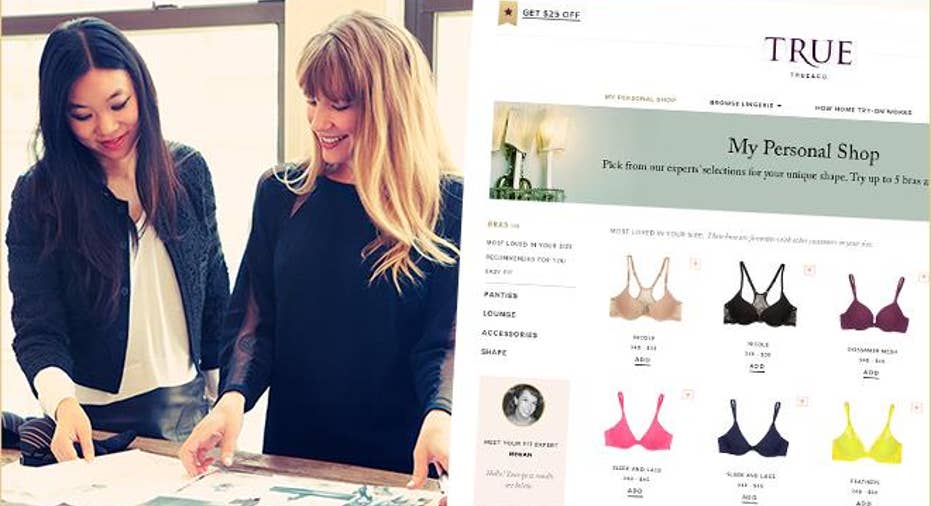 One entrepreneur turned a frustrating lingerie-shopping experience into a startup plan, and more than 200,000 bra shoppers have checked in.
"We have been blown away from their response [to True & Co.]," says site founder Michelle Lam. "It really shows you that a lot of women really feel the same way as you."
Lam says the last time she stepped foot into a fitting room -- with its harsh fluorescent lights-- in search of a new bra, she came out two hours later bra-less and discouraged. Instead of letting the uncomfortable experience get to her, she got to work.
Two years later, Lam has True & Co. (of which she is founder and CEO), which launched an independent undergarment line in NYC this week. The startup is an ecommerce lingerie shop that uses an algorithm (known to site users as a "Fit Quiz") to help women find the best-fitting undergarments for their body type -- without ever being tugged and pulled at with measuring tape.
Lam says she crafted the personal "Fit Quiz" to help shoppers find the perfect-fitting bra, asking them questions a best friend would ask: How are your shoulder straps? What's your (breast's) shape? How do they rest in your bra? What is your favorite brand?
Since its launch in 2012, the San Francisco-based startup has had more than 200,000 women fill out fit quizzes. Lam says she likes to refer to the answers compiled as their "body of work," and from the data gathered the company hopes to help improve not just the quiz but the lingerie industry as a whole. During the design process, Lam recalls her creative director remarking on how "the modern bra hasn't changed in a hundred years."
Like a lingerie matchmaker, fit experts use the quiz answers to help consumers find the most flattering bras, loungewear and pajamas. Shoppers pick three bras and fit experts pick two more "mystery" ones. Similar to Warby Parker's (with whom they share investors) at-home free try-on for glasses, consumers can choose to have a personalized box of bras sent to them. The home try-on is free, and consumers are not bound to buy a bra, but Lam says as many as eight in 10 shoppers have found their "perfect match" so far via the site.
True & Co. carries about 50 brands like Natori, Calvin Klein and Spanx, in addition to their own private collection, She Walks in Beauty (+ Light), which launched this week and was designed by the company's Creative Director Nikki Dekker.  Dekker, who is co-founding designer of niche lingerie brand The Lake and Stars, showed off the  silky, ethereal garments Tuesday at the New York collection launch party, saying they were inspired by the site's shoppers.
Lam says all merchandise is "picked deliberately" based on their insistence in offering affordable products. The site carries over 30 sizes, from 32A to 38F, starting at $34 for a bra, $58 for a panty set and $88 for a body suit.
"It is important for us to provide affordable luxury that is high-end but accessible," Lam says.
Ken Natori, vice president of finance for lingerie brand Natori Company, which is a family-run and -owned business, says breaking into the lingerie industry isn't easy, but believes Lam is on the right path.
"She's very intelligent and has a wonderful vision and passion for what she's doing," Natori says. "It's changing our industry in terms of how to reach customers."
True & Co. launched with about $2 million in funding from First Round Capital. The company announced this week it had closed a $4 million round to expand the business from Crosslink, Vegas TechFund, Great Oaks Venture Capital and Pejman Nozad.
In a $14 billion market arguably dominated by mass consumer brands like Victoria's Secret, True & Co.'s strategy of "relying on customers to tell you where she wants you to go" is in line with today's digital trends.
"We're just trying to provide an approachable experience," Lam says. "Because when it comes to lingerie, if it doesn't fit, it isn't beautiful."