Lincoln, Cadillac Take Different Paths to Revival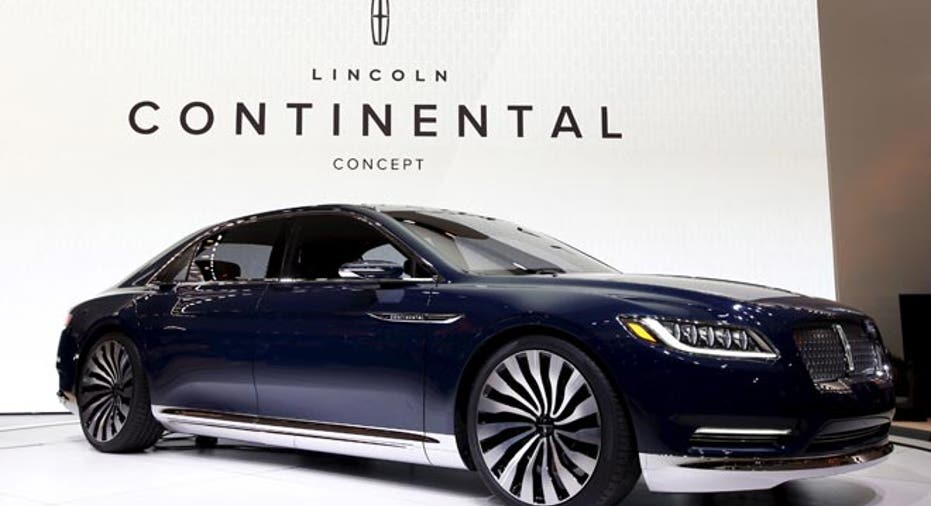 Lincoln and Cadillac are taking different paths as they seek to restore their luster in America.
German heavyweights are making life difficult for Ford Motor Co. (NYSE:F) and General Motors (NYSE:GM), especially at home. BMW's U.S. deliveries grew 9.8% to 339,738 vehicles in 2014, beating Mercedes-Benz by just 9,000 vehicles to win the annual luxury title.
BMW and Mercedes-Benz each sold around 80,000 vehicles in the U.S. during the first three months of 2015. GM's Cadillac has sold 37,175 vehicles, down 6.1% compared to year-ago quarter. Lincoln, despite adding the MKC crossover to its lineup, reported a decline of 0.6%.
The revival of Cadillac and Lincoln is understandably a top priority for the two largest Detroit automakers. Luxury vehicles now account for 10% of global sales, but half of the industry's profits.
"The luxury market is definitely doing well overall, especially at a global level," said Karl Brauer, a senior analyst at Kelley Blue Book.
Lincoln has the most ground to catch up. The Ford brand has tallied sales of 21,478 cars and sport-utility vehicles this year, far behind its rivals.
At the New York International Auto Show this week, Lincoln offered a glimpse at its future direction with the Continental, a concept version of its next full-size sedan.
Lincoln made it clear that its Continental, a long-used nameplate that vanished in 2002, is designed for a different corner of the luxury market.
Lincoln President Kumar Galhotra touted sophisticated features such as Venetian leather seats and door panels, a lap tray for rear passengers and seats that cushion each leg individually. The roomy sedan also has a button that automatically moves the front passenger seat forward and reclines the rear seat.
He also spoke of providing "effortless power," drawing a contrast between the Continental and European speed demons.
"We understand there's a luxury segment out there that is looking for really aggressive machines," Galhotra said during a presentation, "but we also hear from a very large number of luxury customers who are looking for something very different. They're looking for an elegant, beautiful, quiet luxury experience."
Ford CEO Mark Fields added the Continental "signals the future of what we call quiet luxury."
Cadillac CT6
When it arrives in showrooms next year, the Continental will likely attract a different set of buyers than the 2016 Cadillac CT6, which also took its first bow in New York.
The new top-of-the-line sedan, which is scheduled to begin production in late 2015, is another high-performance take on luxury from Cadillac. The CT6 will be offered with a twin-turbo V6 that generates 400 horsepower, while the base engine will make 265 horsepower.
With past introductions of the ATS and CTS, Cadillac broke ties with its "couches on wheels" past and focused on making better-driving cars, Chief Marketing Officer Uwe Ellinghaus said. The CT6--the first car to use a new naming system--reinforces Cadillac's effort to prove it's different.
"Why should anyone buy a good copy?" Ellinghaus asked, emphasizing that Cadillac must separate itself from rivals. "The competition in the luxury segment is so fierce. The [BMW] 7-series and [Mercedes] S-Class are well-established. They are, let's face it, very good cars."
The CT6 has similar dimensions to the 7-Series, according to Cadillac, but the big sedan weighs nearly the same as the mid-size CTS. Ellinghaus compared the CT6's driving characteristics to smaller vehicles.
"We know from research that mid-size owners would like to have more space but don't want to go to the top of the class. It's a niche we hope to cover," he said.
Cadillac's turnaround was off to a promising start. Domestic sales jumped 22% year-over-year in 2013 on a strong reception for the compact ATS. Last year marked a step backward, as Cadillac was one of just three luxury brands to post a decline in U.S. sales.
Globally, Cadillac had better luck. The brand sold 263,697 vehicles worldwide last year, a 5% increase, amid a big improvement in China. In March, the brand's Chinese volume surged 76%.
China the Key?
Luxury sales are quickly picking up steam in China, which has emerged as the main market for premium German sedans. If Cadillac and Lincoln want to regain their global prominence, China will be the key.
"The thing about China is the reputation of those brands will hold them back less. They were damaged by American and European views, but that's not really the case in China," Brauer said.
Lincoln launched in China late last year. It will expand its dealer network from 11 to 25 locations by the end of 2015, and the company wants to have over 60 Lincoln dealers in China by 2020.
Speaking to a group of reporters Wednesday, Fields stressed that Lincoln is "held in very high regard in China."
"As we go forward, I think [the Continental] will only burnish our brand even more in China," Fields continued. "I strongly believe that our sales of this type of vehicle will do well because the largest large-luxury sedan market right now is China."
Lincoln certainly had the Chinese market in mind when designing the Continental. In China, where many luxury buyers can afford to hire their own drivers, rear leg room and convenience features are critical.
The same can be said about Cadillac. Executives have highlighted the CT6's class-leading leg room and an array of entertainment options for passengers. Ellinghaus said the CT6 will be the "best weapon we have to win Chinese customers over."
Back at home, Cadillac and Lincoln are facing a tough road ahead. Redefining American luxury cars won't be easy, and it won't happen overnight.
"Cadillac and Lincoln need to offer vehicles consistently, hopefully pricing them below comparable cars from Europe, and they need to do that for a sustained period of time," Kelley Blue Book's Brauer said. BMW's 7-Series and Mercedes-Benz's S-Class carry price tags of $90,000 or more.
The CT6 is one of eight new vehicles that Cadillac plans to launch by the end of the decade. The brand is investing $13 billion in product development and targeting global sales of 500,000 by 2020.
Lincoln is on pace to add four vehicles over the next four years.  Ford plans to spend $2.5 billion on Lincoln over the next five years, and Lincoln's 2020 sales goal is 300,000 units.