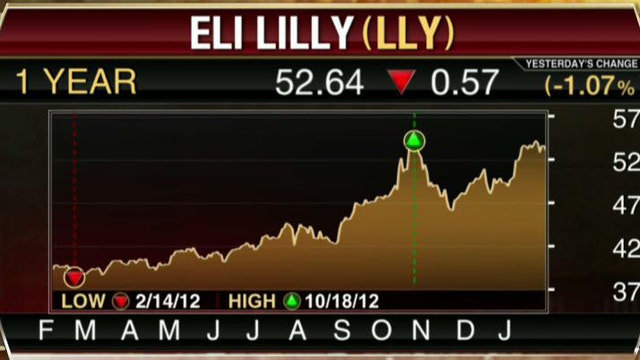 Eli Lilly (NYSE:LLY) revealed a 4% decline in fourth-quarter profit due to ongoing effects of the so-called "patent cliff," but still topped Wall Street expectations on both the top and bottom lines.
The Indianapolis-based drug maker reported net income of $827 million, or 74 cents a share, compared with a year-earlier $858 million, or 77 cents.
Excluding one-time items, Lilly earned 85 cents a share, trumping average analyst estimates of 78 cents in a Thomson Reuters poll.
Revenue fell by 1% to $5.96 billion from $6.05 billion a year ago, topping the Street's view of $5.81 billion. The decline was fueled by the patent expiration of Lilly's schizophrenia drug Zyprexa. Under the pressure of new generic competition, Zyprexa's sales slid 49% to $385 million from $750 million a year ago.
"Lilly delivered solid financial results in the fourth quarter of 2012, as we successfully offset a large part of the revenue decline from the Zyprexa patent expiration with growth in other products such as Cymbalta, Forteo, Alimta, Effient and our animal health portfolio," said Lilly CEO John Lechleiter.
The company also worked on controlling costs, while investing in research and development to replenish its pipeline, he said.
Shares of Lilly climbed nearly 2% to $53.65 in recent trade.
Lilly forecasts fiscal 2013 earnings in the range of $3.82 to $3.97, which marks a 13% to 17% increase from the year-earlier period and brackets the consensus view of $3.84.
Despite the initial impact of the U.S. Cymbalta patent expiration, Lilly still sees revenue between $22.6 billion and $23.4 billion, in-line with the Street's view of $22.93 billion.