Let the Games Begin: Buzz Bubbles Ahead of Apple's WWDC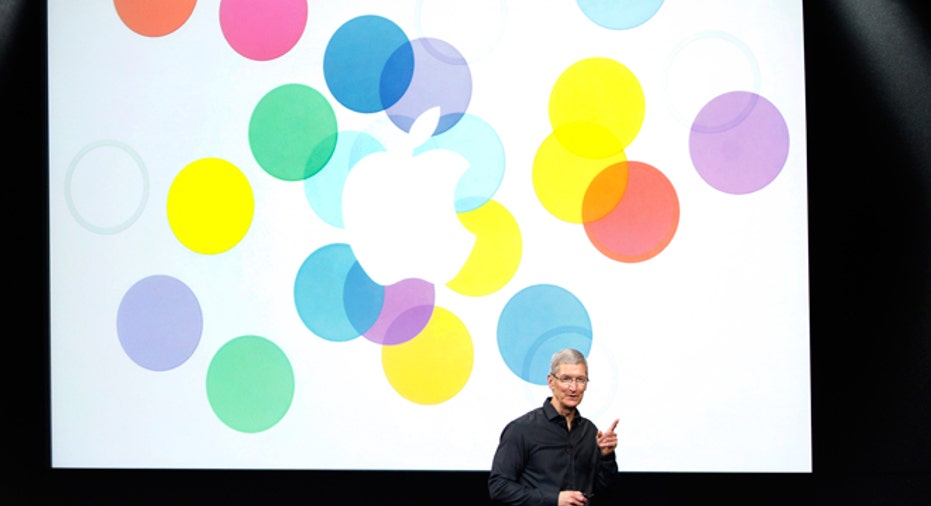 Shares of Apple (NASDAQ:AAPL) hit an intraday 78-week high Friday as buzz bubbled around its hotly anticipated annual developers conference in San Francisco, kicking off on Monday.
The tech giant usually unveils a wave of new devices and technologies at its worldwide developer conference, known as WWDC, and this year will be no different.
Apple will likely make a push into new software that further differentiates it from rival Google (NASDAQ:GOOGL), including software for the connected home and other Internet of Things technologies.
It will also likely announce a big change to iTunes Radio, which comes on the heels of this week's $3 billion purchase of Beats Music, and provide insight into how it will integrate the company and founders Dr. Dre and Jimmy Iovine, who have joined Apple's payroll.
Of course, updates regarding the next-gen iPhone 6 and iOS 8 are also expected.
Apple, always tight-lipped about the event ahead of it, has only offered a single-line tease: "For five days, one thousand Apple engineers and five thousand developers will gather together. And life will be different as a result." WWDC runs from June 2-6.
Apple is a world-class marketing machine, and the buzz surrounding WWDC has been bubbling for weeks. Its shares on Friday, the last market day before the conference begins, were up as much as 1.5% to $644.17, a 78-week intraday high, but have since retreated.
The Real 'Next Big Thing'
Also giving the stock a boost earlier on Friday were two share price target increases. Goldman Sachs (NYSE:GS) raised its target to $720 from $635 on a "buy" rating, while Nomura (NYSE:NMR) upped its target to $621 from $574 on a "neutral" rating.
In a note to clients called "The 'Next Big Thing' isn't Hardware," an obvious play on Samsung's "Next Big Thing" ads for the Galaxy, Goldman predicts Apple will unleash sexy software updates that have the potential to steal the spotlight from new hardware.
This, it says, will be important over the long run because it will help to further differentiate Apple from Google's Android, raising so-called "switching costs," an industry term for user incentive to stay with their current brand.
While Goldman says it expects any upcoming hardware refreshes to act as "powerful near-term drivers of earnings momentum and stock performance," it says platform enhancements, including advancements in mobile payments, connected home solutions, and personal health monitors, should be "far more important" for driving switching costs over time.
"This is what will determine if Apple's cash flow can remain robust and substantially increase from current levels," the analysts said.
In fact, the brokerage expects WWDC to be centered on MAC and iOS software refreshes, as well as iOS platform enhancements. IOS 8 is expected to be previewed and beta released, and the next version of OS X for the Mac will likely be released.
It will also be interesting to see how far in depth Apple goes with the Beats Music dialogue, especially since Apple's switching costs have historically come primarily from media content, including iTunes and App Store-specific apps.
Apple has so far given little color on how it will integrate Beats outside of saying it will boost the line-up of iTunes Radio, its music streaming service.
"With a rapid pace of innovation from competitors such as Google, Apple now faces a larger hurdle than it did with its iTunes and App Store launches." Goldman said.
However, the analysts say it would "clearly be a mistake to underestimate Apple's ability to innovate and succeed" in some of the above mentioned software areas.
'Foolish' to Dismiss Hardware 
Of course, Goldman is not completely discounting hardware -- it has an eye on potential announcements over the hotly speculated iWatch and potential game-changers to the iPhone.
Apple has long made waves with its devices, and Goldman says that while software is the big story this year, Tim Cook will most likely successfully enter new hardware categories in 2014 and 2015, which would be additive to revenue and earnings.
"Given Apple's history, it would be foolish to totally dismiss the possibility that the company could once again reinvent itself with a game-changing new hardware category," the analysts said.
However, it warns that a standalone device is not enough on its own in such a fiercely competitive market. Any game-changing hardware will need to have the ability to spawn separate software ecosystems, such as what the iPod did for Apple's iTunes music store.