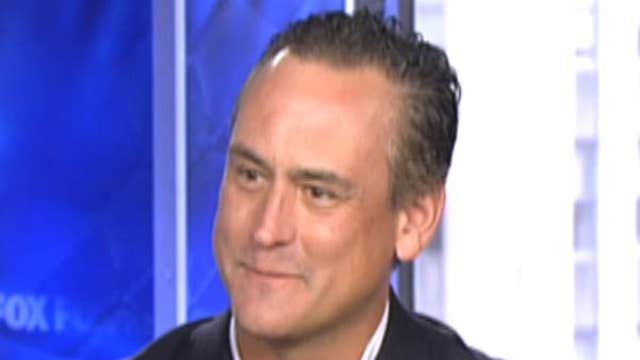 Continue Reading Below
Advertisement
The journey leading LendingTree (NYSE:TREE) as founder and chief executive been one with its fair share of bumps in the road, but it's one Lebda said has helped prove his entrepreneurial instinct true.
Swapping Business School for Business Plan
The process of finding a lender and securing a mortgage is one many Americans do every day. For Lebda, his turn came in 1994 when he was looking to move into a condo in Pittsburgh.
"I did what most people did to find a mortgage in those days: You looked at a rate table in the newspaper and then applied for loans with different banks," he said.
A seemingly simple process, but that's when trouble started.
"I was getting the run around. I felt like rates were changing [from what was published in the paper, and offered at the bank]. It was a very disempowering process, it was very confusing," he said.
And then the lightbulb went off.
"I said, 'There has to be a better way," Lebda explained.
A year into his MBA program at the University of Virginia's Darden School of Business, Lebda decided to try and turn the mortgage-lending industry on its head with the simple goal of streamlining the process to make it more consumer friendly. At that point, he decided to take a year off from school and focus on trying to make his idea a reality.
During that year, he wrote the business plan for a company that would later be called LendingTree. He took the plan through some early testing, mocked up a few early website designs, and began to raise money to start the business.
Not long after, he found out he'd been rejected for one of two jobs that he'd planned to pursue over the summer between MBA semesters, and that's when he knew in a twist-of-fate kind of way that he was supposed to give LendingTree all he had.
But it was at that phase in the company's birth that Lebda almost gave up on it.
"I almost didn't do it, which kills me to this day thinking just how close I was," he said.
Like any first-time business owner, Lebda had his doubts about whether it could truly be a success, and whether he was ready to take on the risk.
"I basically said to myself, I'll give it a year," Lebda said. "A lot of times people think of entrepreneurs as taking risk. Most entrepreneurs are not actually not taking risks, you focus on what you call your affordable loss: What are you going to be able to invest in this? And for me, once I said, I'll give it a year, that's my downside is that I spend a year on this and worst case I have to go back and get a real job. And it worked, that's what really made me take the leap."
So in 1996, two years after his own home-buying disaster, Lebda launched the business.
Navigating Wall Street's Bumps
For a while, it was smooth sailing for Lebda and his new company and in 2000, he took LendingTree public for the first time.
"I'll never forget when I was 29 years old, and I was sitting with 20 lawyers around the table, saying there has to be a better way than sitting there hand writing an S1," he said referring to the document that is filed as a company prepares to go public". "We were able to get [to the IPO process] so quickly."
But the glory wasn't long lived.
In 2001, the dot-com bubble burst, and Internet stocks were the first to take a hit. Instead of giving up, Lebda doubled down on his faith in the business and stayed focus on pulling LendingTree through the crash. Just two years later in 2003, the company was bought by Barry Diller's IAC (NASDAQ:IAC) in an all-stock deal valued at $743 million. In 2005, Lebda became president and chief operating officer for all of IAC, but came back to the company he founded in 2008 when IAC spun it off amid growing rumblings around the security of the housing market as concern mounted about mortgage-backed securities.
"I almost didn't do it, which kills me to this day thinking just how close I was."

- Doug Lebda, LendingTree CEO

Not long after taking the company public for a second time, Lebda had to endure crisis No. 2: The housing market's collapse immediately followed by the 2008 financial crisis.

"We had to undergo significant restructuring and thankfully, we had a lot of cash on the balance sheet when IAC spun us off," Lebda said. "We really focused on motivating all of the employees, getting them all on exactly the same page, and making sure everyone was really committed."

It was the worst of times, but also, he said, in a weird way, the best of times.

"I really enjoy the challenges, and a lot of people who have worked under me say I do the best work at the worst times," he said.

Prior to 2008, investors threw money at companies with a "dot com" attached to the name. But once the collapse happened, the opposite was true. Add to that Lebda's company was also directly associated with the housing market, and it created tension and worry among employees.

To keep faith in the business high, Lebda said the focus remained on the company's core mission and principles.

"If you get people who really believe what you're doing, it gets much easier after that," he said. "We always say to people at LendingTree it's important that you're very candid and acknowledge all the problems that we have, but then recommend solutions. We say 'ask for the ball to get it done,' and so we focus very much on execution."

The focus paid off.

Since it debuted in August 2008 at $8 per share, the stock has soared 650%, and is now trading around the $60 per share mark.

An Entrepreneurial Spirit

Tenacity is certainly a word to describe Lebda and his constant desire to succeed in the face of market forces beyond his control that threatened to throw his business off the grid completely.

But it's those challenges Lebda lives for: In the face of all the turmoil on Wall Street, was there ever a time he wanted to throw in the towel and just give up?

"Absolutely not," he said. "One of the reasons I was able to be an entrepreneur is I was able to focus not even so much just on the metrics of the business, but I saw everything as a challenge to overcome."

It's a foundation he was able to build from an early point in life watching his father grow his own career in sales.

"He gave me a job selling at a very early age," Lebda said. "I literally was cold calling in the White Pages. What that taught me, though, was sales, which most people think of as something they don't want to do or face rejection. For me, it really became about a solution. It became about being very honest and saying, 'We've got this potential solution, let's talk about how we can make it work for you.'"

The best thing he learned during that process is that it's okay to run into disagreements, and it's also acceptable to admit when partnerships aren't going to work.

"A fast no is better than a slow maybe. It's actually okay if it's not a good fit with a client of ours, then that's perfectly fine," he said. "The other thing I think is to always be very candid and honest with everyone."