Leadership Moment for FC Barcelona's Messi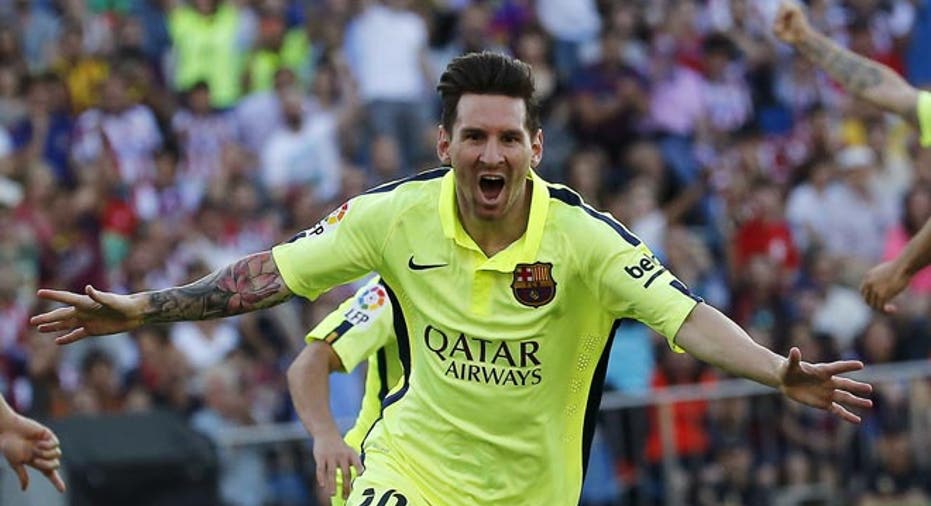 A few moments of truth often capture the essence of a leader's character and define his legacy.  One such moment for Carles Puyol, former center back and club captain of FC Barcelona, occurred in 2011 when he led the team to the Champions League title.
As club captain, Puyol was expected to celebrate by raising the cup on behalf of the team. Instead, he passed both his captain armband and the trophy to defender Éric Abidal, who, just weeks earlier, had undergone a liver transplant as part of treatment for liver cancer. It was a moment Barça fans will forever treasure.
Another moment of truth in Puyol's career came when he stopped two teammates from excessive celebrating following a goal.  Puyol felt it was inconsiderate and disrespectful to Barcelona's opponent.
Puyol the gentleman is also a warrior.  Although he wasn't the most naturally talented, he played with tremendous heart.  He gave 100 percent, 100 percent of the time, and encouraged his teammates to play all out to the end.  It's called competitive greatness. Puyol had it in spades.
Not Your Stereotypical Leader
When Puyol came off the bench during the 1999-2000 season, a period when FC Barcelona was struggling, many weren't quite sure what to make of him.  With a mop of curly hair, polite demeanor, and introverted personality (he described book reading as one of his favorite forms of relaxation), Puyol did not fit the stereotype of a footballer, much less a leader.
But looks can be deceiving.
Even before he was named club captain, Puyol had a positive influence on his teammates. Many a player has recounted times when Puyol encouraged him on and off the pitch.  Teammates, coaches, and competitors praised Puyol for being an honest athlete and selfless leader. Through his words and his actions, he showed his teammates that he valued them and their hard work.
Reading the comments of those who played with Puyol you get the impression he brought out the best in his teammates and always had their backs.  Fellow defender Gerard Pique wrote about Puyol: "My generation and those that come after do not know what the club will be like without Puyi. ... I met you six years ago. You were the captain and the emblem of the team and I was just a kid arriving, set on conquering the world. From day one we had a great relationship, both on and off the field. By your side I felt protected and I knew that if one day I made a mistake you'd always be there to save me. You were my guardian angel."
Although Puyol has said he did not consider himself to be captain material, his former teammates would strongly disagree. The results speak volumes. During his ten-year run as club captain, Puyol led FC Barcelona to 21 major titles.  By the time of his retirement in 2014, FC Barcelona fans would find it difficult to imagine anyone other than Puyol as FC Barcelona's captain.
Like all great leaders, Carles Puyol cares about people, excellence and achieving results.
Messi's Moment
On June 6, FC Barcelona will return to the Champions League final for the first time since 2011. Wearing the captain armband will be superstar forward Lionel Messi.
Considered to be one of the best players ever, Messi is a master of task excellence. This alone, however, is not enough and many an excellent player has come up short as a leader. Task excellence is but one part of the equation for sustainable superior performance.
Lionel Messi needs to prove he is a leader who cares about the people he is responsible for leading and that he values relationship excellence in addition to skill, agility, and goal-making.
Has Messi communicated an inspiring vision for the team and lived it? Has he truly valued his teammates as people rather than thinking of them as means to an end? Has he given them a voice in decisions?  The answers to these questions will determine whether Messi has created a team culture that leads players to pull together for the sake of the team or a culture where self-interest is paramount.
Will Messi rise to the occasion and make the transition from great player to great leader? His legacy, and FC Barcelona's future, depends on it.
Elizabeth Stallard, an intern at E Pluribus Partners, co-authored this article.
Adapted from Connection Culture: The Competitive Advantage of Shared Identity, Empathy and Understanding at Work
More from ConnectionCulture.com:
Is Your Culture Life-Giving or Draining? Take the CULTURE QUIZ.4 Character Strengths that Sustain U2's SuccessCoach K's Secret (He Coaches Like a Girl)