Laughly Wants to Be the Spotify of Comedy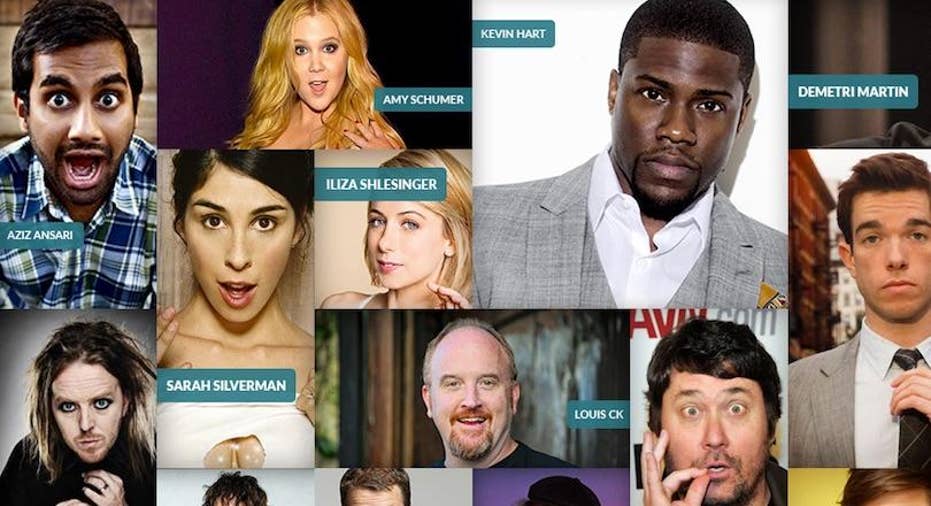 Laughly wants to be Spotify, but for comedy. Yes, its CEO Dave Scott knows that Spotify already has comedy albums, but if you tell him that he'll counter with a fact that's sobering for even the most casual of stand-up fans: only 10 percent of all comedy catalogs are available for streaming.
Scott, who pitched his idea to investors at a startup competition in San Francisco this week, said his app is designed to recreate the comedy environment of 20 years ago, when people still used to buy comedy albums.
Launched a month ago, the Android and iOS apps already have 70,000 downloads, and their users can listen to more than 400 comedians, including Louis CK, Aziz Ansari, Kevin Hart, and Amy Schumer. There's a free, ad-supported version and a $4-per-month premium offering.
As you'd expect from a startup app that's competing with Spotify, Laughly has some ingenious features, including a catalog that lets you search not only by comedian or album but also by individual joke.
"We actually translate every single joke into text," Scott said. He said that allows Laughly to offer the ability to create playlists based on specific categories, like Donald Trump jokes.
Laughly's 70,000 early adopters spend an average of 48 minutes listening to comedy each time they log in, which they do an average of 15 times per week. That's a lot of comedy, which suggests that those early adopters are already diehard fans.
Scott hopes to grow Laughly's subscriber base by reaching out to casual listeners—people who like to laugh, but are disappointed to not find albums they like on Spotify or other big streaming services. He is also growing the app's library, taking advantage of the fact that the distribution of comedy albums is far less centralized than the music business, which is dominated by a few major record labels.
The less competitive nature of comedy means Laughly doesn't need to offer minimum revenue guarantees or advances to comedians in order to sign them up, which contributes to the premium offering's nominal $4-per-month fee. Still, that's 40 percent of the $10 per month that Spotify charges for ad-free access to its entire library, which includes many of the same name-brand comics.
Scott acknowledged that Laughly will ultimately have to strike a balance between revenue from ads and subscriptions. For now, it's the comedy fan who benefits: thanks to Laughly, the 90 percent of comedy that's not currently available for streaming is slowly meeting the Internet.
This article originally appeared on PCMag.com.