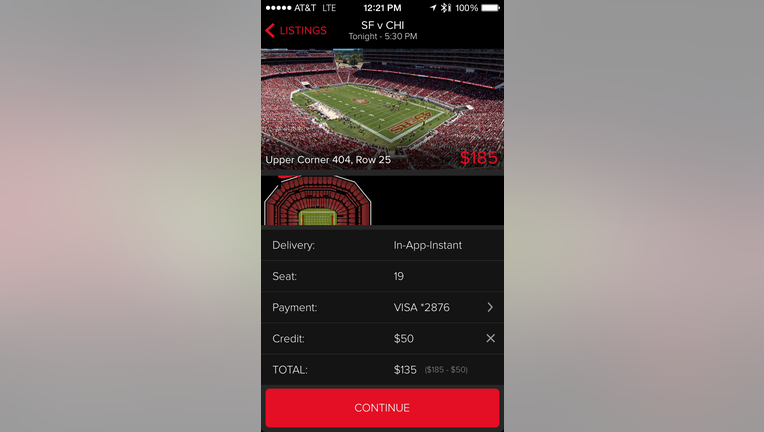 Last-minute ticketing app Gametime is looking to break into the major leagues with a $4 million financing round led by Accel Partners.
The app allows users to book discounted tickets for sporting events. Once purchased, the ticket is displayed on the phone itself, so tickets can be bought on the fly, no printing required.
The round included participation from both sports and tech insiders. Jeff Mallett, a principal partner of the San Francisco Giants and former founding president and COO of Yahoo participated in the round, as did Sacramento Kings owner Vivek Ranadive. HotelTonight co-founders Sam Shank and Jared Simon, Box founder Aaron Levie and StubHub founding executive Colin Evans also invested in Gametime. Evans is joining Gametime as chief revenue officer.
Unlike other ticket aggregators or search engines, Gametime doesn't display all the available tickets on the app. CEO and founder Brad Griffith says the app displays only the top 30 options, based on location and price. Gametime makes money by charging a booking fee, between 5% and 8%.
Though Griffith says Gametime stands out by providing "the most frictionless experience ever" when it comes to purchasing sports tickets, the company is playing in a crowded field of sites and apps targeting the secondary market. Aside from giants like the eBay-owned StubHub (NASDAQ:EBAY), there are also other startups, such as SeatGeek. SeatGeek raised a $35 million Series B late last month in a round also led by Accel Partners.
SeatGeek launched online in 2009 as a ticket aggregator and launched its first mobile app in 2012, said co-founder Russ D'Souza. The company now reports that 40% of its transactions occur on mobile, with mobile transactions growing 70% month-over-month. In addition to sporting events, SeatGeek also aggregates ticket deals for concerts and shows, which make up about 40% of all sales, according to D'Souza.
But Gametime's Griffith said that his company's ability to turn your phone into a ticket is a huge value-add for fans. SeatGeek's app still requires users to print out tickets to attend events.
"We think a ton about the fan experience," said Griffith.
"Gametime's mobile-only approach provides a serious differentiator – by prioritizing the mobile, on-the-go customer, the company will be best positioned to build the most intuitive and user-friendly ticketing experience," said Accel partner Brian O'Malley in a statement released Tuesday.
Next on deck for Gametime? Expansion. Griffith said the company intends to start selling tickets for music and entertainment events, but for now is focused primarily on bringing Gametime to new cities. Currently, Gametime offers tickets in 18 cities: Atlanta, Baltimore, Boston, Chicago, Cincinnati, D.C., Dallas, Denver, Detroit, Houston, Kansas City, Los Angeles, Milwaukee, Minneapolis, New York, Philadelphia, San Francisco and Seattle.
Griffith said the company is currently toying with whether or not to open field offices in various cities as part of its expansion process.
"How do we get the word out about the application? We're still thinking about how to do that … [whether] to have someone there locally, which is the Yelp or the Uber model, or do we do it all from SF, which is the Lyft and HotelTonight model," said Griffith.