Las Vegas Raiders? Why The NFL Could Gamble On Sin City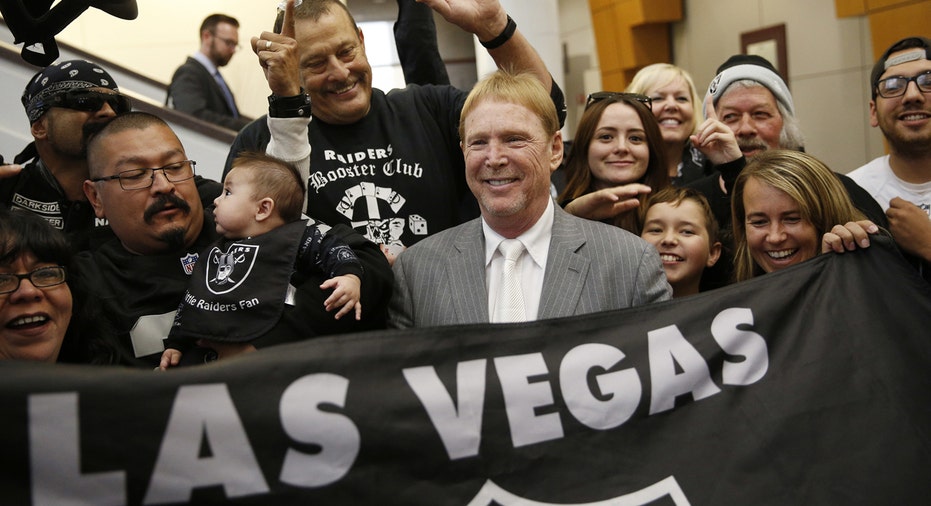 With no clear path to a publicly-funded stadium in Oakland, California, Raiders owner Mark Davis is eying Las Vegas as the potential new home of his franchise. But to get there, Davis and his powerful partners will have to navigate the complicated politics of both the NFL and the local Las Vegas government.
Davis, along with uber-wealthy casino magnates Sheldon Adelson and Steve Wynn, is backing a proposal for a $1.3 billion, 65,000-seat domed stadium near the Las Vegas Strip. Davis has pledged $500 million toward the project, $200 million of which would be provided by a loan from the NFL. The project's proposed budget calls for an additional $150 million from partnering investors, with the final $750 million to be raised through increased tourist taxes on things like hotels and rental cars.
The stadium funding makes sense on paper, but the move to Las Vegas is far from a sure thing. To successfully relocate, Davis and his compatriots will have to persuade three-fourths of the NFL's 32 team owners that a move to Vegas – a relatively small media market despite its wealth – would be a worthy financial investment for the entire league.
To even reach that point in the relocation process, Davis has to exhaust every possible path toward a publicly-funded stadium in Oakland, where city officials have balked at the massive price tag. He'll also have to convince NFL executives and traditionalists that the franchise's proximity to Las Vegas casinos won't harm "the integrity of the game" or clash with the NFL's longstanding aversion to legalized sports betting, as well as reassure local taxpayers that they won't be liable for unseen costs.
"The NFL is very linear, very procedural, especially when it comes to that market and relocation in general," David Carter, the executive director of the University of Southern California's Sports Business Institute, told FOXBusiness.com. "It'll be done on the NFL's terms moreso than on Davis' terms."
As usual, officials are providing bullish estimates for what the stadium project will mean for the local economy. Proponents estimate that the development – tentatively titled the "Las Vegas Dome" – will have a total economic impact in excess of $900 million, foster annual visitor spending of more than $507 million and create about 7,000 new jobs.
In addition to serving as the new permanent home of the Raiders, the venue would host UNLV football home games, major concerts, music festivals, boxing matches, UFC fights and various other forms of entertainment. Just 15 total events a year would produce $45.6 million in tax revenue, according to a report produced by the Las Vegas Sands Corp. and the Majestic Realty Co.
Davis presented his stadium plan to the public on April 28 during a meeting with the Southern Nevada Tourism Infrastructure Committee on UNLV's campus. Within 24 hours, Wynn had confirmed his involvement in the project. The project's backers will request a special meeting of the Nevada legislature later this year in order to request public financing.
Davis is adamant that his public support for the Las Vegas project isn't just a way of leveraging more money out of the city of Oakland.
"We need a home. We need a stadium," Davis said at a press conference last month. "That's what Las Vegas is going to provide us, and it's going to be a great marriage."
Plenty of Roadblocks
But not everyone is on board with the proposal – a closer look at the financing plan has some critics worried. Neil deMause, a noted expert on stadium deals financed with public money, argued in a recent Vice article that higher tourist taxes could cause some travelers to avoid Las Vegas. He also noted that the $750 million in public money would still be one of the largest totals in the history of pro sports.
In addition, some local casino operators and power brokers see the stadium project as a potential roadblock for the planned renovation of the Las Vegas Convention Center, which will also rely on public funds. There is concern among Wynn and Adelson's rivals that there won't be enough money to go around, ESPN reported.
Local politics are just one piece of the puzzle. The NFL's relocation process is complicated under the best of circumstances. The Rams' move to Los Angeles took years of meetings and behind-the-scenes deal-making between team owner Stan Kroenke and the NFL's other power brokers.
A move to Las Vegas would be even more difficult, given the league's complicated position on sports betting. The NFL has been firmly opposed to legalized wagering for decades, but 28 of its 32 teams have some sort of financial partnership with daily fantasy sports – an industry that many have identified as another form of gambling.
There is a widespread belief that many of the NFL's longest-tenured owners are hesitant to place a permanent franchise within walking distance of casinos and sportsbooks. Pro sports leagues are constantly on guard against point-shaving and match-fixing scandals, dolling out severe penalties to any player guilty of wrongdoing.
At the same time, NFL Commissioner Roger Goodell told ESPN's (NYSE:DIS) "Mike & Mike" radio show last month that the league's stance on gambling has "evolved."
"To me, where I cross the line, is anything that can impact the integrity of the game," Goodell said. "If people feel that [gambling] is going to have an impact on the outcome of the game, we are absolutely opposed to that, and that's why we're opposed to team sports gambling. We do not want to be involved in that."
The NFL has yet to take a firm stand on whether it would support a move to Las Vegas. In a memo obtained by NFL Network's Albert Breer last January, officials instructed the public relations directors of all 32 teams that "there is no need to comment" on the Raiders' potential relocation.
"All decisions regarding the location of teams are made by the full membership. Three-fourths of the member clubs must approve any team move. … There is prohibition under league rules on a team moving to any particular city."
Critics have also questioned whether it's wise to place NFL players in "Sin City," given the league's well-documented discipline issues in recent years. But Carter says that's a secondary concern.
"These athletes don't need to have a franchise in Vegas to go to Vegas and get into trouble," Carter said. "If you take a look at the way the NFL is structured and the way they're continuing to keep a very keen eye on player behavior, I think these players would know very well what's expected of them and what won't be allowed if they're in that market."
Even if the Raiders' negotiations with Oakland fail, any move to Las Vegas would still be several years away. The Sands-Majestic Partnership estimates that construction would ideally start in late 2017, with the dome ready for use in time for the 2020 NFL season. But the relocation process is rarely efficient enough to facilitate an ideal timeline.
Davis has vowed to honor his pledge, so long as his fellow owners approve the move. In an interview Tuesday with ESPN Radio, Las Vegas Mayor Carolyn Goodman said the deal will happen if state officials can come together.
"The Raiders will come if Nevada handles this properly," Goodman said.