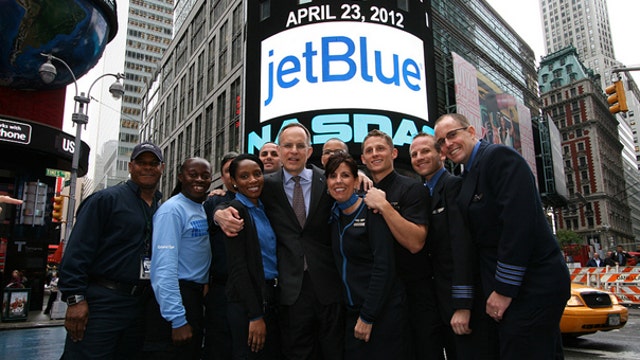 The son of a pilot and a flight attendant, you could say Dave Barger was born to a career in the airline industry.
He even skipped the last years of college to join the industry he loved, a decision he said he never regrets, while still advising young adults to pursue a professional degree.
After serving in various positions at New York Air and Continental Airlines (NYSE:UAL), Barger decided it was time to try something new. In 1998, with David Neelman, Barger helped found JetBlue (NYSE:JBLU) as an alternative to traditional airlines – one with an overall focus on the consumer, not necessarily the bottom line.
Barger sat on JetBlue's board of directors for 13 years and served as COO for six years before taking the top spot in 2007.
But his passion for the airline industry came decades before he got the opportunity to run a company.
Come Fly With Me
Growing up, talk of flying from one city to the next was commonplace in the Barger household.
Barger's father was a pilot before retiring from United Airlines after 37-year career. It was during that career he met the woman who became Barger's mother: A woman who also worked in the industry as a flight attendant for Capital Airlines.
"(My parents) were a huge influence," Barger said. "I just loved aviation. I love airlines."
Barger dreamed of growing up and one day learning to pilot the same kind of jet planes his father had flown.
In fact, it wasn't just being inside the airplanes Barger loved, it was simply being at the airport – around the hustle and bustle of travelers and flight crews—that piqued his desire. Before he ever added an airline company to his resume, he was a regular staple at Detroit Metro Airport where his mother would drop him off to spend eight to 12 hours a day just hanging out.
"The pilots and the airline staff were transitioning from one city to the next (all day)," he said. "When you got to spend time with them you get to know the people…I was 12-14 years old and I would pick up an airline guide. I knew that was an industry I wanted to be a part of."
He said every little kid dreams at one point or another of one day flying an airplane. And Barger was no exception. But at that time he didn't know life would take him out of the cockpit and into the c-suite.
"My eyesight wasn't 20/20, and I was a teenager – back then, you needed non-correctable vision to be able to fly an airplane," Barger explained. "So that's what lead me down a different path."
Despite his less-than-perfect vision, he didn't stray from the industry he loved. So Barger began looking at leadership and corporate-oriented positions, eventually landing a general manager position in New Orleans working for New York Air.  It was there he began to develop what would eventually become his trademark leadership style.
"I'm a consensus builder," he said. "I think about what we're doing now at JetBlue…but even more so (what happened) over at Continental Airlines and my early days at New York Air, there were certain leaders that you just wanted to follow. Certain leaders that created an environment where you would go the extra mile. And I aspired along those lines."
Barger said his style is to try to inspire greatness among those he rubs shoulders with every day.
"I'm not doing the job: I'm not flying the airplanes, I'm not fixing the airplane, I'm not aboard the aircraft or designing the route structure, but I am responsible for the environment," he said.
He emphasized the leadership lessons he learned early on in his career: People tend to learn by watching. Rather than taking a more passive approach to leading the company from a perch in the corner office, Barger likes to get out in the field. He's donned bright orange safety vests to walk the tarmac, climbed aboard aircraft to not only welcome JetBlue's customers, but also the flight crews; and he's made it a point to make it to new employee training sessions or meet-and-greets to get to know the people who work among him in the company.
"At the end of the day, you want to be next to the airplanes," he said. "And if you're next to the airplanes, you're next to the crewmembers; you're next to customers as well."
More than just getting to experience what his employees and JetBlue's customers see and hear and deal with every day, Barger said there's so much he learns by being on the ground level.
"The feedback you get is unvarnished. It's not moving through the organization in any way. It's face-to-face," he said.
It's one of the biggest lessons he's learned: If you think you've communicated enough, do it one more time.
"It's so instant today, whether it's social media, television, or print. But don't assume you've connected."
His second lesson for any leader – present or future – is to recognize when a member of your staff isn't cutting it as a leader.
"Coach them, guide them, set the performance parameters, but if it's not working, make a decision…If it's not working, then, even though you might have put him or her in the role, make a decision and move on. Take care of the person, admit the mistake, and move on because you're only as strong as your team."
Turbulence Ahead
True Barger has a love for the industry, but it doesn't mean his career has been one full of smooth skies. He's experienced his share of turbulence.
Just in his tenure with JetBlue, there have been a host of events that have put his leadership chops to the test. While he sat in the COO position, September 11th, 2001 sent shockwaves through the nation -- and shifted the airline landscape forever.  Just six years later, and months before he took on the CEO role, a surprise snowstorm on Valentine's Day crippled JetBlue's operations, forcing many of its customers to sit on planes on the tarmac for hours. Two events out of his control, yes. But they were also ones that created lessons from which he could learn.
"It was a really interesting timeframe," Barger said. "That 2007 timeframe, the industry was starting to enter into bankruptcy, and of course, this was after the events of 9-11, and little did we know oil would be rising to $147 (per barrel), and a global depression was taking place as well….it was clear to me as I fast-forwarded to 2007 that we had to slow it down. The company was growing just too fast."
So Barger went to the books and began looking at places where growth should immediately slow, and places where future growth could take place.
"At some point, you do have to start thinking of return on invested capital for our owners, you need free cash flow. And not just enough cash from operations to invest in capital expenditures."
One big accomplishment under his leadership is the construction of the JetBlue terminal at New York's John F. Kennedy International Airport. It was a novel idea in its inception – a design that hadn't been done before with more focus than usual on the customer experience. Even that improvement – a positive for the company – was a challenge for a new CEO.
He said in the airline industry, the company has to maintain a focus on profitability. And sometimes it presents a set of challenges for which consumers eventually bear the burden: Like baggage fees, higher ticket prices, and longer wait times at the gates. But Barger said he's tried to do it in a "humane" way by adding TVs to each seat, in-flight WiFi, and a more comfortable space to wait between flights.
As Barger approaches his 15 year anniversary with the airline he helped found, this year also brings his contract expiration date and a choice of what to do next, though it's clear his love for the industry – and the airline – remain as strong as ever.
A spokesperson for JetBlue said the company's board is "always discussing succession planning; it's just a matter of good corporate governance. Dave Barger is committed to JetBlue and conducting business as usual."