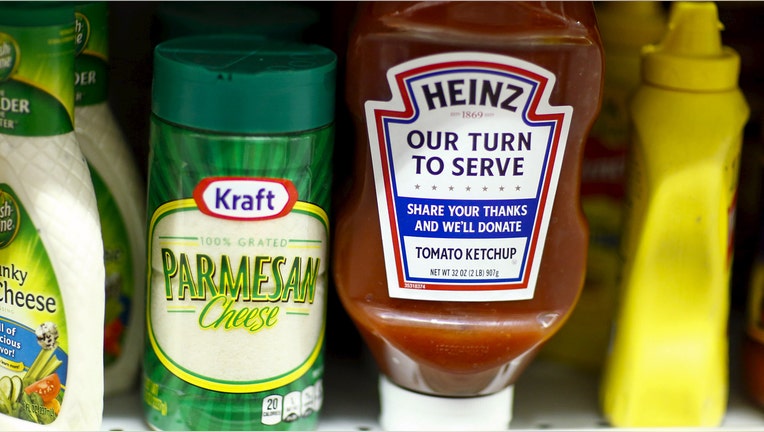 In its first quarterly report to consolidate results for the newly merged entity, Kraft Heinz Co. said revenue and profit dipped.
The company, however, also said it increased its quarterly dividend by 4.5% to 57.5 cents a share.
The share price fell 1.9% in after-hours trading.
Kraft Heinz, which was formed in July by the combination of H.J. Heinz Co. and Kraft Foods Group Inc., is one of the world's largest food companies, with brands that span supermarket aisles.
Many of the company's products, which include Oscar Mayer cold cuts, Jell-O desserts and Ore-Ida Bagel Bites, have experienced sales and market-share declines in recent years as grocery shoppers shift toward fresher foods that seem healthier or less-processed.
But the focus at Kraft Heinz is largely on profits. The company, which is run by Brazilian private-equity firm 3G Capital Partners LP, is aiming to save $1.5 billion in the first few years of the merger.
The company already has announced the elimination of 2,600 manufacturing positions, as it closes seven U.S. plants and cuts 2,500 corporate jobs.
In the quarter ended Sept. 27, Kraft Heinz said profit shrank to $12 million from $608 million a year earlier on a pro forma basis that consolidates results as if the companies had been combined in both periods.
On a per-share basis, which includes the impact of preferred dividends, the loss was 14 cents a share, compared with a profit of 35 cents a share a year earlier. Excluding special items, per-share earnings fell to 44 cents from 46 cents a year earlier.
Pro forma revenue fell 9% to $6.36 billion, hurt by a 6.7 percentage point impact from currencies.
On an organic basis, a closely-watched metric that backs out the impact of foreign exchange and divestitures, pro forma sales declined 2%.
Write to Chelsey Dulaney at Chelsey.Dulaney@wsj.com
Subscribe to WSJ: http://online.wsj.com?mod=djnwires
Copyright © 2015 Dow Jones Newswires