KPMG Summit Aims to Put More Women in the C-Suite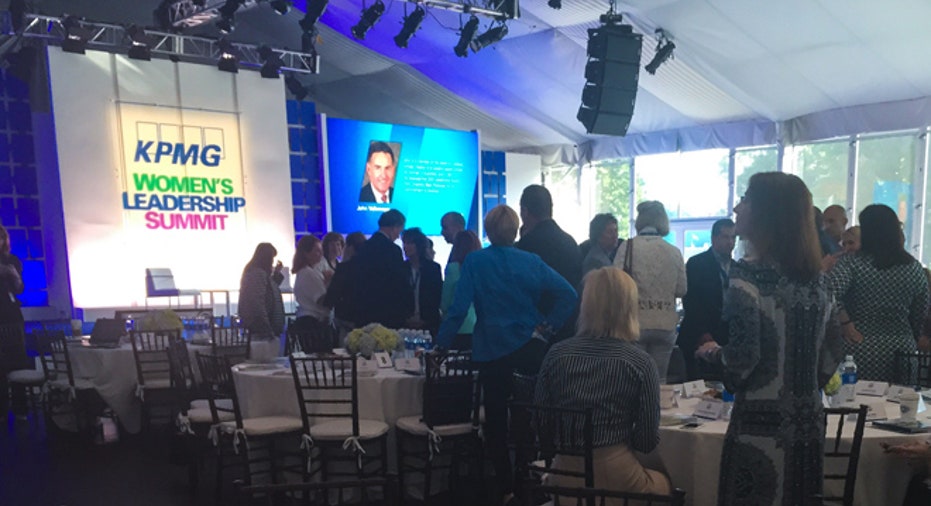 Who better to explain why more women aren't holding top c-suite positions – and why they need to – than some of the nation's top female executives?
Wednesday, female leaders from a range of industries gathered in Rye, New York at the Westchester Country Club for KPMG's inaugural Women's Leadership Summit. The event's speakers included Nasdaq (NASDAQ:NDAQ) President Adena Friedman,  Duke Energy (NYSE:DUK) CEO Lynn Good, KPMG U.S. Chairman and CEO-elect Lynne Doughtie, and a keynote from former Secretary of State Condoleezza Rice.
In attendance were 100 of today's most accomplished leaders in business, politics, sports, and media from top firms including Pepsi (NYSE:PEP), Bank of America (NYSE:BAC), Blackstone (NYSE:BX), 3M (NYSE:MMM), and 200 next-generation leaders who are two or three steps removed from the c-suite. Those next-gen women were nominated by their company's CEOs to attend the conference. The goal was to bring together females in top leadership positions to share personal success stories, leadership strategies that have worked…and those that haven't, and strategize about how to help propel women with potential into prominent positions within their organizations.
There Will be Roadblocks…Embrace Them
Good kicked off the event with the morning keynote, and said the thing many leaders need to understand is that roadblocks will pop up from time to time, and detours will lead to unexpected places. But to make those detours worthwhile, whether they come about from a good situation or a bad one, they have to be embraced.
"Make it so that you're nervous to come into work every day because you're always going to be doing something new and exciting, but also where people have a lot of expectations on you."
She took the audience back to the beginning of her career when she worked at Arthur Andersen in the fall of 2001 when Enron filed for bankruptcy. Enron, at the time, was one of Andersen's largest clients.
"My career entered into a period of great disruption, chaos, and great change," Good said.
She said most people, especially at the c-suite level, are highly motivated and think the plan they've lined up for themselves is exactly what will happen. But she said that's all an illusion – and she learned that lesson first hand during a very tumultuous time.
"I didn't know I was on a detour. I was still a partner at a 125,000-person firm, part of an organization that operated around the world... I worked hard following that [event]; we were going to keep going, instill trust and confidence in the firm. Until we came to January 2002. There was an event called document shredding. It was what ultimately what resulted in the indictment of the firm," she said.
The biggest lesson was that even though she didn't realize at the beginning that her career was moving in a completely unexpected direction, the minute she could do something to right herself, she did.
"It was a period that taught me a great deal about resilience. There was no time for excuses, no time to feel sorry for yourself, you were in the midst of a chaotic, unfair, didn't-know-how- it-was-going-to-end story. And all you could do was pick up and keep moving," she said.
Never Say No to an Opportunity
Nasdaq's Friedman said perhaps her biggest piece of advice is one interns often hear from their mentors: Never say no to an opportunity. She said there were many times in her career that she was surprised by a career opportunity. There was a feeling of doubt, wondering if she could succeed in a new role, or at a new project. But it's the challenge that motivated her to succeed, and ultimately led her higher up the chain of command.
"Try to get a broad range of experience: Say yes to a lot of projects and stretch yourself," Friedman said. "Frankly, make it so that you're nervous to come into work every day because you're always going to be doing something new and exciting, but also where people have a lot of expectations on you."
It's what she said helped motivate her move back to Nasdaq in 2014 as president after leaving the firm in 2011 to become chief financial officer at private equity giant Carlyle (NASDAQ:CG).  Not only that, but looking for opportunities outside of the industry and company are things she found to be very successful in helping her advance her career.
"I became CFO and enjoyed being CFO but what I really liked was running a business, that's where my passion is. That's what gets me excited about going to work every day. When Nasdaq offered me the role of president… it was too big an opportunity for me to pass up," she said about the move.
These are the five key characteristics Friedman says all leaders should possess, which are broad but effective.
Prove you can be successful in the roles you've had along the way
Have passion
Possess management skills
Make commitments
Be kind, confident, and firm
Don't be Afraid to Thrive in a Male-Dominated Field
The event was held in conjunction with KPMG's first Women's PGA Championship this week. Golf stars Annika Sorenstam, a World Golf Hall of Famer, and Stacy Lewis, LPGA champion, joined Muffett McGraw, Notre Dame's head women's basketball coach for a panel conversation about making goals a reality, and how to reshape the perception of women in sports to match the stature of the male side of the spectrum.
Notre Dame's McGraw said it's challenging to constantly be in the shadow of the men's team – but she encourages the women she coaches to play at their best all the time, and give it their all no matter what.
"My job is a lot more than just basketball," she said. "My job is to build confidence in women. I'm most proud when I see shy freshman grow into their potential."
To that point, she said she makes a habit to write little notes and stick them in her team's lockers as a constant reminder and motivator. McGraw added, too, that there's no need for women to sit back and wait for recognition – they should get out there and make their accomplishments known, too.
"It's great for women to have swagger," she said. "We never toot our own horn, but we should."
She added that playing sports is one of the best things women can do for themselves because it helps them gain confidence and decisiveness, both of which are key components to good leadership.
Sorenstam seconded that opinion saying she owes a lot of her confidence on and off the course to her coach.
"My coach taught me how to be my own course on the golf course," she said. "It really helps you understand your own game."
Sorenstam reflected on her own career and said the best advice she could give a woman looking to pursue a career in golf, or any other industry is: There is no shortcut to success. She took the audience back to a time in her life, one evening during a dreary practice. She was so tired of hitting golf balls in the rain. She was cold. She just wanted to be done for the night, and go home. So she did. But her father looked at her and said – there is no shortcut. You can't just give up when it gets tough. It's a moment she often replays when times get rough for her, and it keeps her motivated to get back out and try again. That's what she did that night. And it's what she's done during her career ever since.
Conversation during the conference often drifted back to the tired phrase "work-life balance" – a mythical objective no person in a career ever seems to really, definitively find. All of the women said, though, that it seemed easier for their male counterparts to head out of work a little early on a given day to see their kids play at school concerts, or Little League games. But for women, there seemed to be a different standard.
During her panel, Friedman told the story about how during her tenure at Nasdaq, she used to sneak out the building's back stairs just to be able to make it to her son's baseball games on time. Looking back, she said she shouldn't have been so motivated by her guilt of leaving work "early" though she had all of her work done. She advises other women to think about it in the same way.
"Women tend to say 'I can't do that'[have balance] but I still have amazing relationships with my husband, my sons. I never missed a baseball game, a basketball game," she said.