Kobe Bryant, BodyArmor Launch Sports Drink's First National TV Campaign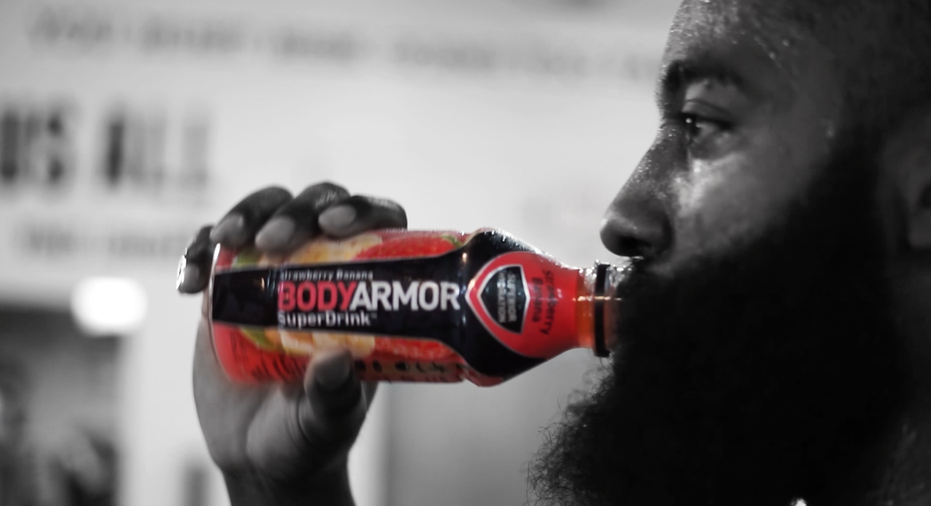 BodyArmor is launching its first-ever national television advertising campaign during the NBA Playoffs this week, as founder Mike Repole and his business partner, Los Angeles Lakers legend Kobe Bryant, look to challenge Gatorade's decades-long dominance of the U.S. sports drink marketplace.
Bryant, who is BodyArmor's third-largest investor, wrote, directed and narrated the 60-second spot. The commercial carries the slogan "Obsession is Natural" and features several BodyArmor endorsers and equity partners, including James Harden of the NBA's Houston Rockets and Mike Trout of Major League Baseball's Los Angeles Angels. The ad airs for the first time Wednesday night on TNT, when Harden's Rockets face the Oklahoma City Thunder in Game 2 of their opening round series.
Bryant and Repole say the slogan hits on the elements that are key to BodyArmor's strategy for taking on Gatorade, which maintains an overwhelming share of the market – an athlete's obsession with their craft, and BodyArmor's use of natural ingredients like coconut water as opposed to artificial colors or sugars.
"It all comes down to the product having a point of differentiation," Bryant, who was given creative control over the campaign, told FOX Business. "Once you establish a superior product, getting it into the marketplace and onto the shelf becomes the priority. Creating the message and communicating what separates the product - and individual athletes - from the competition, is the fun part."
The national TV campaign is debuting at a critical time in BodyArmor's development. The brand has enjoyed steady growth since Repole, who is best known as the cofounder of VitaminWater and SmartWater, launched the sports drink company in 2011. Sales grew to $130 million in 2016 – a 154% increase over the previous year, according to Repole. This year, the company is aiming to reach between $250 million and $300 million in retail sales.
Those numbers are still miniscule when compared to Gatorade, which owns anywhere from a 70% to 80% share of the U.S. sports drink market, according to various estimates. The Pepsi-owned brand saw wholesale sales of more than $3.5 billion in 2015, according to Beverage Marketing Corporation. At the time, BodyArmor barely registered on market tracking services.
Repole is aiming for BodyArmor to have a 5% share of the market by the end of 2017. By 2025, he wants to accomplish the gargantuan task of surpassing Gatorade as the country's top sports drink brand.
Repole said Bryant has been pushing for a national TV campaign since at least 2014. But with distribution in all 50 states through a partnership with Dr. Pepper Snapple Group and a growing stable of athlete endorsers that also includes world no. 1 golfer Dustin Johnson and New York Knicks phenom Kristaps Porzingis, Repole said the time is finally right.
"Now we're in major accounts like Kroger and Sam's Club and Target and WaWa and QuikTrip. Now that we're in all 50 states, now that we have major distribution – you can pick us up in any county, in any state, including Alaska and Hawaii – now is the reason why the timing is right," Repole told FOX Business. "Even though there's low awareness [about the brand], there's enough awareness that's going to make us a $250 million to $300 million retail brand this year. Now it's about putting the pedal to the metal and really driving awareness."
Aside from his role as a top investor, Repole says Bryant is uniquely suited to pitch BodyArmor's mission to the masses, given his status as a world-class athlete, as someone who played basketball well into his 30s in a league that skews younger, and as a parent.
Bryant, who told Repole when he invested in the brand in 2013 that he wanted to be heavily involved in marketing and creative elements of the business, said that BodyArmor is "obsessive" about creating a healthier, more effective product than the competition. Bryant considers the emphasis on a next-generation formula as a key "point of differentiation" from Gatorade.
"I enjoy storytelling and have always taken an active role in my campaigns throughout my career," Bryant said. "As an investor in BodyArmor, this is additional value I bring to the brand. I'm able to provide a creative voice – as an athlete – to give the product an authentic and credible voice. As a storyteller, I most enjoy finding that one point of differentiation and finding a unique way to get people to understand the message."