Kiss Those Low Mortgage Rates Goodbye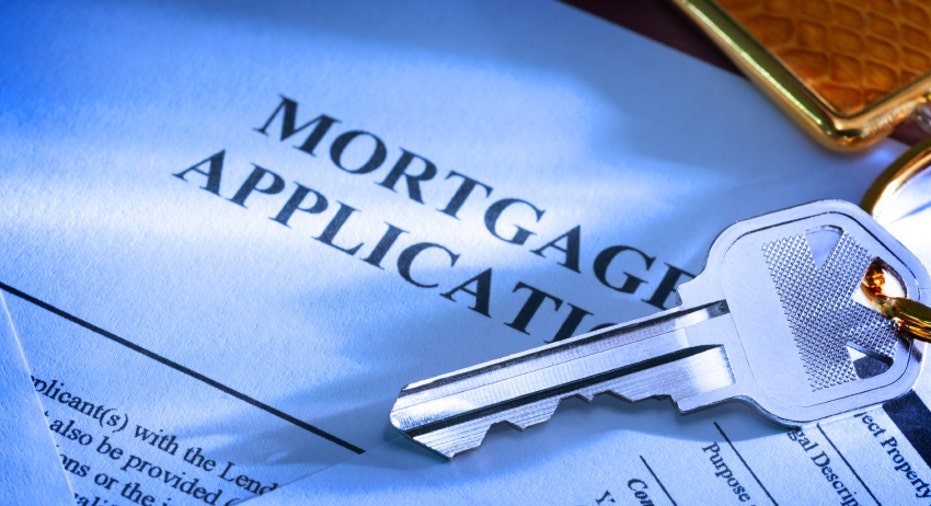 It may be time to kiss record-low mortgage rates goodbye. They jumped this week, as investors bought into the notion that the economy in the United States is strengthening and the situation in Europe has stabilized.
The benchmark 30-year fixed-rate mortgage rose 14 basis points this week, to 4.29%, according to the Bankrate.com national survey of large lenders. A basis point is one-hundredth of 1 percentage point. The mortgages in this week's survey had an average total of 0.42 discount and origination points. One year ago, the mortgage index was 4.96%; four weeks ago, it was 4.16%.
The benchmark 15-year fixed-rate mortgage rose 10 basis points, to 3.48%. The benchmark 5/1 adjustable-rate mortgage rose 10 basis points, to 3.24%. This is the highest level the 30-year fixed rate has reached in five months. It was 4.33% on Oct. 26.
The optimism among investors may wear off, but it's unlikely rates will return to the bottom, says Bob Walters, chief economist at Quicken Loans.
"I think we may have seen the absolutely lows," he says. "Europe was really driving us lower as people worried about Greece defaulting. That was causing lots of money to pile into bonds. But the concern of a European collapse is abating."
Recent economic growth in the United States also has helped pushed rates up, he says.
Is the Economy Really Strengthening?
Mark Zandi, chief economist at Moody's Analytics, says investors' perception will ebb and flow, but he expects the economy will continue to gain traction.
"The very warm winter weather is giving the recent economic data a brighter hue, and there will be some softer numbers this spring as the weather becomes more seasonal. But more fundamentally, the economy is entering into a self-sustaining expansion," he says.
Most of the recent economic data, including the jobs report, indicate a positive sign. However, it "doesn't mean the economy is out of the woods by any means," says Brett Sinnott, director of secondary marketing at CMG Mortgage in San Ramon, Calif.
Nearly 13 million people remain unemployed. "I think the optimism will be short-lived," Sinnott says. "But I don't think we're going back to (yields of 1.7%) on the 10-year Treasury note."
The yield on the 10-year Treasury remained below or close to 2% when rates reached the bottom. This was one of the forces pushing rates down. This week, the yield reached a five-month high of 2.38%. It fell slightly when Federal Reserve Chairman Ben Bernanke reminded investors the global financial situation is better but far from rosy.
"The recent reduction in financial stresses in Europe is a welcome development for the United States, given the important trade and financial linkages connecting our economies," he said in testimony prepared for a congressional hearing Wednesday. "However, Europe's financial and economic situation remains difficult, and it is critical that the European leaders follow through on their policy commitments to ensure a lasting stabilization."
A report on sales of previously owned homes also reminded investors of a still-fragile housing market. Sales declined 0.9% to a 4.59 million annual rate in February, compared to January, according to a report from the National Association of Realtors. While this was the best winter for home sales since the recession, a decline in home sales is never a positive sign.
How Does It Affect Borrowers?
Mortgage experts say they don't expect the recent increase to affect borrowers' ability to qualify for or afford a mortgage. Rates remain extremely low, especially for those who still have mortgages with rates higher than 5% and want to refinance.
But the higher rates have a psychological effect on borrowers, who want to wait for the best possible rate. As rates increased last week, the volume of mortgage applications decreased 7.4% compared to the previous week, according to the Mortgage Bankers Association.
"It's like when you miss the 25% off sale and you want to wait for the next sale," says Ed Conarchy, a mortgage planner at Cherry Creek Mortgage in Gurnee, Ill.
Should you wait? Probably not, say these mortgage experts.
"Years from now, you'll hear stories of how you could get a 30-year fixed mortgage at 4.5%," Walters says.