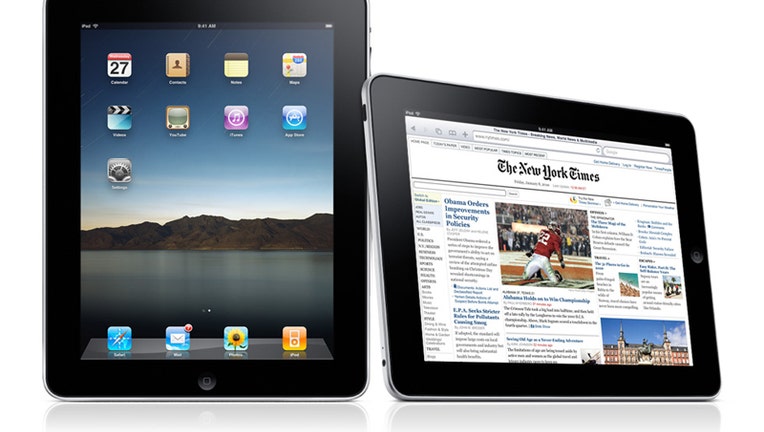 Welcome to OnSale at FOXBusiness, where we look at cool deals and insane bargains.
A new website gives parents a bit of a break when it comes to buying baby clothes, and the iPad just got a price cut at a major nationwide retailer. Unsubscribe in one fell swoop with this free service. And a famous young wizard may very well be visiting your local library.
Good Karma
A new online service aims to bring baby clothes to parents for less – while doing a little good for Mother Earth, too. Good Karma Clothing is a subscription service that lets parents shop for and exchange baby clothes online.
Parents pay a monthly fee for one clothing bundle at a time, made up of seven baby outfits. Once the child has outgrown the clothes, they're returned and professionally cleaned. The clothes are then sent along to another home, and the cycle continues. Subscription prices start at $27.99 per month, $45 per month and $75 per month. Items are returned in reusable nylon bags, and cleaned with baby detergent that's gentle on skin and easy on the environment. Check it out by clicking here.
iPad for Less
If you're in the market for a new tablet, and can't wait for a new version of the iPad, you're in luck.
Retail giant Best Buy (NYSE:BBY) just lowered the price of Apple's (NASDAQ:AAPL) iPad 2 by $50. Could it be that the iPad 3 is coming sooner rather than later? Perhaps… but who wants to wait? The device now ranges in price from $449 to $749. Find yours at BestBuy.com.
Spring Cleaning
How many times have you clicked "Unsubscribe" on newsletters and solicitations in your inbox that you can't remember signing up for? If it happens more often than you'd like, you may want to pay a visit to Unroll.me.
Unroll.me will scan your e-mail and compile a list of the newsletters that annoyingly find their way into your inbox. You can unsubscribe with just one click, instead of having to visit each site individually and type in your reasons for choosing not to be contacted. If you're worried you might miss something, Unroll.me lets you compile select emails into one daily newsletter, where you'll get summaries of each email without having to open each one individually. The service is free for up to four "Unsubscribes," and at that point, you'll have to use social media channels to tell all of your friends about it before you can continue erasing yourself from list serves.
Free Harry Potter
Harry Potter author J.K. Rowling may very well be on her next literary project, but her original series of books about a young wizard are coming to you electronically – for free. The deal, between Pottermore, Sony(NYSE:SNE) and OverDrive, is bringing the series to more than 18,000 libraries around the globe. That's right – free access to the e-books for Muggles everywhere. The deal includes both schools and public library systems.
Know of a killer deal or insane bargain? Email the goods to OnSale@FOXBusiness.com and share the wealth.