Keystone pipeline oil spill reignites feud with environmentalists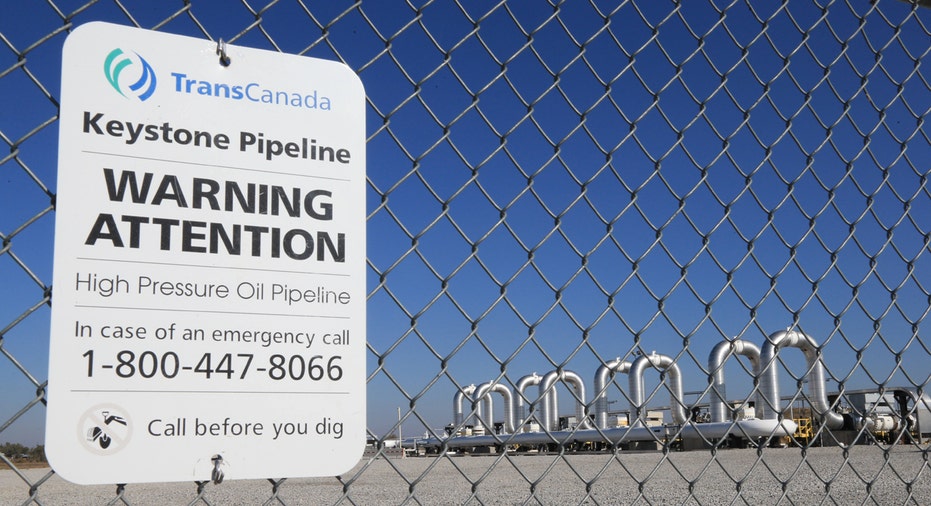 An oil spill in South Dakota, where 210,000 gallons were leaked, has reignited the long-standing feud with environmentalists over President Donald Trump's proposed Keystone XL pipeline.
The pipeline's operator TransCanada said early Thursday morning an estimated 5,000 barrels leaked from a "pressure drop in our operating system" and the incident was completely isolated within 15 minutes. The spill, however, is the largest one to date in South Dakota.
"The safety of the public and environment are our top priorities and we will continue to provide updates as they become available," TransCanada said.
The incident comes just four days before the Nebraska Public Service Commission is set to decide whether it will issue a permit to TransCanada to start building the Keystone XL. The new proposed pipeline that will stretch from Hardisty, Alberta in Canada to Steele City, Nebraska by passing through Montana and South Dakota. In March, Trump's administration officially issued a permit that approved its construction, reversing President Obama's decision to block the project. Trump said the project would be a "big win" for American workers.
However, a spokesperson for the Nebraska Public Service Commission told The Associated Press Friday that the latest spill won't impact the committee's vote as the decision will be based solely on testimony and documents during public hearings over the summer and from more than 500,000 public comments.
Yet, many activists still say the latest spill is a wake-up call to stop XL's production in its tracks.
"This latest Keystone spill makes crystal clear that the Nebraska Public Service Commission should not approve another risky pipeline that threatens communities, drinking water and the climate. We're all too familiar now with the unfortunate truth that oil spills are not uncommon," Travis Nichols, Greenpeace USA spokesperson, told FOX Business.
"The three companies proposing to build tar sands pipelines — TransCanada, Kinder Morgan and Enbridge — have seen an average of one spill per week since 2010. The Keystone XL pipeline could expect 59 significant spills over a 50-year lifetime. That's unacceptable. It's time for America to move on from dirty fossil fuels and embrace the clean energy future," he added.
Jane Kleeb, head of the Nebraska Democratic Party and longtime activist against the Keystone XL, told The Washington Post that "TransCanada cannot be trusted."
"I have full confidence that the Nebraska Public Service Commission is going to side with Nebraskans, not a foreign oil company," Kleeb said.
A TransCanada spokesperson did not immediately respond to FOX Business' request for additional comment or how the spill could possibly affect its permits going forward.
Brian Walsh, a spokesperson for South Dakota's State Department of Environment and Natural Resources told FOX Business that while he can't comment on how the spill will affect XL's production going forward, he did say the recent spill could have possibly affected shallow ground water at the site.
"The oil has not touched any surface water or threaten any drinking water systems but it is possible that shallow ground water could have been affected," Walsh said. "It will take several days to get the dirt removed and get access to the pipeline to find out."
The latest spill is the second one in two years at the same site. In April 2016, 16,800 gallons of oil leaked, which took over two months of cleanup.
TransCanada released an image of the spill site late Thursday on Twitter to show residents the impacted area.