Kellogg's Shares Sink on 3Q Miss, '11 View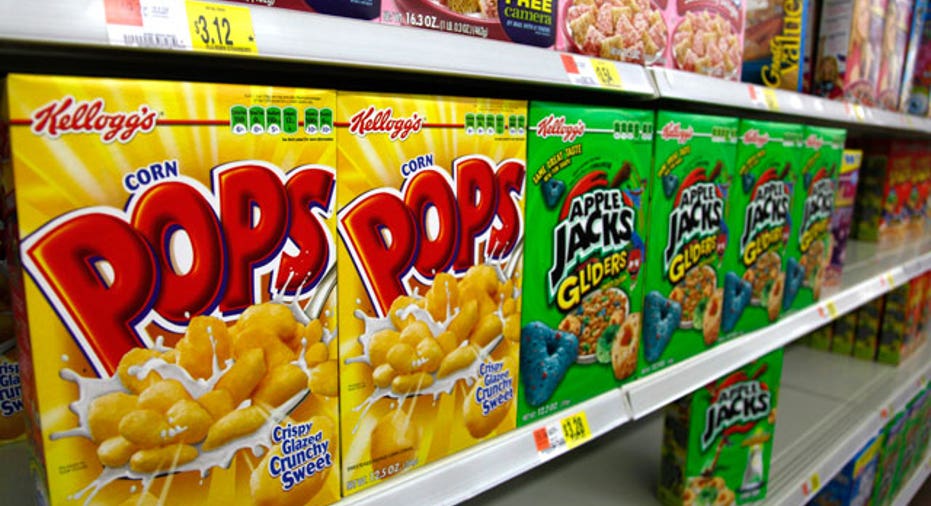 Iconic cereal maker Kellogg (NYSE:K) suffered a steeper-than-expected 14% slide in third-quarter earnings due to supply-chain investments, triggering a downgrade to its 2011 financial guidance and a 6% decline in its shares.
The Battle Creek, Mich.-based maker of Frosted Flakes and Pop Tarts said it earned $290 million, or 80 cents a share, last quarter, compared with a profit of $338 million, or 90 cents a share, a year earlier. Analysts had been calling for EPS of 89 cents.
Kellogg said the decline in earnings was partially due to increased supply-chain costs as it attempts to improve its infrastructure.
Revenue rose 4.9% to $3.31 billion, but failed to meet the Street's view of $3.41 billion. Gross margins shrank to 40.8% from 43.4%.
"Rebuilding momentum takes time, especially in challenging market environments," CEO John Bryant said in a statement. "We increased the levels of investment in our supply chain in the quarter, a process we will continue. This multi-year program will improve the infrastructure and drive reliability and capability."
Kellogg slashed its full-year outlook, projecting non-GAAP EPS of $3.27 to $3.33, compared with its earlier view of $3.33 to $3.40. Even the more optimistic end of the new range would widely trail expectations from analysts for $3.48.
Internal sales are still expected to rise 4% to 5%, but internal operating profit growth is now seen at just 2% to 4%.
Kellogg said its North American sales increased 4% last quarter to $2.2 billion, but retail cereal revenue was flat. International revenue climbed 7% to $1.1 billion despite a 2% decrease in European sales.
Shareholders expressed serious disappointment with the results and new guidance, sending Kellogg's stock sinking 6.96% to $50.28 ahead of Thursday's open. It had been up almost 6% on the year as of Wednesday.