Kellogg to Buy Pringles from P&G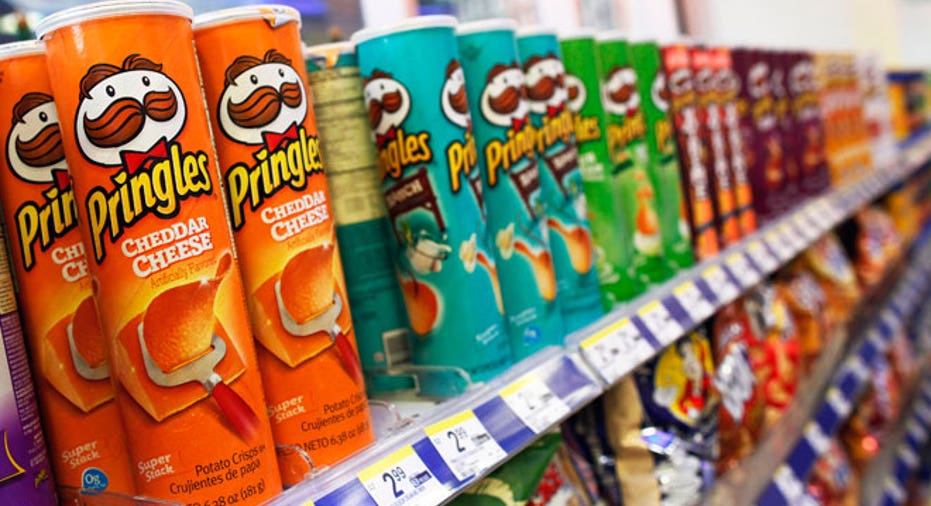 Kellogg (NYSE:K) snatched Procter & Gamble's (NYSE:PG) Pringles division in a $2.7 billion deal on Wednesday after a planned sale to Diamond Foods (NASDAQ:DMND) was scrapped.
The acquisition will add the popular potato-chip brand to a number of snacks already offered by Battle Creek, Mich.-based Kellogg, including Keebler, Cheez-It and Special K Cracker Chips.
Kellogg also said it sees Pringles boosting its 2012 earnings by 8 cents to 10 cents a share, excluding one-time costs and transaction charges. The deal is also expected to generate one-time costs of $160 million to $180 million and synergies of between $50 million and $75 million after 2013.
"We are excited to announce this strategic acquisition," Kellogg CEO John Bryant said in a statement. "Pringles has an extensive global footprint that catapults Kellogg to the number two position in the worldwide savory snacks category, helping us achieve our objective of becoming a truly global cereal and snacks company."
The companies expect the transaction to close in the summer of 2012, pending necessary regulatory approvals.
The acquisition comes only after Diamond Foods and P&G mutually decided to shelve a planned deal with no "break-up" or other fees.
Based in San Francisco, Diamond shares have plummeted about 75% from their September highs after disclosing plans to restate results due to an accounting scandal. Diamond shares jumped 2.9% to $22.95 ahead of Wednesday's open on the Pringles news.
With $1.5 billion in sales across more than 140 countries, Pringles is the world's second-largest player in savory snacks, the companies said.
"This is an excellent development for P&G, Pringles and Kellogg, creating value for our shareholders and representing an outstanding opportunity for Pringles employees with a leading company in the Food sector," said P&G CEO Bob McDonald.
Kellogg, which also owns popular cereal brands like Frosted Flakes and Rice Krispies, said it agreed to pay P&G $2.695 billion in cash for Pringles.
Kellogg also said as a result of the acquisition, its outstanding debt will jump by about $2 billion and it will likely limit its share buyback program to proceeds received from employee option exercises for about two years.
Meanwhile, P&G lowered its 2012 non-GAAP earnings outlook to $3.30 to $3.43 a share, excluding the Pringles gain, from $3.85 to $4.08 previously.
Shares of P&G gained 0.57% to $64.85, while Kellogg soared 4.87% to $52.75.